OCTOBER 2, 2019 — Misprints and mistakes litter dumpsters every day, but at TVA errors are being recycled to benefit the lives of children living in the Valley. Kalie Parker knows this best after unearthing boxes of discarded backpacks — educational treasures that would soon help two Tennessee elementary schools meet the needs of students.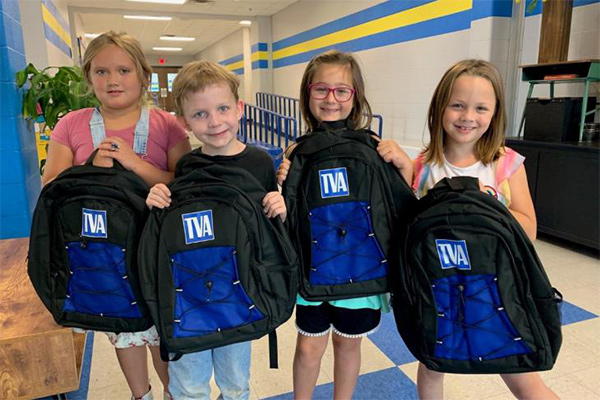 The backpacks, hidden under a TVA desk for more than a year, were determined to be unusable due to an error with the TVA logo. The faulty logo was trimmed with a white square, which is incorrect according to TVA's logo usage guidelines.
"I got in touch with the company that printed them and even though they didn't charge us for the backpacks, they didn't want them back," said Specialist Kalee Parker, Learning Programs & Assessments, Talent Management. "I hated to see the backpacks go to waste, because they were really nice."
After contacting External Relations, the backpacks found a conduit to an underserved area that could most benefit from the error. Chris Templeton, customer service manager, Customer Delivery, reached out to Lawrenceburg Utility System's general manager assistant, Zondra Kelly, about help distributing the gifts that were on students' wish lists.
"She's the kind of person who you know is going to make the most of them," Templeton said.
Kelly took the backpacks to South Lawrence Elementary and Ingram Sowell Elementary. Between the two Lawrence County schools, more than 70 percent of students receive free or reduced meals.
According to the South Lawrence guidance counselor, Candy Littrell, students are better equipped to excel in the classroom when they have the same supplies as other children. Having something as simple as a backpack can help keep a child from feeling left out or different.
"Students have to feel loved and connected," Littrell said. "That's the first thing you have to consider before you can even take their academic lives into consideration."
Kelly agreed. "It's the simplest of things that you wouldn't even think could be of help. A lot of kids don't have backpacks, and you have to supply them if they are to succeed in school."
Littrell says many Lawrence County teachers often use their hard-earned money to meet the everyday needs of their students. Having extra backpacks helps both the teachers and the students.
"In keeping with our mission of service, moments like these remind you that even the little things go a long way," Templeton said.
While a tiny white square may have prevented the backpacks from carting TVA's leadership program training materials, the trivial mistake led to a greater purpose — carrying the crayons and textbooks of children in need.