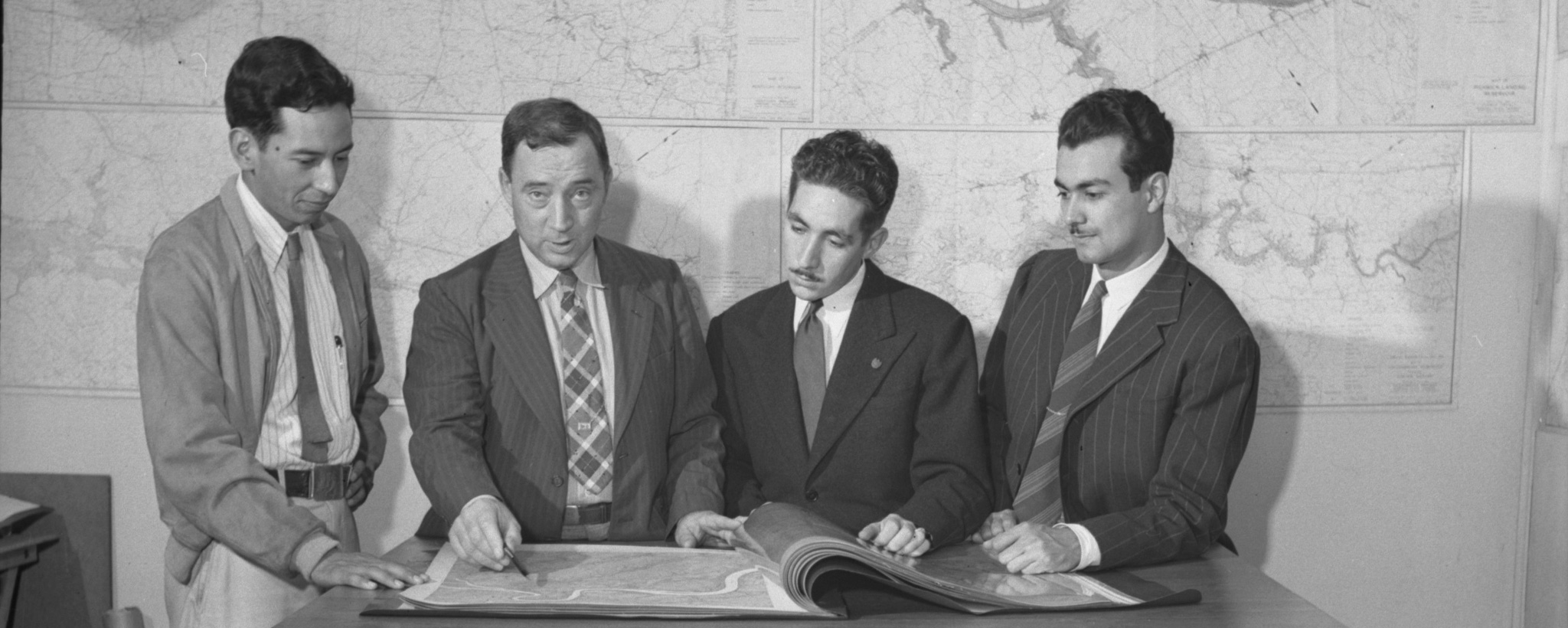 A Historic Partnership: Mexico's Visits to the Valley
As we celebrate TVA's 90th anniversary this year, we're revisiting standout moments in TVA's history. For Hispanic Heritage Month, we look back on Mexico's visits to the Valley to learn about TVA's successful use of irrigation systems.
1942: Engineers Learn about TVA's Irrigation Systems
In 1942, just nine years into TVA's existence, six civil and agricultural engineers from Mexico's National Commission of Irrigation came to Knoxville to study TVA's irrigation techniques. The engineers came for a six-month study, and according to a 1942 newspaper article from the Johnson City Chronicle, Gabriel Oropeza, head of the group, said they received a splendid reception.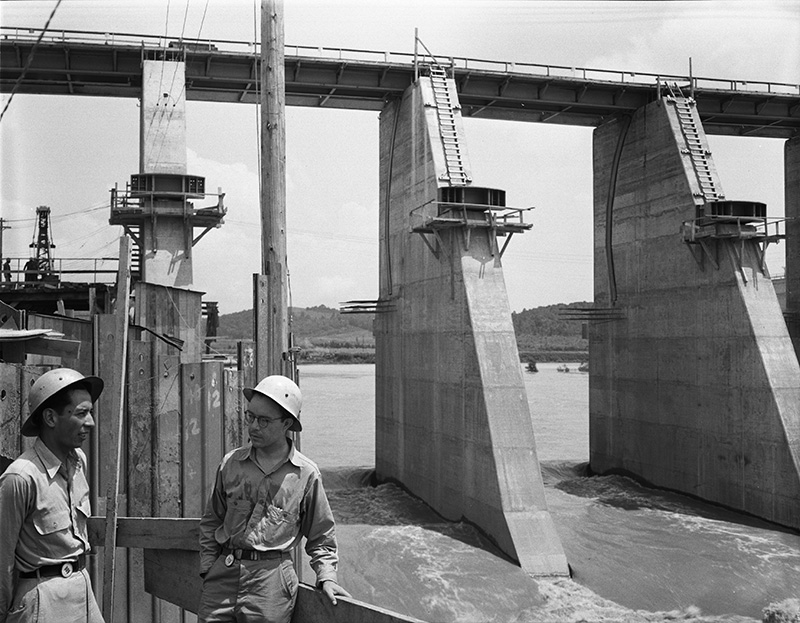 Two visitors from Mexico at Fort Loudoun dam, 1942.
The findings from the study were to be used to help Mexico construct irrigation systems to aid in farming and crop methods.
1947: A Visit from President Aleman
In 1947, the president of Mexico, Miguel Aleman visited TVA's Chattanooga-area facilities. Building off the learnings of the 1942 visitors, the president was studying the TVA method of rebuilding farmland for irrigation, which he planned for Vera Cruz, Oaxaca, and Sinaloa. This project, dubbed the "Mexican TVA" would help yield food for Mexico's population, which was depended on exports.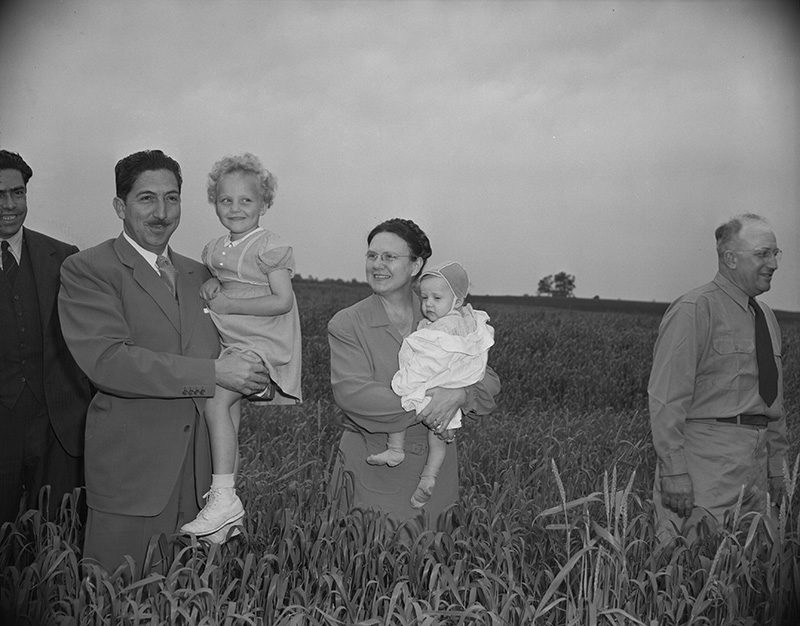 Mexican president Miguel Aleman visits a TVA test farm, 1947.
According to an article in the Chattanooga Daily Times, the tour gave him a birds-eye view of "the greatest engineering project of modern times."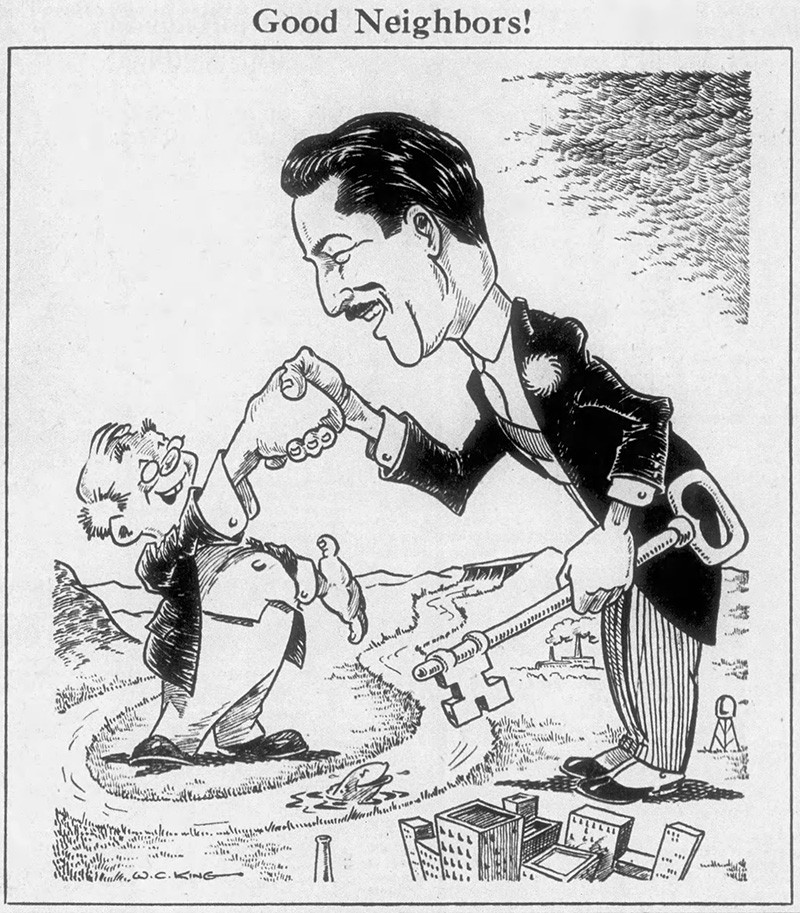 Editorial cartoon depicting Mexican president Miguel Aleman's visit to TVA, Chattanooga Daily Times, May 6, 1947.
The paper goes on to say that "Mr. Aleman has captured the imagination of the American people. He has been greeted in Washington and New York with almost unprecedented enthusiasm. His ideas on peace appeal to the American people because they are ideas we have held during our national existence."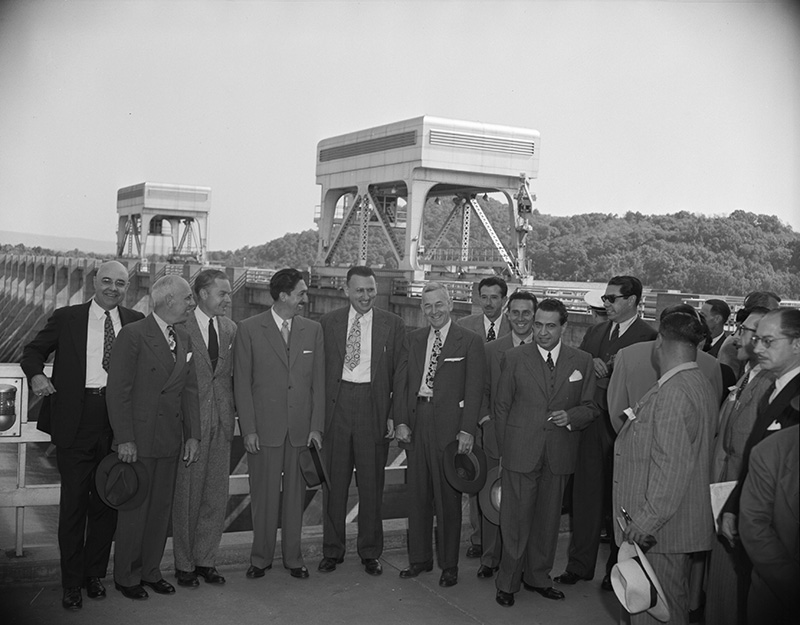 Mexican president Miguel Aleman and other visitors from Mexico visit Chickamauga Dam, 1947.
Noting the commonalities in Mexico and the United States at the time, the article explains that "in the last few years the United States has moved more to the left and Mexico has moved more to the right. There is little difference now in the basic philosophies of the two countries."
The article closes by commenting on President Truman's recent visit to Mexico and the warm welcome he received there. "Mr. Truman was made to feel at home in Mexico and any reception given to Mr. Aleman in the United States cannot exceed the reception given our president in Mexico."
​ ​
Share this story:
​