The Tennessee Valley recorded 70.36 inches of average rainfall as of Dec. 31, 2020, making 2020 its wettest year in history.
JANUARY 4, 2021 — The total topped the previous 2018 record of 67.01 inches and easily surpassed the 66.47-inch, second-place floater that wet the books in 2019.
"The last three years have been a remarkable stretch of above average rainfall," said James Everett, senior manager of TVA's River Forecast Center. "Before 2018, the previous record had stood for 45 years. Since 2018, we've either set a record or come close to it every year.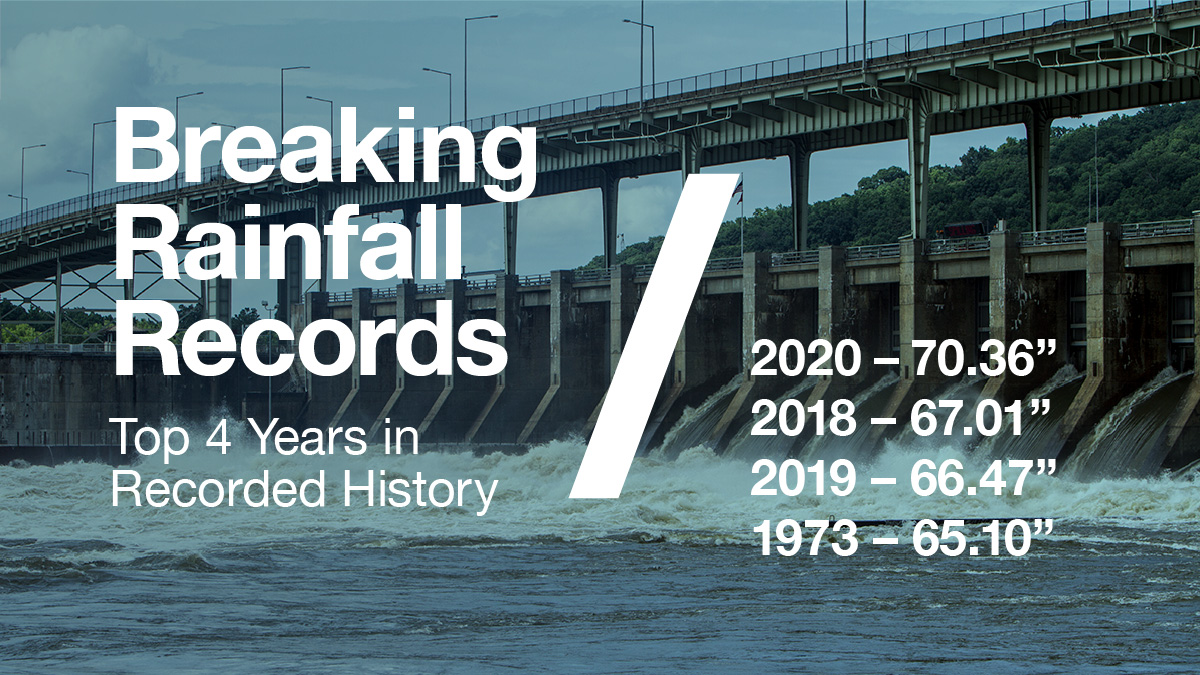 "Also, between Oct. 1, 2019, and Sept. 30, 2020, the Tennessee Valley recorded 75.74 inches of rainfall. This was the wettest fiscal-year total ever in the 131-year period of record."
The above-normal precipitation totals persisted throughout the 2020 year, with a one-month exception in below-average rainfall. November logged 2.34 inches, or 38 percent below normal. That shortfall ended a streak of 13-consecutive months of above-average rainfall, which cemented yet another Valley record.
TVA averted an estimated $1 billion in flood damages in 2020, and kept several Valley cities from being submerged. Each year, TVA's reservoir management saves the region about $300 million in flood damages averted.
Since the completion of Norris Dam in 1936, TVA has averted $9 billion in flood damages. Norris is the oldest of TVA's 49 dams.
The Delicate Balance
The agency uses all assets to manage lake levels and river flows to balance the competing demands of the reservoir system. TVA's River Management Team works around the clock to manage the Tennessee River system. This includes periods of heavy rain and drought. The agency's River Management efforts provide a variety of benefits, such as flood control, navigation, hydroelectric generation, recreation, and water quality and supply.
"Managing the Tennessee River system during this extended period of record rainfall continues to be a team effort of the River Management, Hydro Generation and Dam Safety staff at TVA," Everett said. "The sites and crews in the field have put in countless long days maintaining and operating equipment like sluice gates, spill gates, cranes, and, of course, hydroelectric generators, which are all necessary to control flow through TVA reservoirs."
TVA prepares for increased recreational opportunities every March by raising lake levels and restricting releases from tributary dams. Reservoir levels reach their summertime storage target by June 1. In contrast, systematic release schedules lower reservoir levels throughout September and into the fall. The agency's winter pool target of December allows reservoirs to create flood storage space in preparation of heavy spring rains and increased runoff.