AABE Provides Network for Minorities in Energy
The American Association of Blacks in Energy provides encouragement and support for people of color who want to make a career in the energy field.Many employees recently attended the third-annual African American History Month Executive Panel, but do you know the group behind the event?
The American Association of Blacks in Energy (AABE) is a nation-wide group of energy professionals dedicated to ensuring the input of African Americans and minorities in the energy field. TVA is part of the East Tennessee chapter of AABE, which includes TVA employees as well as members from local power companies and regional utilities.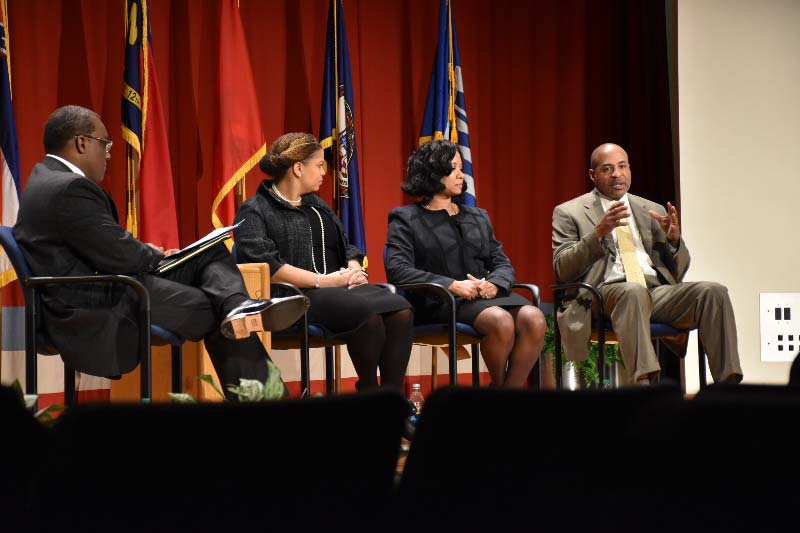 "TVA has been involved with AABE since about 2005," said Althea Jones, vice president of the AABE East Tennessee Chapter and TVA manager of Supplier Diversity and Development. "Then about four years ago we decided to form our own chapter and start contributing locally and supporting the national agenda through activities here at TVA and in the community."
Making Connections
Multiple events are sponsored by AABE throughout the year. One of the most recognizable, the annual executive panel, is held each February during African American History Month. "Our goal with the panel is to provide viewpoints from diverse individuals from within and outside of TVA," says Melanie Cross, president of the AABE East Tenn. Chapter and TVA senior manager, Supply Chain Sourcing. "They touch on what's going on in the utility industry and share personal career stories. We try to involve persons of color to provide encouragement and perspectives from their journey."
While the panel is held just once per year, AABE has implemented new ways to connect with the community on an ongoing basis. "We've also started doing TED talks on Black History Month," Cross explains. "Through this we're able to provide insights from entrepreneurs and others who have carved out a successful path for themselves in the energy sector."
Inspiring Others
"Personally, for me, AABE is an avenue to encourage, support and mentor employees as well as the next generation of people of color," says Jones, "getting them interested in this industry, helping them understand where a career in it can lead, and guiding them through that whole process."
AABE does this through partnering with area schools, like Orchard Knob Elementary in Chattanooga, teaching children from a young age the importance of STEM education, in hopes of inspiring a future career interest. And their support for students doesn't stop at the elementary level. Annual AABE scholarships are awarded to college students majoring in fields related to the energy industry.
"Typically we provide four scholarships, which are funded by TVA and the Electric Power Board (EPB). You get to hear the students' story and learn why the scholarship means so much to them. It has been great making those connections," says Cross. Jones agrees, adding "The recipients are able to network with the executives who attend and make connections that they can reach out to once they graduate."
Looking Ahead
Looking toward the future, AABE has goals to expand community outreach efforts even further. "One thing we want to build on in the future is educating the community on energy efficiency and helping people understand their power bills, especially in lower income areas," says Jones.
"We also want to build a better pipeline through AABE-sponsored internships at companies that AABE represents, with employees serving as mentors to students," says Cross. "And," says Jones, "we've talked about having partnerships with schools that can include field trips to TVA, EPB and Tennessee American Water facilities so students can see firsthand what we do with these companies."
With big plans for the future, they hope to grow the number of TVA employees involved in AABE. "This group is open to everyone who supports the mission and we welcome you to join us," says Jones. "It's a great way to network with people of color in this industry, and for personal development and relationship building—not just at TVA, but across the country as well."
​ ​
Share this story:
​