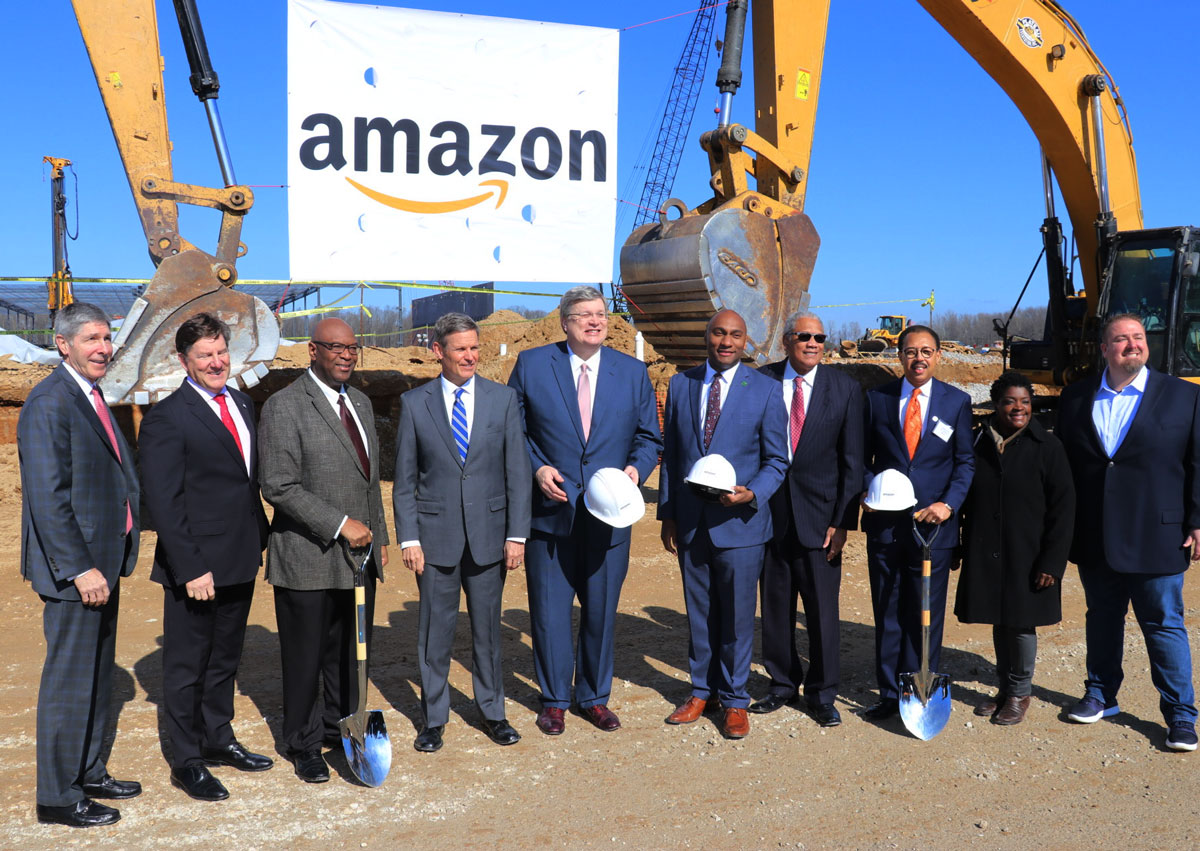 A new state-of-the-art Amazon fulfillment center in Memphis will create 1,000 new full-time jobs, thanks in part to the partnership between the State of Tennessee, local governments and organizations, economic development agencies, MLGW and TVA.
Representatives from Amazon, Tennessee Governor Bill Lee and other officials made the economic development announcement on Monday in Memphis. The 855,000-square-foot fulfillment center is anticipated to launch in time for the 2020 holiday shopping season.
"Amazon's decision to create 1,000 new jobs in Memphis is a testament to Tennessee's position as a leader in the logistics industry," said Governor Lee. "Across Tennessee, Amazon employs 6,500 Tennesseans, and that number continues to grow. I am proud to see Amazon make this considerable investment in Memphis and expand the job opportunities for our residents in West Tennessee."
MLGW and TVA were vital partners in the project that led to Monday's announcement, which further expands both Amazon's footprint in Tennessee and the presence of high-tech internet companies across the Valley. Amazon has invested more than $6.5 billion in Tennessee since 2010.
"All of us who partner together for new economic development and job growth in the Tennessee Valley congratulate Amazon on its decision to locate in Memphis," said TVA President and CEO Jeff Lyash. "This announcement demonstrates the powerful impact that the partnerships between entities like TVA, MLGW, the City of Memphis, Shelby County, the Greater Memphis Chamber, economic development agencies and the State of Tennessee have in our communities. This is economic growth that directly impacts lives through new jobs and opportunities, which is exactly what our mission of service is designed to accomplish."
Amazon said the newly created jobs will have industry-leading pay and benefits. Employees will work alongside Amazon's robotic technology to pick, pack and ship smaller customer items.
"Tennessee is a great state for business and Amazon is proud to continue our growth and investment with our newest fulfillment center in Shelby County," said Amazon Director of Regional Operations Rob Packett." We are proud to call Tennessee home and are grateful for the strong support we have received from state and community leaders."