Answering the Call
TVA Rallies to Aid Communities Hit by Severe Storms
A series of severe storms and tornadoes swept across several states this spring, leaving in their wake a path of destruction.
Houses gone. Trees turned to toothpicks. Steel power poles bent. Lives lost.
The series started on the night of March 24 when the landscape across Mississippi changed drastically as tornados hit the state.
An EF4 touched down in Rolling Fork, Mississippi, just after 8 p.m., leaving a 59.4-mile path of debris. Other twisters formed as the storm barreled on, including the EF3 tornado that plowed through downtown Amory, Mississippi, just before 11 p.m.
As custom in the aftermath of severe storm damage in Tennessee Valley Authority's service area, TVA employees quickly rallied to aid the impacted communities.
TVA transmission crews arrived at about midnight to perform initial assessments of downed structures. After working through the night, crews returned at first light March 25.
"This tornado went right through downtown Amory," said Josh Wooten, TVA customer relations manager for the West Region. "The density of impact was so great that it was really challenging."

Fellow local power companies also sent transmission crews to support the restoration efforts.
"It's the power of the public model," Wooten added, recalling what Mike King, utilities manager of Amory Utilities said of the support coming from TVA and local power companies. "Seeing so many people come together so quickly and with such determination is remarkable."
Having experienced a tornado a couple of years back, Louisville Utilities knew the challenges of restoration work and came prepared with a log truck, equipment and wooden poles to help restore power as quickly as possible.
'There to Help'
While crews worked diligently throughout Amory and nearby cities, other TVA employees took quick action to provide line crews and community members with food, water and essential supplies.

"I reached out to Mike King to ask what was needed," said Carolyn Ward, TVA community relations specialist for the West Region. She supports all 28 of TVA's Mississippi local power company partners.
"He told me, 'I need everything right now,'" Ward recalled.
With that, she got to work. Amid nonstop phone calls and text messages, she and her husband, Cedric, rented an SUV in their hometown of Starkville, Mississippi, and loaded it up with supplies. They hit the road early March 25, navigating the complex terrain as they reached Amory.
"When we first got there, I was very emotional," Ward said. "The area was pretty much destroyed. I could see people standing in their yards just looking at their homes and the destruction. Large trees landed on homes. Metal was wrapped around utility poles and power lines. I felt helpless at first, but then I felt like I was where I was needed – there to help these people."
Realizing the magnitude of destruction, Ward enlisted the help of her co-worker Martha Swindle, a TVA community relations specialist for the West Region. Recalling her initial trip into Amory, Swindle was struck by the view crossing over Tombigbee Waterway.
"Trees were toothpicks half gone and a refrigerator was standing in the middle of it all," she said.
Swindle focused on getting meals to line workers and first responders in Amory and Okolona, Mississippi, while Ward focused on bringing supplies to the Amory community.
A furniture store in Amory became a hub for people to obtain food, beverages, tarps, toilet paper, baby formula and other necessities. Community members helped staff the makeshift supply center.
"What touched me the most was seeing people come to the center and be so gracious for even the simplest of things, like a case of water or a tarp," Ward said. "They would get there not even knowing what they needed, but they moved along the line and at the end they would have more than they could carry – and they needed every bit of it."
On a trip to get more supplies, Ward and her husband found themselves stopping frequently to offer aid. She saw one lady trying to use a king-size sheet as a tarp, so they gave her a tarp, food and a case of water. She stopped for another woman who had three children, and they hadn't eaten that day; Ward stocked them up, too.
"I didn't pass by anyone without asking if they needed something," Ward said. "I'm grateful for my job and that we can offer help and meet people where they are in times of need."
By late afternoon on March 28, only about 30% of the affected people were still without power.
TVA helicopter pilot David Jonas flew TVA leaders and local power company managers over the area to survey the damage and coordinate the response.
"From the air you can see it was a wide path of destruction," Jonas said. "We can see trees knocked over in the same direction, a lot of homes with blue tarps on the roofs and a lot of vehicles trying to clean up the mess."
TVA replaced the transmission structures impacted by the storm and worked to return the Mary Haughton substation to service.
Storms Strike Again
Less than a week later, crews responded to neighboring communities after another line of severe storms rolled through the region on March 31.
Among the areas hardest hit were Haywood, Tipton and Wayne counties in Tennessee.
"Unfortunately, we're getting very practiced at coming in after a devasting event such as the one in Amory and now Covington," said Mark Yates, TVA regional vice president of the West Region.
Damage assessments grew as TVA employees arrived onsite, ultimately identifying 10 downed lines and 56 structures damaged. High winds on April 1 added additional challenges for the response effort.
"I'm proud of our team – the way they rallied and responded quickly to get the power flowing again," said Doug Bailey, TVA vice president of transmission field operations. "Our first priority is always safety, and we were able to safely and quickly return power to local power companies who were impacted. But we're not done yet."
While TVA's immediate efforts revolved around making repairs to the bulk electric system, TVA also worked closely with impacted local power companies and their communities to offer support.
TVA provided wood poles to Southwest Tennessee EMC after their supply was damaged in the storm. Team members also provided supplies, food and water to line crews and local residents.
"Through these storms, we've had a tremendous opportunity to see how we live our mission – what it means to make life better for these communities and how we define that in moments where there is loss of life but also a sense of hope as everyone joins together to rebuild," Yates added. "I have so much gratitude for my team and all our fellow employees who offer help."
By the evening of April 1, TVA energy once again flowed to all local power companies.
"At the end of the day, we're all serving our communities as best we can and providing the needs that are essential to life," Wooten said. "I'm proud to be a part of this great effort."
Photo Gallery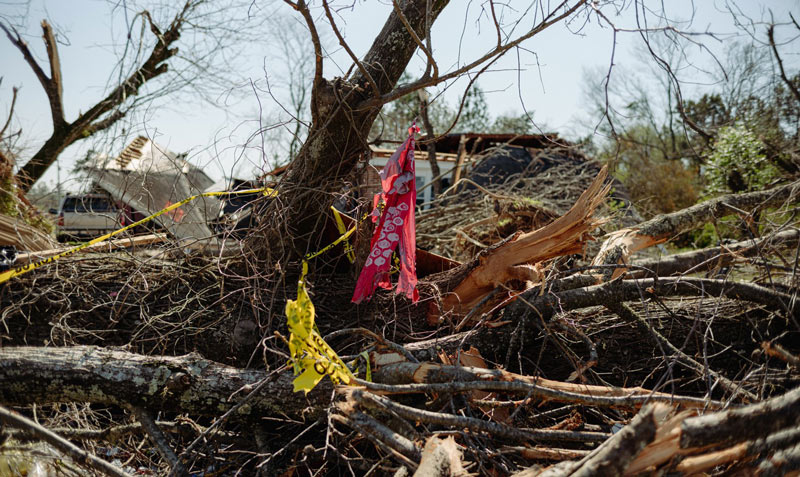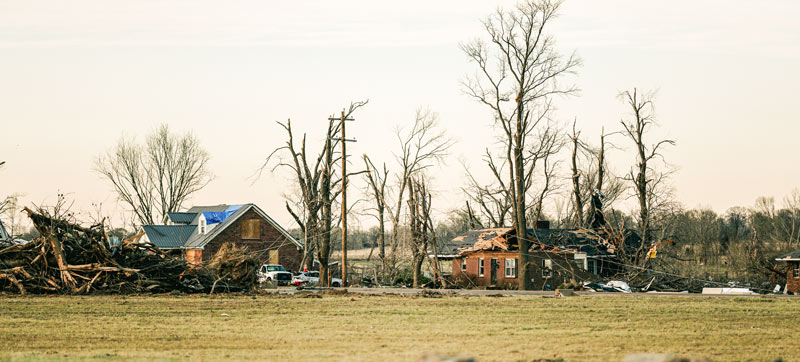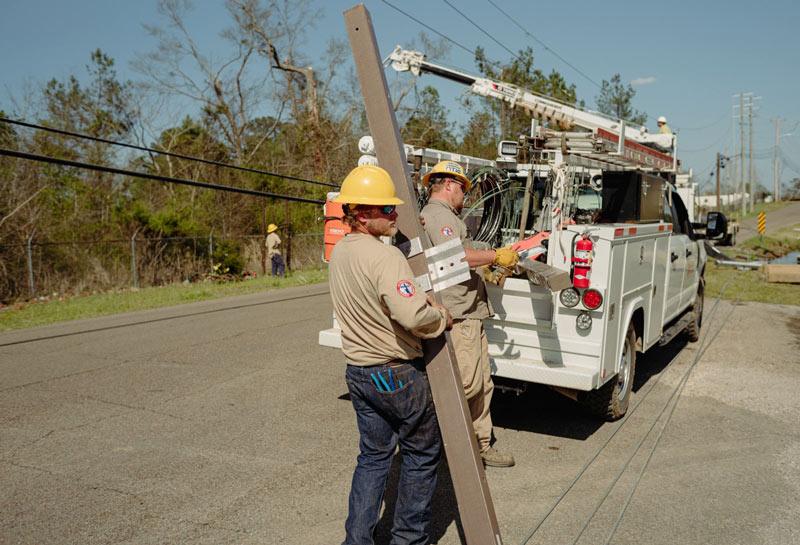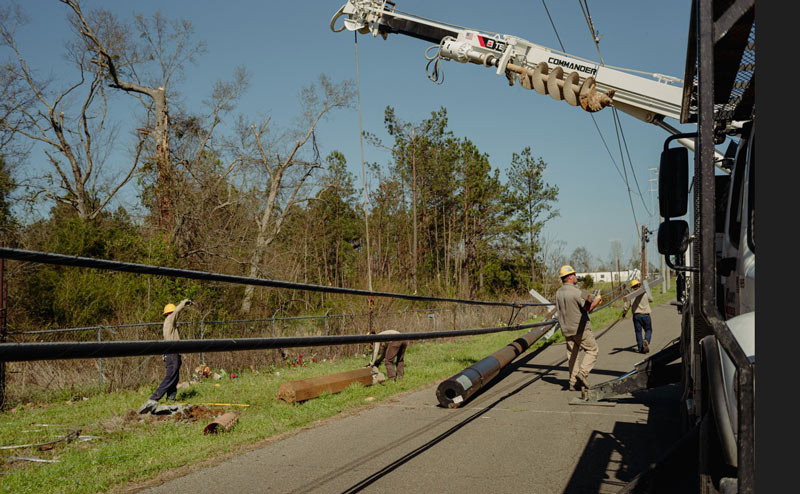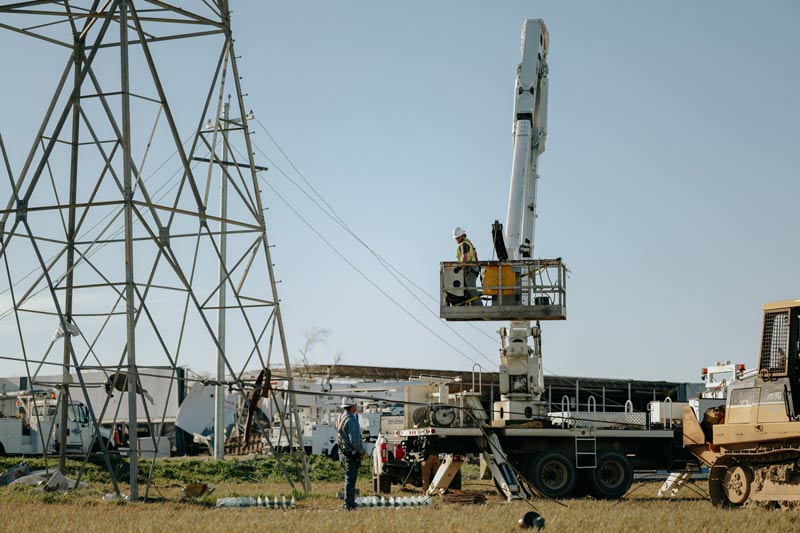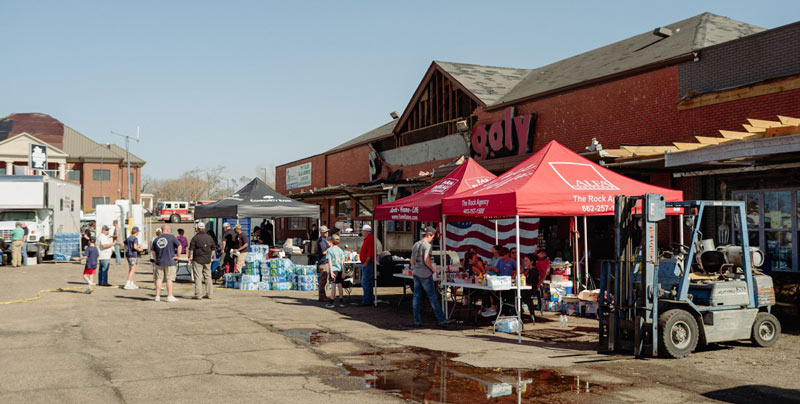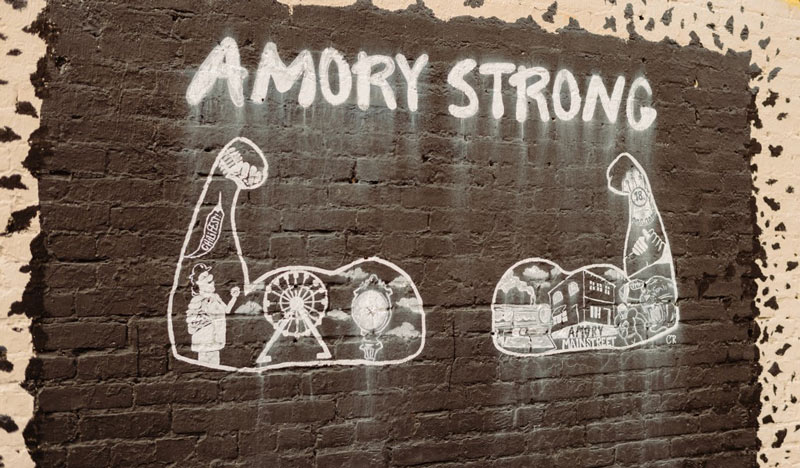 ​ ​
Share this story:
​