We've all heard about Asian carp and know the nuisance these flying fish can be in our lakes and rivers. But step back for a moment and think of Asian carp in a whole new way—as tasty table fare.
APRIL 15, 2019 — Silver carp, one of the four Asian carp species, is an invasive non-native fish that is infiltrating Valley waters. As protectors of our rivers and lakes, TVA has an interest in the whereabouts and management of the species.
So how did the silver carp get here? The species was imported to control certain vegetation in the 1970s. Flooding in the '80s and '90s compromised the ponds where the fish were being held and allowed them to spill into lakes and rivers. Once the fish reached the Mississippi River, they began to spread — very rapidly. In the 1990s, silver carp were found as far as the Ohio River.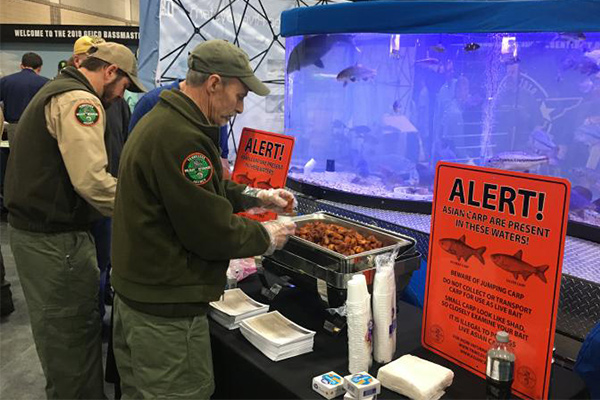 TVA served fried silver carp at its booth at the Bassmaster Classic in Knoxville in March 2019.
So what's the plan for reducing or eliminating these invasive fish? On a national level, the aim is to contain, control and continue researching. TVA is invested and part of the conversation through a multi-agency partnership with fisheries management in Kentucky, Mississippi, Alabama, and Tennessee, along with the U.S. Fish and Wildlife Service, and the U.S. Army Corps of Engineers (which operates the locks).
Currently, an acoustic barrier is being tested at Barkley Dam and lock located on the Cumberland River. Waters from Barkley intersect with Kentucky Reservoir, thus making this test important to finding effective ways to manage carp in the Tennessee River.
An Invasive Delicacy
Other methods of mitigating silver carp include commercial fishing, bow fishing and round-up events. And last but not least — eat it! Fry it up, add a side or two and enjoy its flavor.
Silver carp is viewed as a delicacy in Asian cultures and demand is on the rise in restaurants across the globe. The Kentucky Fish House, a fishing production facility located near Kentucky Lake, is a private partnership aimed to harvest and sell silver carp. Asian carp caught in Kentucky are sold by the Kentucky Fish House in daily auctions open to interested buyers. It's an innovative concept with a goal to produce 20 million pounds of silver carp by 2024.
The other goal of the Kentucky Fish House is to teach commercial anglers to fish for silver carp using nets.
"Silver carp is an invasive species that we want to keep out of our TVA lakes and rivers. Through research and trials, we're making an impact on keeping the species away from the Valley," said Dennis Baxter, manager of river & reservoir compliance for Land, River Management & Environmental Compliance. "To date, Asian carp have been spotted in Pickwick Reservoir in the lower Tennessee Valley river system. We want to work with fellow agencies to ensure these fish don't continue to travel up the Tennessee River system."
Partnering to Manage the Species
Managing these species is on TVA's Environmental Compliance & Operations and Natural Resources teams' minds. That's why they recently worked with the Tennessee Wildlife Resources Agency and the Knoxville Convention Center to serve samples of silver carp at the 2019 Bassmaster Classic held in Knoxville, Tennessee. More than 158,000 fisherman and interested spectators attended this event and many were able to taste silver carp for the first time. The majority were impressed and came back for more. They agreed that they'd be willing to catch or purchase silver carp for dinner in the future.
So how can you help? Fish the species! Then eat it. Silver carp has a mild flavor and is easily paired to create a meal at home or by the campfire. Try this simple recipe:
Fried Silver Carp
1 lb. boneless silver carp filets (cut into 5-inch-long strips)
4 cups frying oil
3 cups of your preferred fish coating
3 Tbsp. Cajun seasoning
1 gallon plastic storage bag
Preheat cast-iron or other heavy skillet with oil to about 375 degrees.
Combine fish coating and Cajun seasoning in the gallon zip-close bag.
Place the fillets into the hot skillet (do not overcrowd).
Cook 4 to 5 minutes until crispy and golden brown (should flake easily with a fork).