Excess materials from a TVA Dam Safety project saved one Tennessee county more than $70,000 in construction costs at an area school.
What good is leftover topsoil? Turns out, a lot of good for an area school. TVA donated 86 truckloads — or 1,113 cubic yards worth — of topsoil to Roane County, Tennessee this summer, saving the municipality more than $70,000 in construction costs at the Roane County High School in Kingston. The topsoil was leftover from a TVA Dam Safety project that reinforced the earthen embankment of the Kingston Dike.
Kingston Dike is a back-water protection dike located in the heart of the city, protecting Roane County residents from the overflow of Watts Bar Reservoir.
The improvement to the Kingston Dike construction required TVA to occupy a parking lot used by Roane County High School to stage their equipment. Operations resulted in wear and tear on the already worn parking lot, so, once the project was complete, TVA repaved and striped the school parking lot.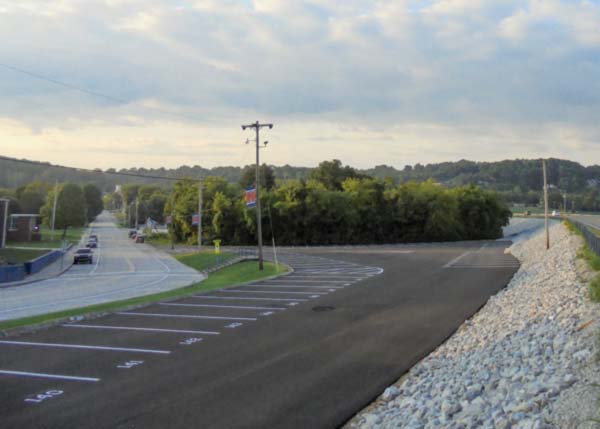 "We have to be in contact with city officials during all of our repair projects on the dam," said D.J. McJunkin, TVA Supervisor of Civil Projects. "They had mentioned that they were in need of some topsoil, so I knew we couldn't just haul it to Kingston Fossil to stockpile when it could benefit them."
The gifted topsoil will be used for current and future city landscaping and utility projects, at the request of Kingston's Public Works Director, Tim Clark.
"We truly appreciate the generous donation and TVA's commitment to the community," Clark said. "This donation will greatly assist the Kingston Public Works Department for years to come."
The leftover topsoil from the project was certainly useful to the city. However, the donation had an added benefit to TVA. It saved the agency $40,000 in hauling costs.
In addition, TVA scheduling the occupation and eventual improvement of the Roane County High School parking lot to coincide with their summer break permitted the continuation of school operations without interference from TVA during the dike construction project, and potentially saved the agency from further construction and environmental costs.
"We are so grateful to the team," Principal of Roane County High School, Kent Millsap said. "Our facilities are a little beat up, so the students were so happy to have a new parking lot with numbers and lines that they can clearly see. And they even postponed the projects so that we could have graduation before they used our parking lots. We joke now saying that we wish TVA would come and use our facilities more often — we're very thankful for their work."
Going Above and Beyond
And that's not the only public property that the team left in better condition than before.
According to Money, accessibility to the middle portion of the Kingston Dike construction site was extremely limited — being bound by two wetlands, a personal residence and a dentist's office. During the design and planning phases, Dam Safety identified a TVA-owned access road that ran between one of the wetlands and the dentist's office/personal residence.
Though this access road was on TVA property, it wasn't usable due to an eroded portion caused by a damaged culvert. The culvert could be seen when entering the dentist office's parking lot and even made the personal residence's loop-around driveway inaccessible.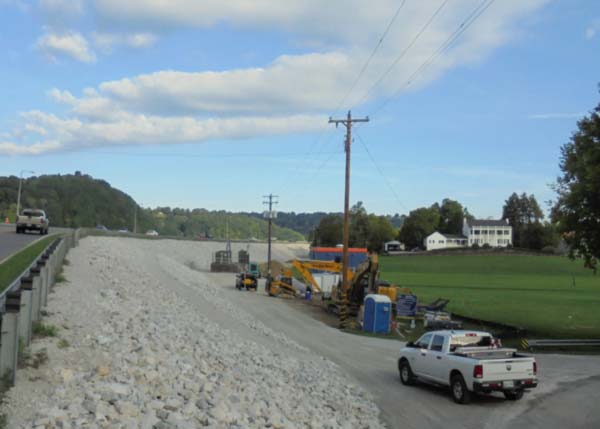 "It was an inconvenience and eyesore to the community," Money said. "So, as an act of goodwill, we planned and budgeted to replace the damaged culvert, improve the drainage along the access road and repair existing damages to the roadway in addition to the damage caused by our construction activities. It really is our team's goal to leave things better than what we found them, and we did just that."
Senior Project Manager, Karen Officer-Bell agreed, saying that the joint project team was eager to go above and beyond the donation project, not only to be generous but also wise in their efforts.
"The project was an overall win-win for both Kingston and TVA, and we couldn't be prouder of the departments involved — both for their initiative to serve the community and to do so cost effectively," Officer-Bell said.