On Earth Day … and every day … TVA strives to reduce carbon emissions. Now we're leading the industry in carbon reductions, competitiveness and accounting. Read more about what we're doing to keep air clean.
APRIL 22, 2020 — As the Tennessee Valley deals with a global pandemic, this year's Earth Day will in many ways be different from any other we've had before. But, the virus hasn't changed TVA's commitment to protecting the Earth.
Take, for example, our work to transition our energy generation fleet for a low-carbon future. Our strategy includes the continued development and deployment of a diverse portfolio of energy resources to reliably and affordably serve our communities with a focus on reducing carbon emissions.

"Reducing our carbon emissions and helping other companies reduce their carbon emissions helps protect the environment," says Rebecca Tolene, vice president, Environment, and TVA chief sustainability officer. "As we lower our collective carbon numbers, we also give the Valley an advantage in a competitive economy to create jobs, sustain economic growth and make lives better for the Valley."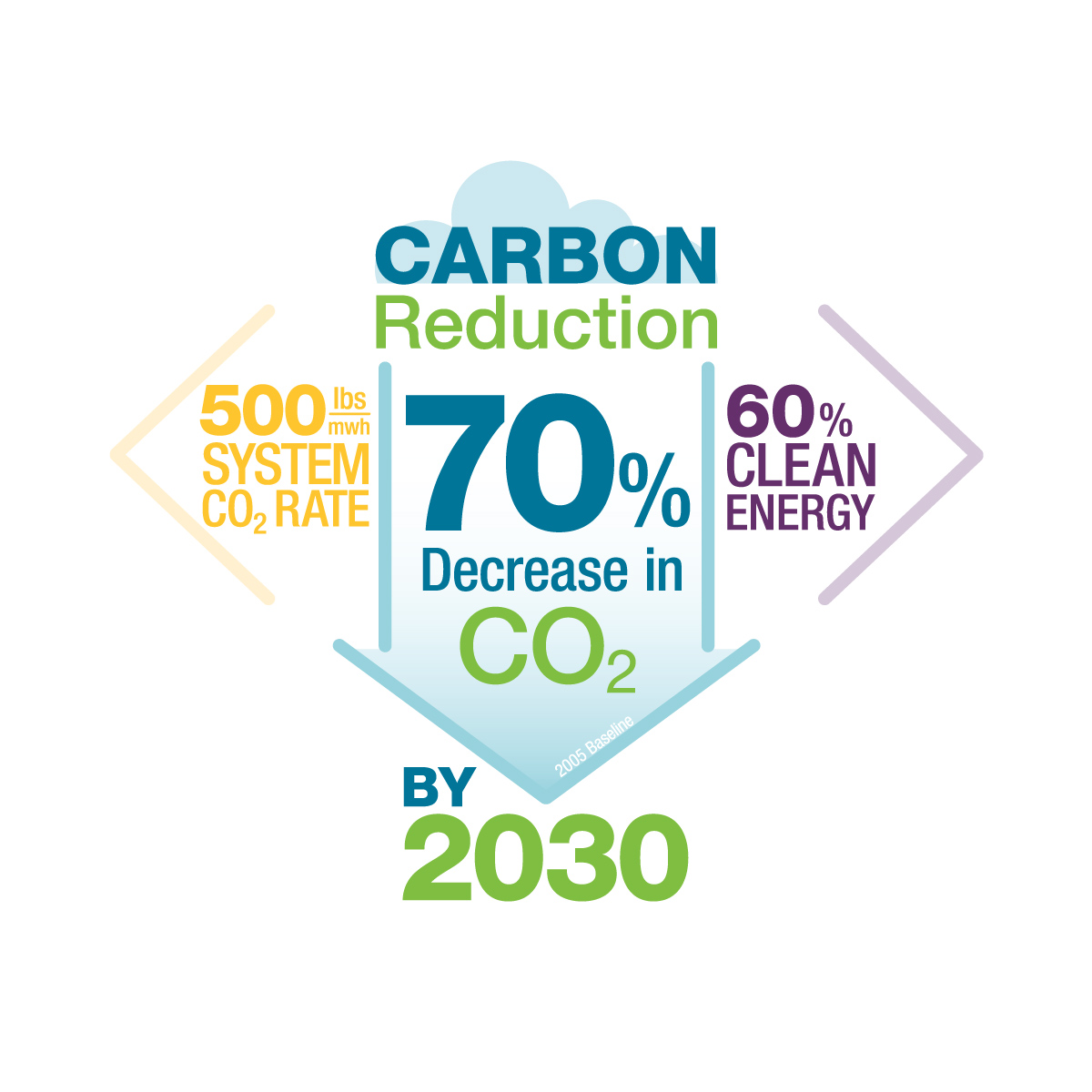 Meeting Our Goals to Reduce Carbon Emissions
Today, 54 percent of TVA energy comes from carbon-free sources — a leadership position in our region. We're on track to reduce CO2 emissions by 60 percent from 2005 levels by the end of 2020, and a 70 percent reduction by 2030.

TVA is achieving its CO2 goals by creating a more balanced portfolio. While renewables play an important role, there are many components in our efforts to reduce carbon emissions. We've constructed new lower-emitting natural gas plants, increased our nuclear capacity and continue to optimize our hydropower plants.

Helping Customers and Other Companies Reduce Their Carbon Emissions

At TVA, we aren't just focused on reducing our own carbon emissions. We are focused on helping local power companies, directly served customers and other businesses measure and reduce their carbon emissions as well.
Through our carbon competitiveness program, TVA provides these businesses with personalized carbon rates as well as suggestions on ways to further reduce their CO2 emissions — including the electrification of the customer's CO2 emitting sources, such as space heating and transportation.
The carbon rate information TVA provides includes each company's carbon emissions related to its electricity purchases, its renewable energy certificate adjustment and information on how the company's CO2 emissions compare with regional and national standard average rates. The customized CO2 rate also reflects energy efficiency measures that the company employs on-site, such as planned energy usage around lower carbon-emitting hours.

TVA's unique carbon accounting is recognized as a best business practice. In addition to providing the information, TVA representatives often meet with companies to assist them with their CO2 accounting and reduction options.

Businesses and the Valley Benefit from Carbon Accounting

Businesses and the Tennessee Valley as a whole benefit from carbon accounting. Businesses' customers and investors are demanding the information. Studies have shown that disclosing and improving carbon performance helps increase a business's earnings, attract investment and positively impact sustainability ratings.

Tolene emphasizes that driving down carbon emissions leads to improved community health, a stronger local economy and more jobs in the region.
"TVA is pleased to offer our customers and other businesses this detailed, proactive carbon accounting," she says. "Environmental excellence and sustainability are important to companies that might be looking to move to the Tennessee Valley or might be looking to build new operations here. TVA is happy to be able to help our customers, businesses and our communities identify accurate carbon numbers and ways that, collectively, we can further reduce carbon emissions."

TVA also is recognizing Valley businesses that are carbon leaders in their communities. In recognition of companies committed to achieving lower CO2 emissions, TVA started recognizing direct serve businesses with the TVA Carbon Reduction Award and extended this recognition to LPC large customers last year.

Reducing Carbon Emissions Aligns with TVA's Mission

TVA was founded in 1933 to "serve the people to make life better." TVA's reduction of carbon emissions aligns with our mission.

"Sustainability for TVA means ensuring our ability to provide the people of the Tennessee Valley with low-cost and reliable electricity, a healthy environment and a prosperous economy —without compromising the ability of future generations to do the same," Tolene says. "Our efforts to reduce carbon emissions are a terrific example of our commitment to sustainability, the three Es and our overall mission of making life better in the Valley."