When Andy Mobley was diagnosed with cancer, he was stunned, of course, and faced with a common problem: not enough sick leave to stand up to treatment. Luckily, caring coworkers stepped in to donate leave time to help regain his health.
No number of mundane telephone pleasantries could ever have prepared Cumberland Fossil Shift Operations Supervisor Andy Mobley for the words that would change his life.
"You've got cancer," his doctor said.
The rest of the memory was a muddled string of phrases and medical jargon that essentially diagnosed the 40-year-old with Stage 3 testicular cancer. The diagnosis came in the spring of 2017, as Mobley was recovering from a gastric sleeve procedure that helped him manage his weight and get his health in check.
At the same time, Mobley was experiencing chronic back pain from a nagging farming injury—or so he thought. Instead, a MRI and biopsy revealed the pain was coming from multiple cancerous tumors that had already spread into his lymph nodes.
"I was at a loss for words," Mobley said. "Scared. Blindsided."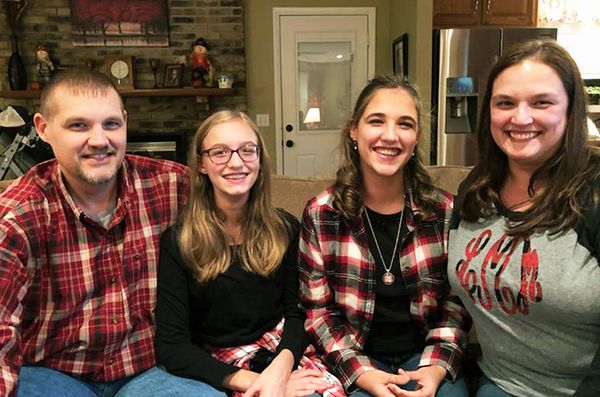 Mobley is pictured with daughters Katie, 12, Anna, 14, and wife Laura.
With a wife and two young children, the cancer was not his only worry. Because of a severe leg injury in 2011 that required a five-month recovery, Mobley only had about 100 hours of annual leave and 120 hours of sick leaved saved up. But as he had done before, Mobley was able to rely on his team of coworkers at New Johnsonville Fossil Plant for support. At the time, Mobley was a unit operator.
While Mobley fought cancer—undergoing invasive surgery and a three-month storm of chemotherapy—coworkers and former colleagues across the Valley rallied to his aid by transferring annual leave from their personal balances. The teamwork of these individuals ensured that Mobley never missed a paycheck.
"I consider it one of the valuable benefits of working at TVA. It's not just the money; it's the health insurance too," Mobley said. "Because of what those guys did for me, I was able to focus on beating cancer."
After nearly six months away from work, Mobley received a second phone call.
"The cancer is gone," his doctor said.
Soon after, Mobley was able to return to work. It was the first time he was able to thank many of his coworkers personally for their help.
"Each of those guys gave up vacation days to help me out," Mobley said. "That's something I don't take lightly."
Depending on how long an employee has been with TVA, annual leave is earned at the end of each pay period in either four-, six- or eight-hour increments. Regardless, each employee can only carry forward 240 hours at the end of the calendar year. Excess leave must be taken or donated.
"I've always been brought up that it's use it or lose it," Mobley said. "I'm going to try to pay it forward. Having benefitted from the leave donation program twice now—no matter how much leave I've got—I'll donate because I know how it helped me."