Catch Those Carp!
TVA is working with the Tennessee Wildlife Resources Agency to promote fishing of Asian carp to reduce populations of this invasive species in the Valley's reservoirs.
AUGUST 1, 2018—TVA is working in collaboration with the Tennessee Wildlife Resource Agency (TWRA) and other organizations to stop the spread of Asian carp. Through public awareness, emphasis on commercial fishing, and hosting the occasional bowfishing tournament, TWRA hopes to control these invasive fish currently living in some Valley waterways.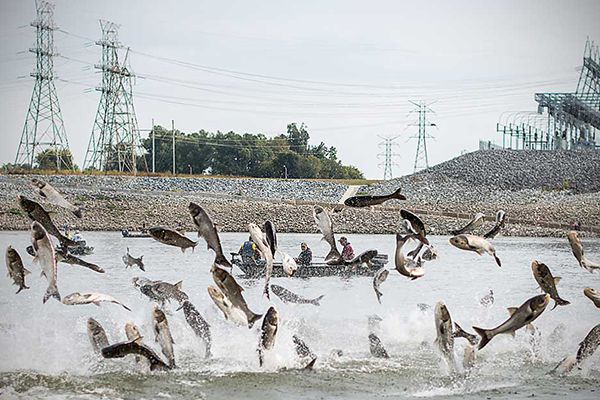 Photo courtesy of TWRA
Three of four invasive species of Asian carp—bighead carp, silver carp, and black carp— are relatively new to the system and pose the biggest threat. Grass carp—also known as white amur—is the fourth species and is commonly used as a biological control for aquatic nuisance plant species. Grass carp pose little threat to the Valley's waterways in comparison to the three other species.
Ornamental Escapees
Asian carp were first introduced to public waterways in the early 1990s when they escaped from aquaculture ponds in the delta areas of the Mississippi River during extreme flooding. Since then, they have migrated through the Missouri River and the lock-and-dam systems of the Ohio, Tennessee, and Cumberland rivers.
Although these nuisance carp cannot swim into all reservoirs, they could be unintentionally introduced by fishermen.
"We are asking people to be cautious when they are harvesting live bait," says Frank Fiss, TWRA chief of Fisheries. "Small carp look very similar to threadfin shad and gizzard shad, and we don't want anyone to mistake them and accidentally move them to new waters."
To control Asian carp in TVA reservoirs where they are already established, like Kentucky Lake, TWRA is providing commercial fishing and bow fishing incentives to encourage carp harvest. This is a strategic effort to reduce the threat to boaters and aquatic resources.
The silver carp is the species most concerning to boaters' safety.
"We want boaters to be aware that these fish jump," Fiss explains. "It is not like the fish target you, but people should be wary of their random jumps. Anyone hit by large carp could be injured."
To further reduce the possibility of these occurrences, TWRA recently partnered with the Kentucky Department of Fish and Wildlife Resources to host a tournament. During the 12-hour event, 81 teams harvested 17,000 pounds of Asian carp.
Purposeful Overfishing
"The thinking is, by reducing the number of these invasives in the lake, they are less likely to move upstream to the next lake," Fiss says. "These fish have not been very successful spawners in recent years, and fish populations with erratic spawning patterns should be more vulnerable to commercial fishing. We want to overfish this population."
TVA is a member of the Ohio River Fisheries Management Team—which is tasked with controlling carp—and is supporting TWRA's efforts to prevent the Asian carp's spread and minimize the impact these fish have on Valley waterways.
"We maintain an open line of communication with agency biologists and partners working to control the spread of nuisance species," says John Justice, TVA Fisheries biologist. "We are an extra set of eyes for aquatic resource managers."
Biologists from TVA's River and Reservoir Compliance Monitoring team collect data for a wide variety of projects, including permits for TVA facilities, natural resource stewardship, and partnerships with external groups. They monitor more than 1,800 stream sites and 49 reservoirs in the Valley to ensure TVA's operations continue to support and sustain a healthy watershed.
​ ​
Share this story: