Every year in May, local preservation groups, state historical societies, and business and civic organizations across the country recognize Preservation Month. It is an opportunity to celebrate the diverse and unique heritage of our country's cities and states.
This year, TVA is getting in on the action as we highlight some of the most unique and magnificent architecture in our area.
We may not always think about TVA in this preservation context, but it plays a unique role in this nation's—and this region's—history. To acknowledge Preservation Month, we have created a video to spotlight TVA's architectural resources.
TVA was created in 1933 to improve the quality of life of the people of the Tennessee Valley by providing flood control, navigation, and affordable electricity.
Its architects, engineers, and laborers immediately went to work designing and building several hydroelectric facilities. The first, Norris, described as "a monument to the masses," began its initial operations in 1936, quickly followed by Wheeler, Pickwick Landing, Guntersville, and Chickamauga.
During World War II, at our construction peak in 1942, we were building 12 hydroelectric facilities and one fossil plant. Tellico, planned in 1943 as the Fort Loudoun Extension, was not completed until 1979. It has the distinction of being our final hydro construction project.
Whether a dam and associated structures were built primarily for flood storage or navigation, they all shared a modern, progressive design—an important reflection of how TVA wanted to be viewed by the public. The use of materials such as solid concrete, brushed aluminum, and glazed tile all contributed to the contemporary feel and unique design.
In fact, in the spring of 1941, the Museum of Modern Art held an exhibition to recognize TVA structures as noteworthy examples of modern American architecture and design. In its press release, the Museum commended TVA, noting "that a huge government project can produce fine architecture . . . these structures handsomely combine dignity, logic and beauty - from the minor buildings built around them to the colossal dams themselves."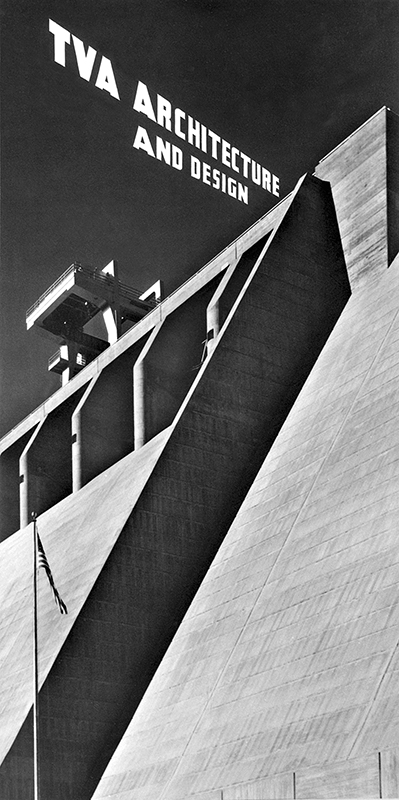 Today, many of our dams are considered historically significant and are listed in the National Register of Historic Places, the nation's official list of historic places worthy of preservation. Several have also been recognized as engineering landmarks.
TVA's Cultural Compliance group—comprised of professional historians and archaeologists—are tasked with ensuring that TVA follows federal preservation legislation so our cultural history is protected and preserved for future generations.