And this birthday will be a celebration of TVA's past, present, and future. A celebration of how TVA has continually innovated since its beginning in 1933 to make the beautiful region it serves one of the best places to live, work and play.
In his 1947 book, Inside USA, American journalist John Gunther wrote about the incredible success of TVA: "I consider [TVA] to be the single most indispensable thing to see in the U.S. It shows the world of tomorrow as against the world of yesterday . . . I can't say how much I've been impressed by this experiment here – I've been inspired."
Here's a look back on TVA's past celebrations and a sneak preview of some of this year's special activities.
Past anniversaries
TVA's first milestone occurred on May 18, 1943. The Knoxville Journal's headline read "TVA Deep in Wartime Activities on the Tenth Anniversary."
There was no celebration – workers focused their efforts fully on war production.
In later years, TVA emphasized milestones in various ways.
For its 25th anniversary in 1958, TVA held open houses at its dams and newly built steam plants, offering special tours to the public.
President John F. Kennedy visited the Chemical Engineering Building at Muscle Shoals, Alabama, on TVA's 30th anniversary. He delivered a memorable speech to an estimated crowd of 12,000 people. One of his remarks continues to ring true today:
"There are those who say that TVA has finished its job and outlived its challenges. But all of the essential roles of TVA remain . . . In short, the work of TVA will never be done until the work of our country is done. There will always be new places for us to go, for, in the minds of men the world over, the initials TVA stand for progress, and the people of this area welcome progress."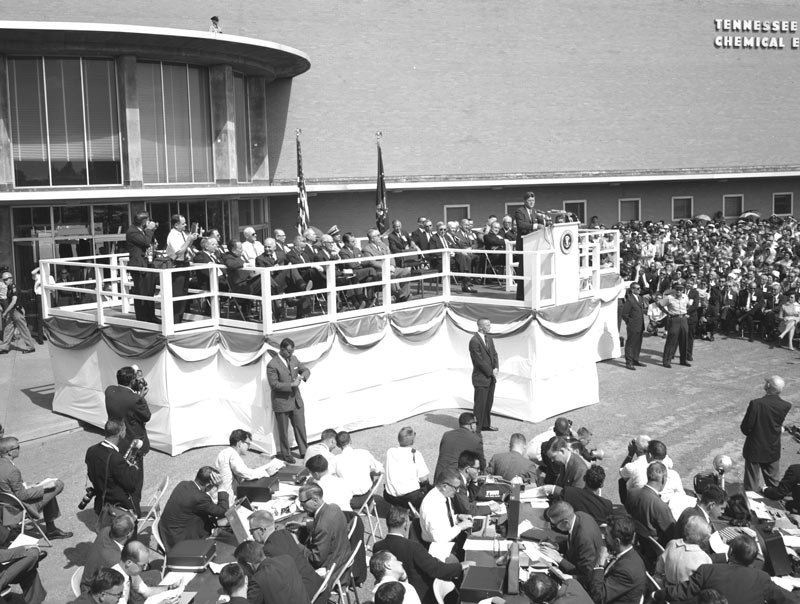 A celebration like no other
And then there was TVA's 50th anniversary. Following the 1982 World's Fair in downtown Knoxville, Tennessee, TVA threw a progressive, three-city party in 1983.
The day's ceremonies kicked off on the plaza outside the Knoxville Office Complex. Standing on a platform between the two towers, West Virginia Senior Sen. Jennings Randolph launched into what was described as a "rip-roaring, stem-winding Southern Senator Special."
Randolph was an important speaker as he was a member of Congress during the first 100 days of Franklin Roosevelt's administration and was present at the TVA Act signing.
He called TVA "one of the most innovative undertakings in American history." As part of the Knoxville ceremony, the U.S. Deputy Postmaster General unveiled the first-day issue of a commemorative, 50th anniversary TVA stamp.
Shortly after the Knoxville festivities, the Board and distinguished guests flew to Chattanooga. Activities there included cutting a 200-pound cake in the shape of a fossil plant and attending the ribbon-cutting ceremony near Chickamauga Dam for the Valley Adventure barges.
These two-exhibit barges traveled for six months through four states on four rivers, bringing the anniversary celebration to 23 communities along the Tennessee River.
The party then moved to northwestern Alabama. The exterior area of TVA's National Fertilizer Development Center had been the planned location to congregate, but rain moved the celebration inside the Sheffield Recreation Center.
The high point of this ceremony included remarks by Tennessee Senator and House Majority leader Howard Baker. After citing the accomplishments of the agency in its first 50 years, he was prescient when he noted that there was no way to predict what challenges TVA would face in the 50 years to come.
"But this much we know: It is a strong commitment to innovation and experimentation that has made TVA one of America's most successful public servants. And it is this same commitment that must continue to enhance the quality of life in the Valley, in the nation, and the world."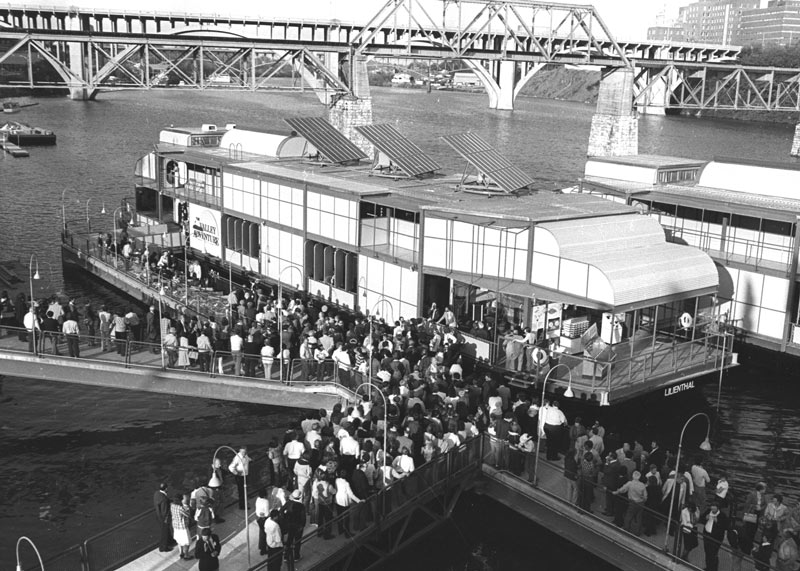 Celebration planning commences
TVA now stands on the threshold of 90 years, continuing to serve the public to enhance the quality of life of every person in our service region.
The focus of this year's celebration will pay homage to the agency's longstanding mission of service. TVA was built for the people, and it will celebrate its legacy of innovation and its commitment to the 10 million people in the seven-state region it serves.
Among the activities planned throughout the year will be the largest day of service in TVA's history on its birthday. TVA team members and retirees will spread out across 201 counties to volunteer at a variety of nonprofit organizations. They'll plant trees, assist at food banks and clean up natural areas.
This is how TVA will choose to celebrate its birthday – by giving back to its community.
TVA will also offer a series of public tours at select dams, allowing people to sign up to see the inner workings of a dam and learn more about how TVA produces clean, green hydropower while ensuring the health of the waterways it manages.
This will be the first time TVA has opened some of its dams for public tours since the pandemic.
TVA will also look forward to seeing you at festivals throughout the seven-state region. Interactive exhibits will be set up at various popular events to allow local people the opportunity to learn more and ask questions.
TVA historian, Pat Ezzell, noted that this is a very special year. "To think of all the ways TVA has served the people of this region for the last 90 years and to think about the opportunities that lie ahead, it's truly amazing. TVA was built for the people, and on this anniversary, we are going to celebrate with the public, sharing our remarkable story wherever we can."
Stay tuned to tva.com about opportunities to participate in the #TVA90 celebration.