JANUARY 7, 2021 — TVA recently collaborated with Champion's Pharmacy and Herb Store in South Memphis to bring the Champions 4 Seniors project to help senior citizens with their pharmaceutical needs.
TVA has provided 400 gift cards worth $25 each, redeemable at Champion's Pharmacy, to local partners (NAACP Memphis Branch, The Works, and Juice Orange Mound) to distribute to seniors in the community. The pharmacy will also set up its Herb on Wheels truck in the community in conjunction with local partners to provide an opportunity for seniors to visit and shop conveniently while staying close to home.
"The Champions 4 Seniors initiative is such an exciting opportunity for Champion's Pharmacy and Herb Store," said Dr. Carol Champion. "The project allows us to continue our goal of serving one of our most vulnerable groups during the COVID pandemic. As a matter of fact, we started the Herb on Wheels when the pandemic began to address the needs of so many in the area who could not travel far from their homes. The collaboration with TVA was very timely. TVA was an integral part of us starting Champion's Pharmacy over 40 years ago, and it is simply ideal that we find ourselves working together again."
Champions Pharmacy opened for business in Memphis 40 years ago in 1981 on the corner of Third Street and East Mallory Avenue, ultimately moving to 2369 Elvis Presley Blvd in the 1990s, where it expanded to Pharmacy and Herbs, providing herbal vitamins, natural remedies, home remedies, root, leaves, teas and more at their physical store and online.
The pharmacy is family operated and run by Dr. Champion and his two daughters, Dr. Carol & Dr. Rita Champion and has been recognized on numerous occasions for its innovation and dedication to the city.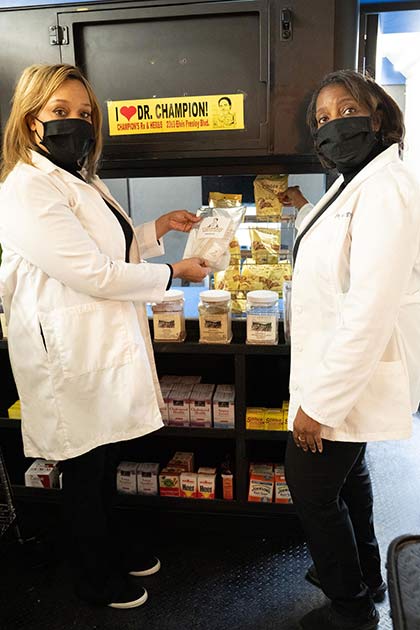 Champion's Pharmacy's Herb on Wheels truck is the first of its kind in the country. Click here to learn more. To find out more about the Champions 4 Seniors project, contact Latrivia Welch.
No TVA endorsement is intended or implied.