Champions 4 Seniors NAACP Event a Success
When seniors needed help, a partnership between TVA and NAACP Memphis Branch brought the newest addition to Champion's Pharmacy into a Memphis neighborhood.
JANUARY 25, 2021 — On Friday, January 15, 2021, against a chilly, overcast backdrop, Herb on Wheels pulled up to the front of NAACP Memphis Branch located at 588 Vance with a mission in mind – to help seniors with their pharmaceutical needs.
Herb on Wheels is a new addition to the Champion's Pharmacy business model. It was developed when the COVID-19 pandemic first hit the mid-south in early 2020 as a possible solution to the community's problem with traveling too far from home to access essential medical items.
Inside the truck, which serves as a mobile store, herbs, teas, salves, and additional items were lined up on shelves and labeled for sale. Their concept is simple, according to Dr. Carol Champion. "Meet the customers where they are. Instead of coming to the store or ordering online, customers can now pick up some of the most popular items we sell from the comfort of their communities."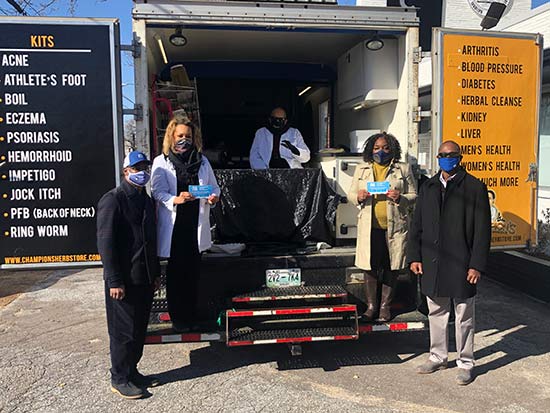 The NAACP Memphis Branch Executive Director, Vickie Terry, greeted Dr. Carol Champion and her team once they arrived. As a Champions 4 Seniors community partner, the Branch offered their offices to serve seniors in the 38106 zip code and distributed over 100 gift cards donated by TVA to local community members, valued at $25 each to the community over the holiday and planned to distribute an additional 100, also donated by TVA, during the event.
"Today is Dr. Martin Luther King, Jr.'s birthday," Terry offered with a smile. "We were pleased to have TVA offer this opportunity to the members of the community. Our office has been receiving calls all day. The word has gotten out."
The Memphis Police Department's Community Outreach Program also participated, providing officers to handle traffic control and provide a presence during the event.
To kick off the festivities, which started at 11:00 a.m., the founder of Champion's Pharmacy, Dr. Charles Champion, addressed the crowd via bullhorn from the back of the Herb on Wheels truck. Masked and donning white coat, the 90-year-old doctor thanked TVA, the NAACP Memphis Branch, and the seniors for attending.
After a few words from the event sponsors, Herb on Wheels opened its doors officially for the first time. "Seeing this vision come to fruition for Champion's Pharmacy is truly impactful," said Dr. Carol Champion, "and I'm happy to have been able to collaborate with TVA and others who made it possible."
​ ​
Share this story:
​