FEBRUARY 9, 2021 — At Special Kids Therapy and Nursing Center in Murfreesboro, Tennessee, hands-on, face-to-face time with the little ones hasn't stopped because of COVID. Every day, there's a variety of physical, occupational, speech and feeding therapies going on safely—including plenty of play and recreational therapy time happening down on the floor.
"It goes without saying that healthcare facilities have to be extra cautious to follow the cleaning standards set by the CDC," said Stephanie Folkmann, director of development at Special Kids. "Here, where the children we care for are already medically fragile and unable to attend typical daycare or school, maintaining a clean environment—especially during this pandemic—is even more important."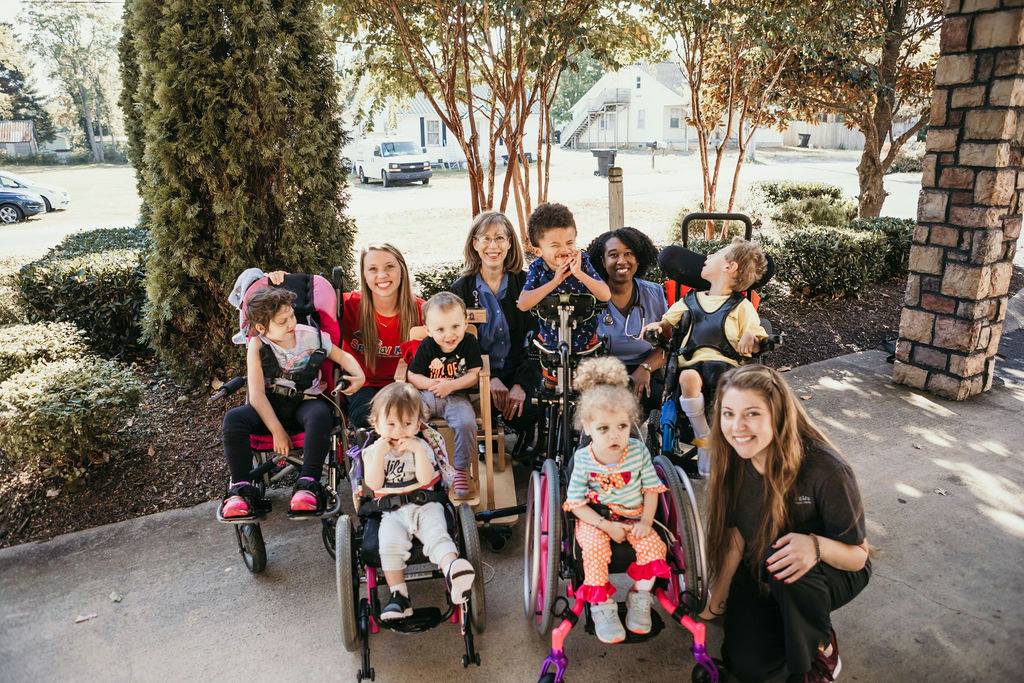 With all of the challenges presented by COVID this past year, non-profit and community service organizations have been among those most impacted. Whether it's providing food, medical care, or other needed assistance, many are experiencing record demand while at the same time having to stretch their funds due to fewer donations and, in some cases, increased costs related to COVID mitigation.
That's why, when Special Kids realized that an autoscrubber would be the best way to keep their floors sanitized for the children they serve, it was no small consideration.
"At over $5,000, the scrubber is an expensive item," said Folkmann. "But we knew it could provide a much deeper clean than a mop and bucket, and would allow our nursing and therapy staff to clean their floors daily. That saves us money and helps minimize the number of cleaning contractors who have to enter our buildings."
Thanks in part to TVA's Community Care Fund, the Center got what they needed. "We received $1,000 from Middle Tennessee Electric, a $1,000 match from TVA and the remaining $3,000 from TN Cares Act funding to purchase the scrubber," said Folkmann. "We are so appreciative."
400+ Organizations, $7.5M in Assistance
TVA's Community Care Fund launched in April 2020 to help address hardships created by the pandemic. The concept is simple: local power companies across the Valley donate to nonprofit and community programs in their area that are actively meeting on-the-ground needs and TVA matches those donations.
Through the fund, TVA has partnered with 136 local power companies to date, supporting 415 organizations across our service territory with a combined total of $7.5 million in assistance.
"This has been such a powerful outreach," said Rachel Crickmar, senior consultant, TVA Community Engagement. "We're making a clear impact and receiving thank you letters from all over the Valley."
While the largest portion of Community Care Fund donations have gone to various food banks, many other organizations—of all sizes and types—are benefiting from this assistance as they work to support individuals, families and local economies impacted by COVID.
Help for All Ages
Take the Imagination Library of Montgomery County in Clarksville, Tennessee. The library distributes approximately 9,000 books per month to children ages birth to five years in Montgomery County, sending a book to each child monthly in the mail. Inside are important reading and literacy tips for parents that encourage reading together.
When funding shortfalls impacted the library during COVID, local power company CDE Lightband partnered with TVA to respond with a combined donation of $15,000.
"I personally know many children who have benefited from the books provided by Imagination Library," said Brian Taylor general manager of CDE Lightband. "We want to ensure that this program stays around."
At Community Action of Southern Kentucky, the agency delivers a variety of human services to low-income residents of all ages across their 10-county region – including senior adults, who have been hard hit by the pandemic.
"Not only are they at higher risk for contracting COVID, but many seniors are having difficulty affording proper PPE and struggling with fear of venturing outside their homes," said Melanie Lawrence, Community Services Director for the agency.
Thanks to a combined Community Care Fund donation from the Russellville Electric Plant Board, the Logan County Fiscal Court and TVA, Community Action received $10,000 to assist in providing hot meals to seniors, as well as to help impacted Logan County residents with paying their electric bills.
"The Community Care Fund exemplifies the spirit of public power, which enables us to put people first and ensure we are serving all the people of the Valley — including those who need a helping hand," said Jeannette Mills, TVA executive vice president and chief external relations officer.
More information about TVA's Community Care Fund can be found in TVA's 2020 Annual Report. The initiative is part of a comprehensive portfolio of assistance programs that TVA is providing to support communities and customers across the Valley during this time of need as part of our mission of service.