DIY Volunteering on TVA Trails
Through a pandemic, TVA public land has saved our sanity. On Earth Day, it gives us a chance to make sure we are taking the best care possible of the place we call home — one volunteer at a time.
APRIL 19, 2021 — Although COVID restrictions still limit large gatherings like volunteer events, visitors and residents of the Tennessee Valley can still get out and make a positive impact. With the fifth anniversary of the Adopt a TVA Trail program coming up, now's the perfect time to turn your next hike —whether solo or with a friend or family member — into a socially distant opportunity to log some volunteer hours.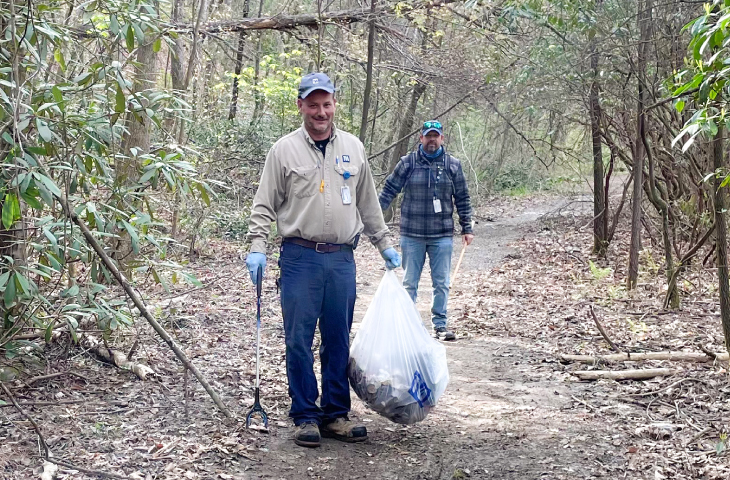 "We want to offer an opportunity for the public to do a little more than just monitoring and litter pickup, they can also do trail maintenance. Anyone is welcome to participate, they just need to sign up," says Suzanne Fisher, leader of TVA's volunteer program. "We ask that people look at the kiosks, any benches or bridges that are on the trail, if the parking lot is in good condition, if there are trees down, if there's any damage to the trail to report."
Show us your volunteer work!
Share your pictures on social media doing your part in restoring our Earth by using the hashtag #TVAEarthDay2021. You may be featured on TVA's social media channels.
"We'd love to see what you're doing," says Fisher. "Just keep in mind that public safety is still very important. In accordance with federal guidelines, we remind you to please wear masks and practice social distancing on TVA-managed public land, including trails."
By volunteering year-round not just on Earth Day, people can increase public awareness of TVA's focus on environmental stewardship and green energy. When you volunteer to help keep an eye on public land, you're joining TVA's Natural Resources Department in its mission to care for the land and water of the Valley.
Find out more about Adopt-a-Trail and download a TVA Natural Resources Volunteer Application.
​ ​
Share this story:
​