Inspectors travel inside Kingston Fossil Plant's 1,000-foot stack.
JANUARY 7, 2021 — Inspectors climbed each of the 1,000-foot stacks at Kingston Fossil Plant in December to check the condition of the structure. This inspection is part of TVA's Civil Inspection Program that ensures the integrity of infrastructure at the site.
Kingston's two 1,000-foot bypass chimneys originally carried fluegas split between Units 1-9 before the plant's 2010 scrubber installation, or fluegas desulfurization environmental controls. Now, the units share a common 400-foot concrete chimney with two fiberglass reinforced plastic liners, which carry wet scrubbed gases to the atmosphere. The 1,000-foot chimneys are still available for use in an unusual operational event.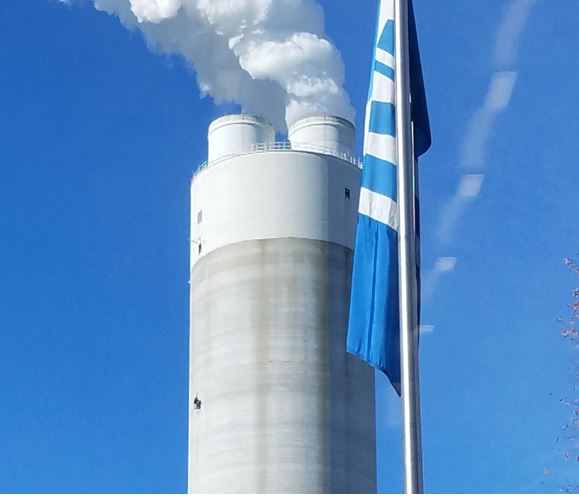 The small dot hanging from the Kingston Fossil Plant scrubber stack is an inspector assessing the condition.
"Because multiple units use this chimney, it's impossible to do an interior inspection without requiring multiple, simultaneous unit outages, which is why the internal inspections used to be extremely rare," said Rick Harris, TVA Civil Engineer.
Most inspections are completed in the space between the concrete shell and steel liner, called the annulus, on existing platforms. Inspectors can look for structural damage from those existing access points. TVA uses forms of nondestructive testing, such as ultrasonic thickness measurements, to help identify thin areas in the steel liner plate.
In some cases, TVA may choose to destructively test material samples.
"Most inspections are hands-on visual inspections, where the inspector is looking for cracks, corrosion or other signs of distress," said Harris.
Drone footage may also be used to supplement an inspection. TVA uses specialty chimney contractors to do the inspections under the direction of a TVA civil engineer, but stacks are just one of the structure types TVA inspects.
"So often infrastructure blends into our daily life. We forget about it – the road you drive on, the roof over your head. But by the time a roof leaks, the damage is already done," said Kristen Tuggle, senior program manager, Civil Balance of Plant, Power Operations. "With the civil inspection program in Power Operations, we want to identify and monitor the condition of our structures to minimize risk of structural failure, operational impacts or threats to personnel safety. Performing routine inspections is the most effective way to monitor condition."
Chimneys, especially old retired ones, pose a risk because they are situated within an operating plant with an entire workforce roaming the grounds.
"We inspect the exterior concrete shell to mitigate loose concrete from falling, caused by freeze/thaw conditions, which is a significant safety concern," said Harris. "You can see in the video where the inspector is chipping away loose concrete to prevent it from falling and causing injury."