Digging holes for new shrubs, spreading mulch, sorting and boxing canned goods, organizing school supplies, flying kites and reading books with young scholars—these are a few of the ways that TVA's Commercial Energy Solutions team brought the organization's mission to "serve the people of the Valley to make life better" during a day of service in Memphis last week.
Employees traveled from East and Middle Tennessee to get to know their neighbors in the West while giving back to the community through various service projects.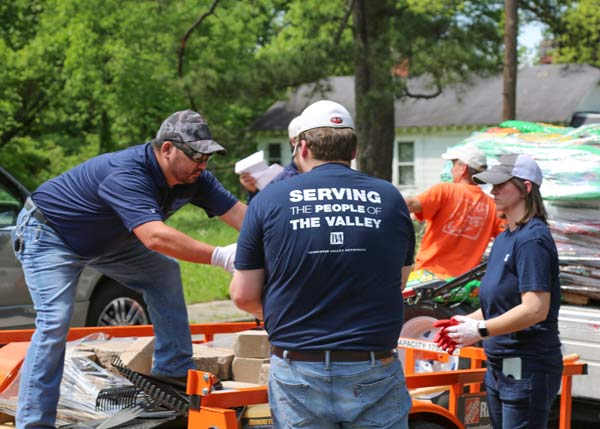 Volunteers cared for the community by building and flying kites with preschool students at Porter-Leath Academy, assembling donated school supplies for Shelby County public schools, organizing food and pantry items at Midsouth Food Bank, reading to students at Downtown Elementary School and giving five yards a facelift as part of a neighborhood beautification effort.
"The old adage of 'It takes a village to raise a child' is absolutely true when it comes to helping children understand the world around us," said Angela Meekins, Porter-Leath Academy's Engagement Manager. "Play is a cornerstone of early childhood education, so flying kites, reading books and singing with new friends from TVA represent an investment in our students' growth. We are so glad that TVA chose to spend a Day of Service with our teachers and students!"
Working alongside TVA staff were employees from companies that TVA partners with in the Memphis area, including local power company Memphis Light, Gas and Water; Home Depot, which donated supplies and manpower; and CLEAResult and American Home Shield, which support TVA and MLGW's Home Uplift initiative to perform energy efficiency and weatherization upgrades to qualifying homes in the area.
"Seeing the joy on a homeowner's face when she saw the new flowerbeds, shrubs, porch plants and solar walkway lights we installed made the day more than worth it," said Doug Perry, TVA vice president of Commercial Energy Solutions. "But we're the ones who receive the most when we invest our time in the communities we serve."