OCTOBER 2, 2019 — As more and more auto manufacturers are giving the green light for the production of electric vehicles (EVs), TVA and the region's local power companies are doing their part to put more people in the driver's seat of these new, leading-edge vehicles.
The goal is to shift those on the verge of buying an electric vehicle away from their old fossil fuel habit.
To help rev up interest in EVs, TVA helped sponsor the first Electric Car Guest Drive in Tennessee on Sept. 27, which invited interested drivers to Tusculum University to speak with EV owners, discuss their personal experiences from going electric, and test drive these sleek new cars for themselves.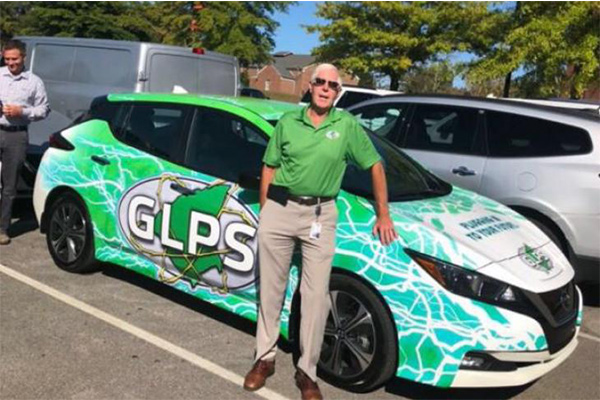 "We wanted to show others that electric vehicles aren't just toys," said Bill Carroll, general manager of Greeneville Light & Power. "They're viable transportation that is comfortable, fast and in some cases, luxurious. I think the drivers at the event got the chance to experience that for themselves."
More than 100 Guest Drive participants were able to explore EVs made by Tesla, Jaguar, Chevrolet, Mitsubishi and Nissan. Together, community members, TVA employees, and business and economic development representatives registered more than 200 guest rides.
Alan Bridwell, executive director of Northeast Tennessee Valley Regional Industrial Development Association, said there is still much to be done before EVs are more widely adopted. For example, while multiple manufacturers have jumped on the chance to produce their own EVs, the infrastructure — such as charging stations — needs to also expand.
"It's not one event and done. We will have to have many more," Bridwell said. "I think electric facilities and TVA have to be part of this conversion, working behind the scenes on a rate that local power companies can live with when people charge their cars."
Carroll agreed: "It's like a chicken and an egg. With the last transportation revolution, somebody had to take a risk to build the first gasoline station, and then someone else risked to build the second one. That's where we are right now. Someone is going to do it eventually, so why not the Valley?"