Ember Anderson - A Day in the Life of a Watershed Representative
Things have changed a lot since Ember Anderson was hired at TVA two decades ago. "Everyone worked in all four subject areas in Natural Resources: 26a permitting, water quality, natural resources and recreation. They were all intertwined," explains the watershed representative, who now serves the people of the Valley in a different fashion.
"These days, Natural Resources (NR) staff are more specialized," explains NR Manager Chris Cooper. "While there is an upside to understanding and working in all of NR's areas, today we have focused teams who concentrate on particular functions of our work. This has helped in planning and implementing our work consistently across the Valley."
Employees' familiarization with specific tasks, projects and territories are important for many endeavors, including efforts like the Coytee Bridge stairs on Tellico Reservoir. Anderson recently completed replacement of a set of wooden stairs with steel stairs for the bridge at Coytee Trailhead, part of the 32-mile East Lakeshore Trail system located on TVA lands.
The stairs were getting old and replacing them with steel allows for more sustainable use well into the future, according to Cooper. "Ember spends a lot of time working with the Watershed Association of Tellico Reservoir (WATeR) to keep the trail maintained for safe public use," he says.
"Safe public use" is a key phrase at TVA. Public lands and public safety go hand-in-hand, and in Anderson's case, that means everything from replacing aging stairs to cleaning up after careless campers.
Not what people might think
Sometimes, people want to ignore TVA's 14 day camping rule for public lands, and when that happens on Tellico, it's Anderson's job to help move them along. By extension, it's also her job to pick up anything that these campers may have left behind. "My work can lead to some wild finds," she says.
There has been a huge increase in the use of public lands for recreation since the beginning of the pandemic with no real relief in sight, according to Cooper. "Ember and her colleagues spend a lot of time talking to TVA public lands users, passing out garbage bags and gloves, and then working behind them to make it nice for the next user. The new TVAP Resources Protection Unit is helping us tremendously with their presence at our dispersed sites, helping move along those not following the rules and tracking down offenders to cleanup, when possible."
From spreadsheets to vegetables
Like many TVA employees, Anderson set up a home office during COVID-19 and continues to operate from there two-three days a week spending the balance in the field. Given her degree in Wildlife/Fisheries Science, it's no surprise that her desk holds an impressive collection of animal skulls that she's found over the years. "But don't worry, they're clean," she laughs.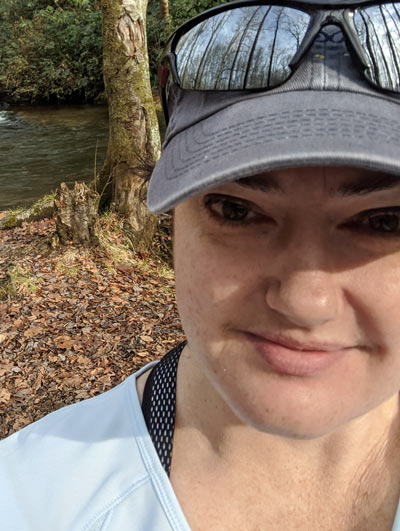 Whether she's engaging with stakeholders or colleagues, her work revolves around email correspondence, meetings, spreadsheets, phone calls, and Heritage Reviews, which focuses on providing environmental reviews for Section 26a permits following the Endangered Species Act, wetlands, water quality compliance and other environmental factors.
She generally manages between five and 35 heritage review assignments and high priority tasks, along with visits to dispersed recreation sites, violation or encroachment matters on TVA lands, asset inventory or responses to questions from TVA's Public Lands Information Center (PLIC). While some of her projects can be completed in a day, they often can take several months. The Coytee Trail stairs, for example, took a month to complete, due to bad weather.
In her off time, the Crossville, TN native enjoys outdoor hobbies, such as hiking, camping, kayaking, fishing and occasionally deer hunting and fishing. But her true passion is gardening. She grows and puts up enough vegetables to enjoy for almost an entire year.
In a way, Anderson's work and personal life share many similarities. As she prepares the soil, plants her seeds, cultivates her vegetables, and stores them for the future, she mirrors TVA's stewardship message of protecting and enhancing the Tennessee Valley natural resources today so they can be enjoyed for generations to come.
​ ​
Share this story:
​