Plastic bottles, tennis shoe soles, and various sports balls trash the islands of the Tennessee River near Knoxville, Tenn.
Across the world, various lakes, rivers, and oceans continue to be filled with litter. However, intense efforts are beginning to combat this in the Tennessee Valley region.

Keeping the Tennessee River beautiful
Keep the Tennessee River Beautiful is a nonprofit organization that focuses on maintaining the natural beauty of the Tennessee River across seven states through various clean-up events.
A recent event was held in Knoxville, Tenn., and the turnout did not disappoint. Nearly 50 volunteers attended the event, ready to get dirty to help clean the river.
Each volunteer had a different reason to help out. Amanda Seale of Knoxville had been waiting to attend this event for months. Her understanding of how this local trash affects the entire planet pushed her to volunteer.
"All of the litter that's here in the Tennessee River will eventually wash down to the oceans," Seale said.
Another volunteer, Delaney Weller of Knoxville, agrees that it is important to keep trash out of the waterways.
"Cleaning up this area means there will be less trash build up here and less things that can get back into the river," Weller said.
Many volunteers showed up to help clean, and all made a large impact.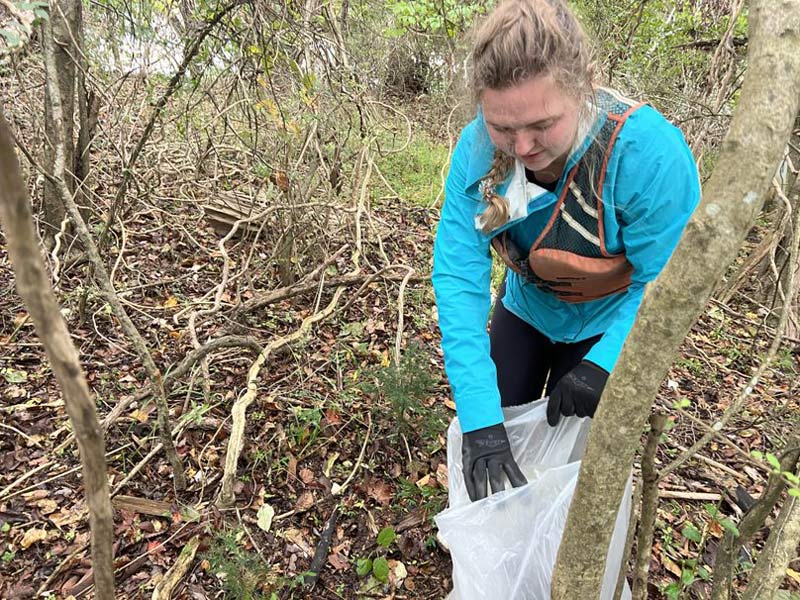 Volunteer Delaney Weller fills a trash bag with litter from an overgrown island in the Tennessee River.
A month of helping
This event was a part of a collection of multiple events to occur during the month of October.
Keep the Tennessee River Beautiful has partnered with Living Lands and Waters to conduct an entire month of clean-up events across the Tennessee River.
This month has been coined Keep the Tennessee River Watershed Beautiful Month, and it has had a large impact across the river since 2018 when the Tennessee Valley Authority challenged the organization to spend an entire month focusing on the Tennessee River watershed.
This month is used to conduct clean-up events as well as raise awareness through proclamations from elected officials and a pledge to eliminate single-use plastics from citizens' daily routines.
Kathleen Gibi, Executive Director of Keep the Tennessee River Beautiful, is passionate about keeping the river clean and expanding education across the region. Her purpose stems from allowing future generations to enjoy these amazing amenities.
"For me, it was really my chance to make sure that my kids get to enjoy the same river that I grew up enjoying," Gibi said.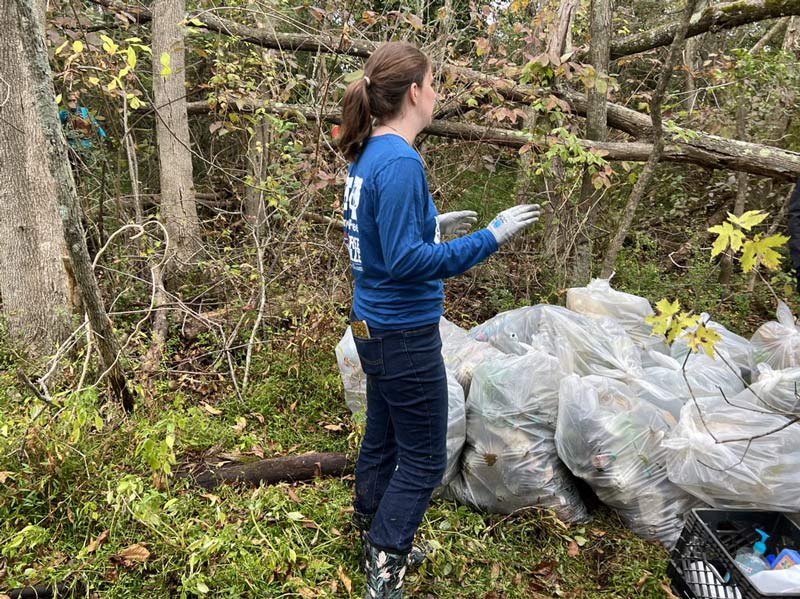 Amanda Seale helps to load a pile of trash bags full of litter onto a trash boat.
Helping this year
As 2022 Keep the Tennessee River Watershed Beautiful Month kicks off, there has already been a massive amount of improvement in the area.
At the four-hour event, 49 volunteers removed 5,763 pounds of trash from a few islands in the Knoxville, Tenn., region of the Tennessee River. Similar numbers are expected from other events across the river.
As volunteers continue to donate their time, progress will be made to ensure that the Tennessee River remains beautiful.
There are still chances to volunteer for the Keep the Tennessee River Watershed Beautiful Month events. For dates and locations and to register, visit Keep the Tennessee River Beautiful.