Ethnobotanist Preserves Tribal History on TVA Lands
TVA continually highlights the importance of fostering strong connections with the tribal cultures within the Tennessee Valley.
Roger Cain, a tribal member and ethnobotanist in the United Keetowah Band of Cherokee Indians (UKB) tribe, shared the importance of his efforts in preserving reservation resources and how TVA can work to help him with future conservation projects.
Read below to learn how Roger is making a significant impact for his tribe, and the Valley as a whole.
Q: Can you describe your role as United Keetoowah Band tribal member and ethnobotanist?
Cain: My role is to preserve and perpetuate flora, like river cane, that has been an integral part of the UKB's material culture from the prehistoric and historic records to modern times, with eyes toward the future. One of my current assignments is to implement a Seed Program for the tribe that includes domestic vegetables and wild flora for disbursing to tribal members with a target of increasing the practice of human and plant interaction. I am also working on several projects that will provide new opportunities for tribal members to interact with culturally significant plant ecosystems that incorporate Traditional Ecological Knowledge (TEK) and wildlife management.
The archeological and historic record evidence show river cane's importance among Southeastern Woodland tribes of North America. We know that cane provided sources of shelter, food, tools, weaponry, and even played a role in cosmology.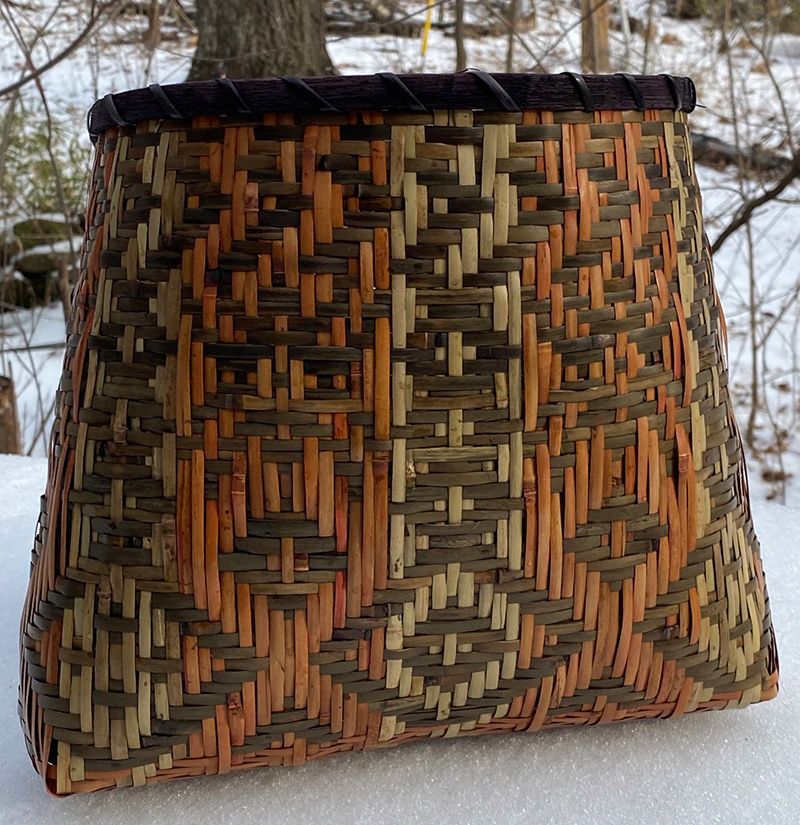 River cane purse basket by Shawna Cain.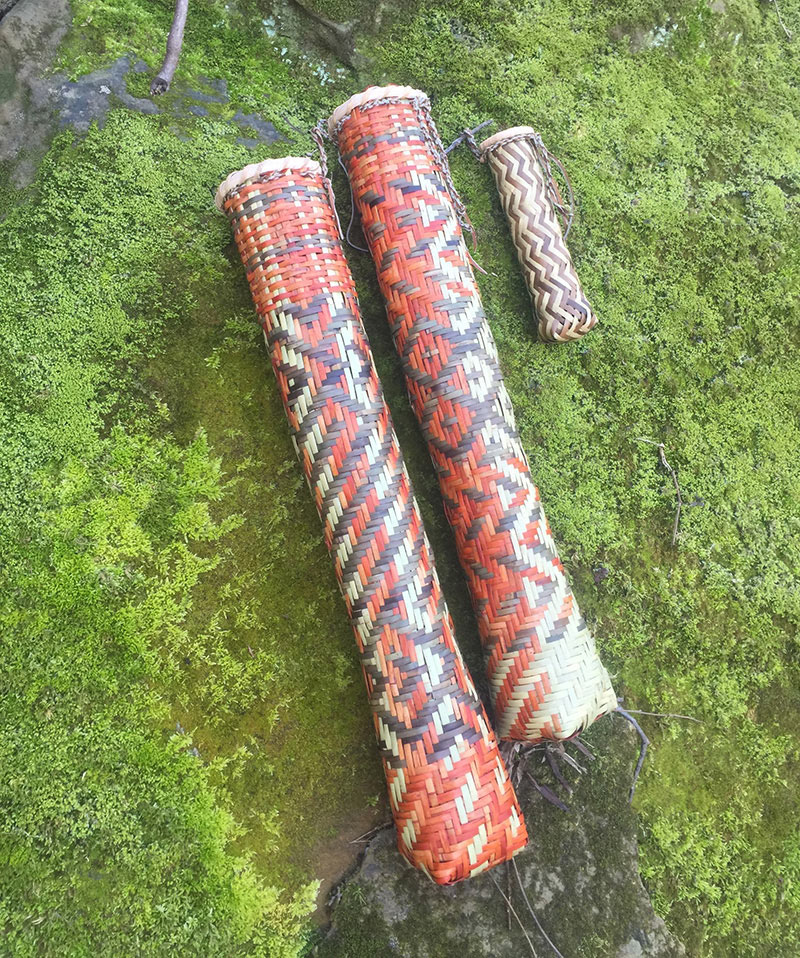 River cane arrow quivers and blow dart quiver.
Q: Why is it important to preserve resources that tie back to tribal cultures and traditions? What could be lost if these pieces of history weren't preserved?
Cain: Preserving resources that are associated with tribal cultures and traditions is important for not only the tribes involved but all people and the environment as well. Many tribal members do not have access to flora that is integral to tribal cultural practices involving culturally significant plants, and this is why partnering with tribes to preserve these plants and ecosystems that go along with it is very important. Modernity is doing a number on tribes and tribal communities by removing so many tribal members from their natural environments. This also removes Native people from what used to be common practices associated with flora interaction. Without this interaction, how do we continue our traditions and cultural practices? This interaction is so imperative for conservation initiatives involving protecting resources on former tribal lands. Tribal community access to these environments is crucial.
Q: What other types of preservation methods and resources are you interested in and working to achieve?
Cain: Currently, I am working on several preservation projects. The most exciting for me now is planting culturally significant indigenous plants around the UKB campus, creating microhabitats for continued cultural practices and ease of access by tribal members. Some of the microhabitats will include Kochani, known by Eastern Band Cherokees as Sochan, Blackroot, Spice Bush, and Green Dragon, to name a few. We hope to create an interactive relationship with those plants our people have used for generation after generation as a food source, a natural dye, a craft material, medicine, and even ceremonial uses.
This project is close to home physically and theoretically because the purpose is to reacquaint ourselves as Indian people with our cultural relationship to plants. The project will allow tribal members opportunities to see the plants daily and in different seasons. This will help easily identify the plants in the wild in case they are interested in harvesting for food or traditional medicine. Additional projects include community gardens, which provide a new opportunity for tribal members to gather culturally significant plants for art, food traditions, and ceremonial purposes on federal and private lands.
Q: In what ways have you partnered with TVA, and in what ways do you hope to partner with TVA in the future to preserve parts of the Tennessee Valley that are culturally and historically relevant to Native American History and tribes?
Cain: I joined the UKB as their tribal ethnobotanist in 2021 and was honored to have the opportunity to participate as a presenter in a TVA webinar. I'm looking forward to partnering on future conservation projects specifically related to river cane and indigenous flora, particularly projects that encourage interaction between natural landscape preservation, land management, and culturally significant preservation activities.
I do look forward to working with the TVA on future conservation projects since our tribe hails from the area before removal and would like to see indigenous flora preserved for future tribal members.
​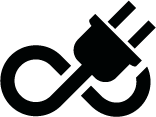 ​
Share this story:
​