How do you want your assets divided after you die?
Attorneys and other professionals from TVA's Office of General Counsel Legal Leadership and Pro Bono teams; the local office of national law firm Baker, Donelson, Bearman, Caldwell & Berkowitz, PC; and nonprofit Memphis Area Legal Services, Inc. recently partnered to help qualifying lower-income individuals in the Memphis area to answer that question.
At a Feb. 28 pro bono event in downtown Memphis, top legal professionals from all three firms provided much-needed end-of-life legal counsel and advice at no cost so clients could obtain wills and powers of attorney.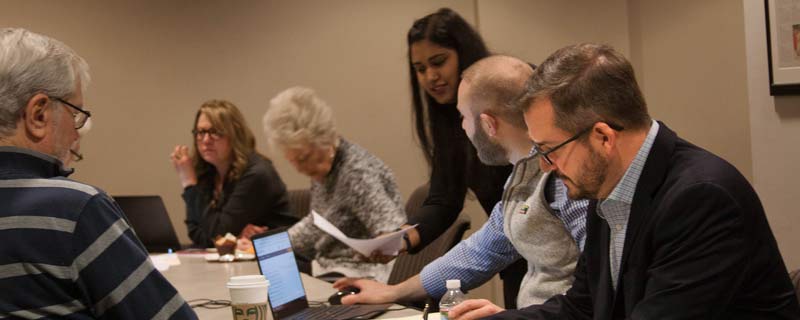 ;
TVA Associate General Counsel Edward Meade works with an attorney from the law firm of Baker, Donelson, Bearman, Caldwell & Berkowitz, PC as they help a client prepare a will.

A final will and testament conveys your final wishes. Other legal documents, such as a durable power of attorney, conveys your wishes if you are unable to express them yourself.
Without these documents your family members would have to guess your intentions.
Unfortunately, people with limited means often die intestate (without a will) because of an inability to pay for its preparation. These situations can leave family members dealing not only with the trauma of death, but also with financial questions and custody wishes when dependents are involved.
"Legal documents, such as a power of attorney and final will and testament, are extremely important for everyone, but sometimes these documents are out of reach for people because of an inability to pay," said Kendra Mansur, attorney, TVA's Office of the General Counsel (OGC) and chair of the OGC pro bono program. "We and the attorneys and other professionals from Baker Donelson and Memphis Area Legal Services are pleased we could help those who otherwise may not obtain legal advice on these important issues."
The Memphis Pro Bono Event was the pilot project of the new TVA OGC pro bono initiative.
"Pro bono work allows TVA's Office of the General Counsel attorneys and other professionals to use their professional legal skills to benefit those who are unable to afford legal advice and representation on their own," said Sherry Quirk, executive vice president and TVA's general counsel. "The scope of our legal pro bono work varies, depending on area needs, to help those with limited means and furthers TVA's mission of service throughout our seven-state service region."