AUGUST 29, 2019 — The Tennessee Valley Authority is in the process of extending connectivity from fiber circuits located in hydropower plants and dams on the Tennessee and Clinch rivers into computer systems located at associated navigation locks owned by TVA, but operated and maintained by the U.S. Army Corps of Engineers Nashville District.

Chris D. Holcomb, TVA's principal project manager for the fiber optic installation, said that — in a nutshell — the Corps is getting a secure tunnel to the internet through the TVA network, so TVA is essentially operating as an internet provider.
"We pull fiber through the dam over to the lock going through the cable tunnels underneath the river," Holcomb explained. "It will provide the Lock Operations Center with faster network speed for automation."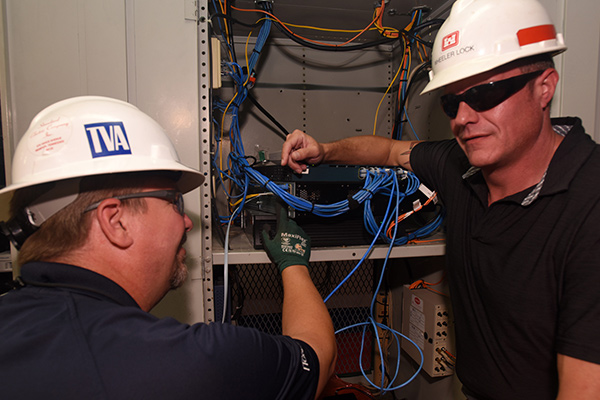 Rich Ellis (left), field engineer with the Tennessee Valley Authority Region 1 Information Technology Field Services, and Bradley Gatewood, U.S. Army Corps of Engineers Nashville District Information Technology chief, make the final fiber optic connection to Joe Wheeler Lock, increasing bandwidth and data transmission speeds.
Fiber-optic technology sends pulses of light capable of transmitting messages within light waves at a rate of 10 megabits per second. The fiber optic cables are replacing older T-1 cables that transmit only 1.5 megabits of data per second, equivalent to early 2000s technology. These upgrades make it possible for the Corps'-operated navigation locks to have better connectivity and posture the networks for future technological advances with minimal costs.
Bradley Gatewood, U.S. Army Corps of Engineers Nashville District Information Technology chief, said the Corps uses authorities in the Economy Act to request services and piggyback on TVA's fiber circuits, saving the Corps $92,000 per year in circuit costs and more than $415,000 in construction costs.
Saving Taxpayer Dollars
The Economy Act authorizes federal agencies to order goods and services from other federal agencies and to pay the actual costs of those goods and services.
"By working together on these circuit upgrades there are considerable cost savings for the Corps of Engineers and the U.S. taxpayers," Gatewood said. "Working with TVA on this project has dramatically sped up our efforts and has been a great experience. They truly have some of the best talent and we are glad they are here and able to partner with us on this initiative."
TVA's field engineers and Corps officials began installing fiber optic cable at locks in October 2018, completing the latest fiber optic installation Aug. 14, 2019 at Joe Wheeler Lock on the Tennessee River in Rogersville, Ala.
Rich Ellis, field engineer with TVA Region 1 Information Technology Field Services, lauded the crews with the telecommunications group, which pulled over a mile of fiber optic from the powerhouse, through spillway tunnels across Wheeler Dam, to the lock, in order to bridge the gap between the networks.
"You're going from dilapidated and antiquated copper wiring to communications traveling at the speed of light," Ellis said. "It's going from yesterday's technology to futures technology because there's no limit to what speed can be achieved now."
Fiber optics have been installed at Kentucky Lock in Grand Rivers, Ky.; Pickwick Lock in Counce, Tenn.; Wilson Lock in Florence, Ala.; Guntersville Lock in Grant, Ala.; Nickajack Lock in Jasper, Tenn.; Watts Bar Lock in Decatur, Tenn.; and Fort Loudoun Lock in Lenoir City, Tenn. Installs are about to be completed at Chickamauga Lock in Chattanooga, Tenn.; and Melton Hill Lock on the Clinch River in Lenoir City, Tenn.
Weird Science and Freaky Magic
Ellis said the crews doing the installs had to overcome technical obstacles, including what he calls "weird science and freaky magic." He said he called it that because there were instances where one configuration worked at one location, but not another. TVA worked closely with a Corps' network operation center to overcome the technical challenges involved with upgrading the network, he added.
"Being able to update infrastructure from a communications perspective is a great benefit of this project for us," Ellis said. "It's been a fun and challenging project."
TVA and Nashville District leaders meet regularly to share project updates and discuss opportunities for mutual support, especially when there are overlapping interests as stewards of public lands and infrastructure.
In regard to the fiber optic installation, Holcomb said it's great to have interagency cooperation to successfully accomplish this project while saving taxpayer money.
"It enables the Corps not to have to go out and lease circuits at these remote locations," Holcomb said.
TVA is a corporate agency of the United States that provides electricity for business customers and local power companies serving 10 million people in parts of seven southeastern states. TVA also provides flood control, navigation and land management for the Tennessee River system and assists local power companies and state and local governments with economic development and job creation.
The Nashville District serves the region with collaborative water resource engineering solutions, world class public infrastructure management and environmental stewardship for the Cumberland and Tennessee river systems. The Nashville District also provides flood risk reduction, hydropower, navigation, water quality, water storage and recreation opportunities in the Cumberland River Basin.