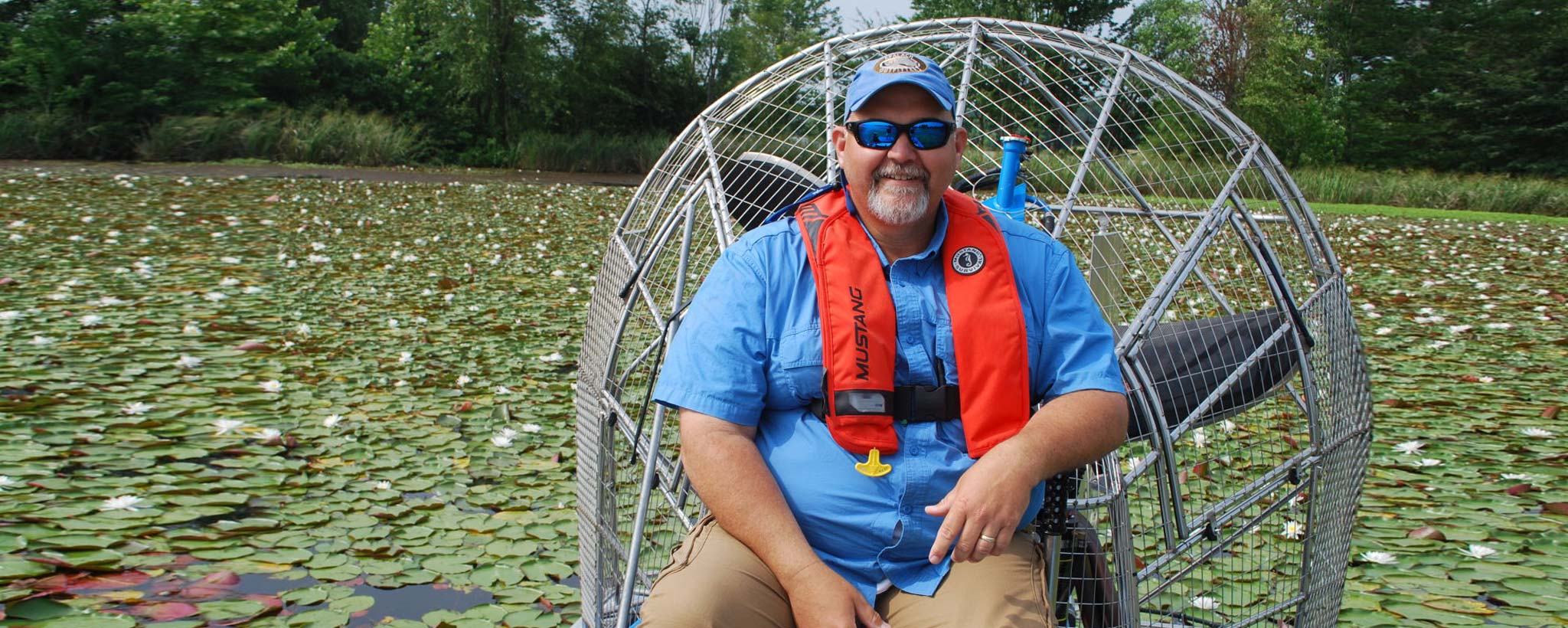 Fighting Invasive Forces
Stephen Turner aims to protect native species and maintain biodiversity in our waterways with the help of a many-layered battle plan.
Stephen Turner doesn't think of himself as a warrior.
On summer weekends, he can be found gardening, woodworking or fishing.
But when Monday morning arrives, he's likely to be suiting up in the armor of a lifejacket, mounting his trusted steed of an airboat, and riding into TVA's at-risk waterways to manage invasive aquatic plants.
Turner has spent years doing reconnaissance work on these intruders.
As project manager for Tennessee Valley Authority's Aquatic Plant Management Program, he works to control invasive aquatic plants throughout the region.
"This includes using treatments with EPA-approved aquatic herbicides, cutting and harvesting aquatic plants, stocking grass carp, planting aquatic plants and more," he said.
Many residents of the Valley are familiar with invasive species on land, such as privet and kudzu, that crowd out native species. This also occurs with aquatic plants, such as Eurasian water milfoil, hydrilla, southern naiad and others.
"The TVA Aquatic Plant Management Program encompasses all water bodies that TVA manages, including all of our rivers, reservoirs and many pond and lakes on TVA facilities and property," Turner said.
"Although we survey and manage aquatic plants throughout the system, we spend most of our time on the lower end where the most affected reservoirs are located," he added. "The majority of that time is on Guntersville Reservoir, which has the largest amount of aquatic plant issues in the system."
A native of Rainsville, Alabama, Turner graduated from Jacksonville State University with a degree in environmental biology. He completed additional graduate work in fisheries biology at Auburn University, including work with aquatic plants as a graduate research associate for professor and researcher David Bayne, Ph.D.
Hitting the ground running
A company specializing in private lake and pond management provided Turner his first job out of college.
"Although I was hired to manage fisheries, the company did a lot of aquatic weed management, and I learned a great deal about aquatic plants," he said.
Almost a decade later, he began a similar program for another company. He eventually began his own pond management business before selling it and taking his talents to TVA in 2019.
"Stephen's background was a key component in bringing him onboard," said David Brewster, manager of TVA Natural Resource Management. "Not only did he have a history with invasive aquatic plants, he had specifically managed in North Alabama and in the Southeast. He also had working relationships with professionals in this business. When he arrived, he was able to hit the ground running."
This is the busiest season of the year for Turner and his TVA Natural Resources colleagues as they perform surveys, schedule treatments, harvest invasive aquatic species, and plant native species.
Summer finds Turner on an airboat three to four days a week and in TVA's Guntersville office the remaining days. He gets a laugh from the almost-daily question at launch sites, "How nice is it be able to ride around on an airboat everyday?"
Turner said winter office time used to be more prevalent, "but in the last few years, with the increase of the eelgrass in Guntersville and Wheeler Reservoirs, we have greatly increased our on-the-water days in winter."
When asked about the toughest part of his job, he points to the long, ribbon-like leaves of eelgrass that gently wave when a boat or breeze ripple the water. "The management of this species has become the most difficult part of my work," he said.
A familiar sight
For many folks who frequent Guntersville or Wheeler, this species is a familiar sight, and although it provides cover and food for fish, it can be too much of a good thing.
"Even though it's been present in TVA reservoirs for a long time and is considered a native plant, it has become a major nuisance plant over the last few years," he said. "There aren't many management techniques that have been developed, so we have pretty much had to start from scratch."
Eelgrass affects lake use for many stakeholders, such as property owners, anglers, marinas and industrial water users, including TVA. Turner pointed out that, "this is a primary project that is ongoing. It includes our management of aquatic plants affecting public-use areas and our partnership with the Lake Guntersville Stakeholder Group, among others."
As busy as Turner and his team are on Guntersville, they also may be found working on Tennessee's Beech and Parksville reservoirs. Here, they manage exotic and invasive aquatic plants by stocking the water with a sterile species of grass carp who have an appetite for these specific plants.
But the process is not as easy as dumping a bunch of fish into the water, so Turner's background again comes into play.
"His work at Auburn included fisheries, which is so valuable," Brewster said. "He knows stocking rates and balance, which deal with the number of fish per acre. Additionally, he has relationships with hatcheries that help us manage hydrilla using fish as a biological control."
"Stephen and his colleagues are a vital part of the team that manages these issues," Rebecca Hayden, director of TVA Natural Resources, said. "They work with TVA's partner agencies, state and local governments, homeowners' associations and the public to monitor and control invasive species, ultimately making life better for the people of the Tennessee Valley."
​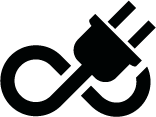 ​
Share this story:
​