Several wildflowers fall under the "shamrock" moniker, including white clover. Sporting small white or pink-tinged blooms, it thrives from spring to late summer in the Tennessee Valley. For beginners working to add new wildflowers to their list, it's an easy find in lawns and fields.
All wildflowers are not as effortless to find as white clover. Fortunately, online sites, books, and educational hikes, along with plenty of TVA trails make the process of locating and identifying these little jewels easier than ever. Here are some places to look.
Small Wild Areas and Trails
TVA is the steward of 293,000 acres of public land, portions of which host myriad wildflowers during the season. With so many options, choosing a spot to begin a wildflower adventure can be overwhelming, but as luck would have it, TVA's Small Wild Areas (SWA) are a perfect option.
The Valley's 28 SWAs can be described as wee natural places that often have special assets associated with them. Many are located on or near larger TVA properties, often near dams. While visitors may hike on all of the SWAs, 16 specific ones offer trails for easier jaunts.
Like the wildflowers, they host, SWAs are scattered around the Valley. The three highlighted below are all short hikes – less than three miles each. Lady's Bluff is located in West Tennessee, Buck Island in Northern Alabama and Johnson Ridge in East Tennessee.
Want to hike off-trail? Go for it, but be careful and remember, take only photos. Digging plants or picking flowers is prohibited.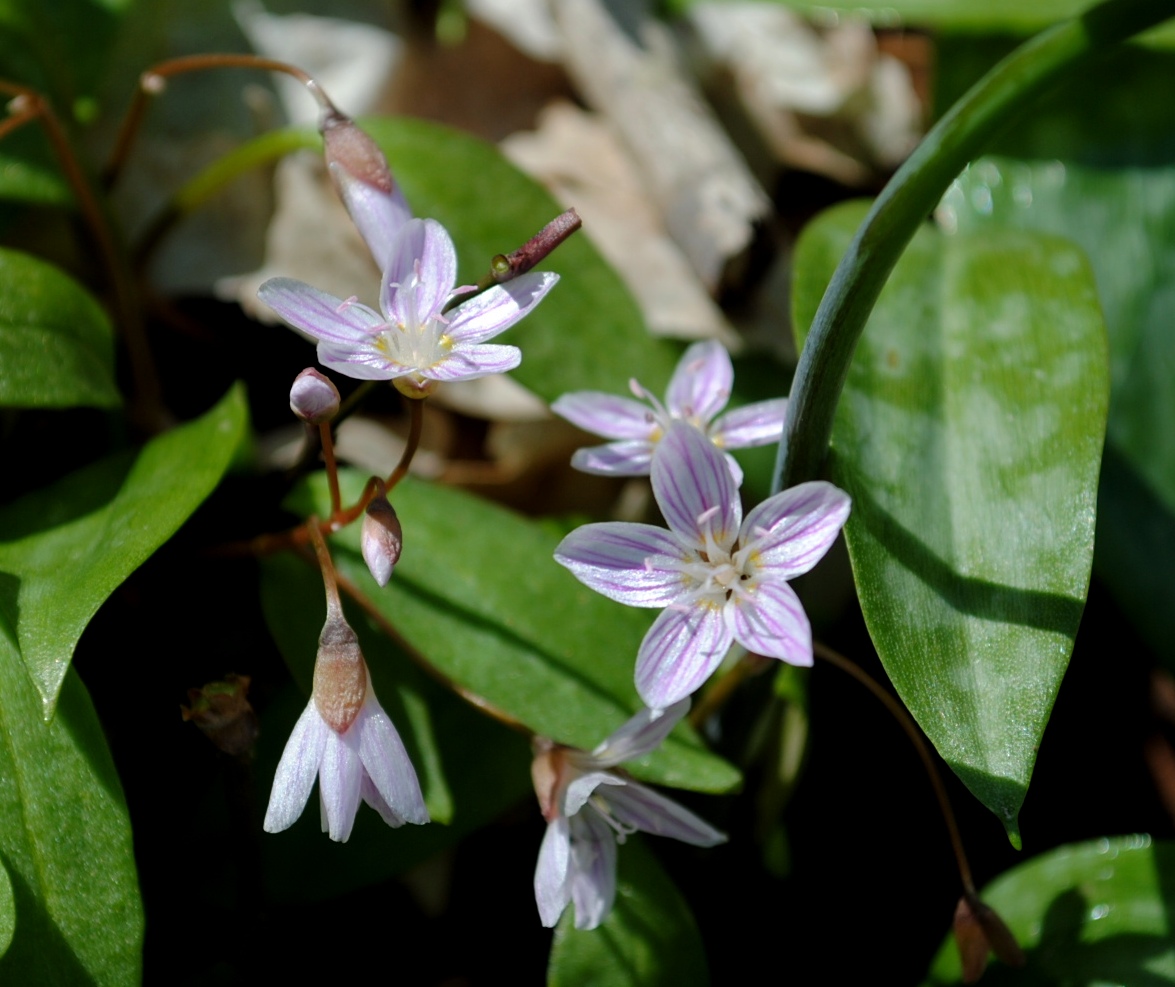 Lady's Bluff SWA on the Kentucky Lake Reservoir is the place to be mid-to-late April and early May for the showy shooting star, Jack-in-the-pulpit, the illusive wild ginger, and others. In autumn, hikers to this popular area enjoy late bloomers, including clusters of purple-hued aromatic aster, a rarity in this part of the state.
Some of TVA's SWA trails offer historic, cultural, or scenic benefits. On the 2.6-mile hike at Lady's Bluff, you'll find gnarled, twisted cedars resembling huge bonsai trees. Fossils of ancient marine life are found in limestone rock outcroppings, reminders of the shallow sea that once covered this area. A big draw is the bluff's spectacular vista, often described as the best view of the river in all of West Tennessee.
Spring comes early to Buck Island Small Wild Area located just southeast of Alabama's Guntersville Lake, TVA's southern-most reservoir. Keep a lookout March-May for spring beauty and trillium on this easy, 2.2-mile loop. Crossvine, which enjoys the island's low, moist woods, will be popping out, too. Forget the earbuds and tune into the music of the island's plentiful songbirds. Return later in the season for a new lineup of wildflowers, including jewelweed, mistflower, long-bristled smartweed, and others.
TVA's most northern Small Wild Area and Trail is Johnson Ridge north of Morristown, TN on Cherokee Reservoir. An easy, 1.7 -mile loop, this trail is so lovely, you may want to hike it twice! Views of the water and the peninsula's shoreline will be your companions for much of the trip. Expect limestone outcroppings, a few sinkholes, and a variety of wildflowers including columbo, wood sorrel, cut leaf toothwort, hepatica, mayflower, false Solomon's seal, and more. The protected species, Pursh's wild petunia, and American barberry both grow on this SWA.
Ask iNaturalist
Wildflower enthusiasts often keep a life list of the flowers they've encountered. An easy way to identify and document your findings is the iNaturalist app. This not-for-profit online app, dedicated to generating data points for biodiversity research, can turn frustration into triumph and help you create a robust wildflower list of your own.
"To identify a flower or any item in nature, simply join iNaturalist, photograph the specimen and upload it to the app. Because the platform is used by a large community of both professional and citizen scientists, responses are often posted within hours," says TVA Senior Project Manager Tiffany Foster. "Close-ups of the flower, its leaves and stem make a positive ID easier," she says.
Because observations are dated and mapped, the app also can help enthusiasts make informed travel decisions.
"For example, a wildflower buff who wants to view a fire pink could look on iNaturalist under 'Observations' to see where and when that flower had been seen in the past. Depending on weather patterns, it will probably make an appearance around the same time each year," says Foster.
Open your window
One of the best things about looking for wildflowers on public land managed by TVA is the vastness of those lands. The TVA service region covers all or part of a seven-state area that includes Tennessee, Virginia, North Carolina, Georgia, Alabama, Mississippi, and Kentucky.
This geographic reach provides the opportunity to crack open your viewing window a bit early. When Buck Island locals post their first sightings online, enthusiasts can head south. Afterward, when winter loosens its grip on areas like Johnson Ridge and Lady's Bluff, devotees can point their hiking boots north.
There is beauty to find on any TVA trail at any time of the year. Lace-up your hiking boots and enjoy!
Find out much more about our 170+ miles of trails at www.tva.com/trails.