TVA and TWRA are joining forces to create fish habitat in the Valley's reservoir system by adapting an innovative technology originally created to help regenerate coral reefs in salt water.
TVA and TWRA are joining forces to create fish habitat in the Valley's reservoir system by adapting an innovative technology originally created to help regenerate coral reefs in salt water.
Once upon a time, the lakebeds of the newly flooded Tennessee Valley reservoirs were rife with habitat—small trees, stumps, plants and crops were available for fish to swim to, through and around, and for microorganisms, algae and macroinvertebrates to make homes in and on. Hence, a healthy food web was created and maintained for many years.
"Over time, the reservoirs are aging and all of the vegetation and the cover for fish that were in the reservoirs when we flooded them are not there now," explains Shannon O'Quinn, senior water resources specialist at TVA.
Used to be, we'd fill that hole with interconnected pipes or with used tires, O'Quinn explains. These solutions did the job partway, but introduced their own set of problems, such as leaching, creating silt traps and failing to provide appropriate surface structure for the lowest links on the food chain to make their homes.
Christmas trees have been used as a more natural solution, but these disintegrate quickly and prove to be real lure snaggers for anglers. TVA and Tennessee Wildlife Resources Agency (TWRA) aquatic biologists and watershed specialists suspected that there had to be a better way. Putting their heads together, they found one: reef balls.
Feeding the Food Chain

Originally developed as a solution for the reparation of coral reefs in salt water situations by a Florida-based company called the Reef Ball Foundation, reef balls are pH-neutral, fibrous concrete balls surrounded by holes. "Basically, they look like a whiffle ball cut in half; fish can swim through them," says John Hammonds, reservoir fisheries biologist for TWRA. "We started experimenting with putting them in lakes here in the Tennessee Valley. As soon as we put one in the water, within 90 seconds fish were swimming around in it."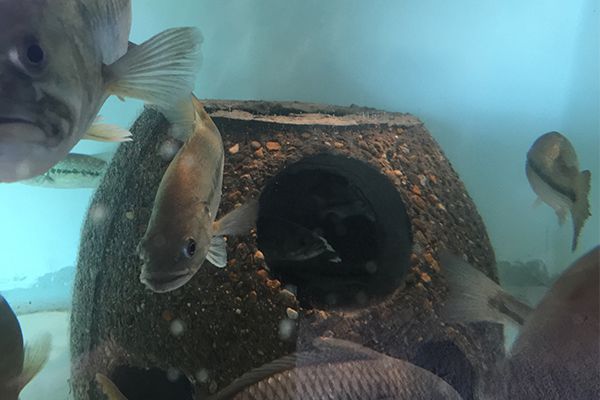 Unlike rubber and plastic, the concrete aggregate—made with gravel and sand sourced from Newport, Tenn.—makes an attractive home for microorganisms to roost, supporting the lowest links on the food chain. "Over time, algae will start growing on the reef balls, and macroinvertebrates will start to gravitate to them," explains O'Quinn. "That's a food source for shad and smaller bait fish, which in turn will attract larger game fish.
They'll just get better and better for anglers, notes Hammonds, with less risk of hook hang ups due to the rounded shape of the holes. "We think reef balls will be attractive to those species that normally gravitate to the Christmas trees, like largemouth bass and crappie," he notes. "Plus, they'll also be attractive to those species that like rocks, like smallmouth bass and bluegill."
Long Term Benefits
Artificial reefs are on tap for all the reservoirs in TWRA's district four, including Ft. Loudoun, Tellico, Melton Hill, Norris, Douglas, Cherokee, Ft. Patrick Henry, Boone, Watauga, Wilbur and South Holston. They'll be placed in lake contours and coves (away from main navigation channels) in compliance with Section 26a regulations, according to Hammonds.
The reef balls are forecasted to last about 500 years apiece. At about $30 a pop worth of materials—made from a dozen molds now owned by TWRA, with funding help from TVA—the reef balls are an affordable long-term solution to the habitat problem.
But that doesn't mean they come cheap. "With the labor and logistics involved with getting them into place, they're a valuable asset," says Hammonds. "It could be a felony crime to tamper with them, which TWRA officers will enforce."
Go in peace and enjoy fishing the reef balls—each cluster will be marked by a buoy so that anglers will know where to find them, says O'Quinn. "They should make for some great fishing—over time, even better than bridge pylons," he says.