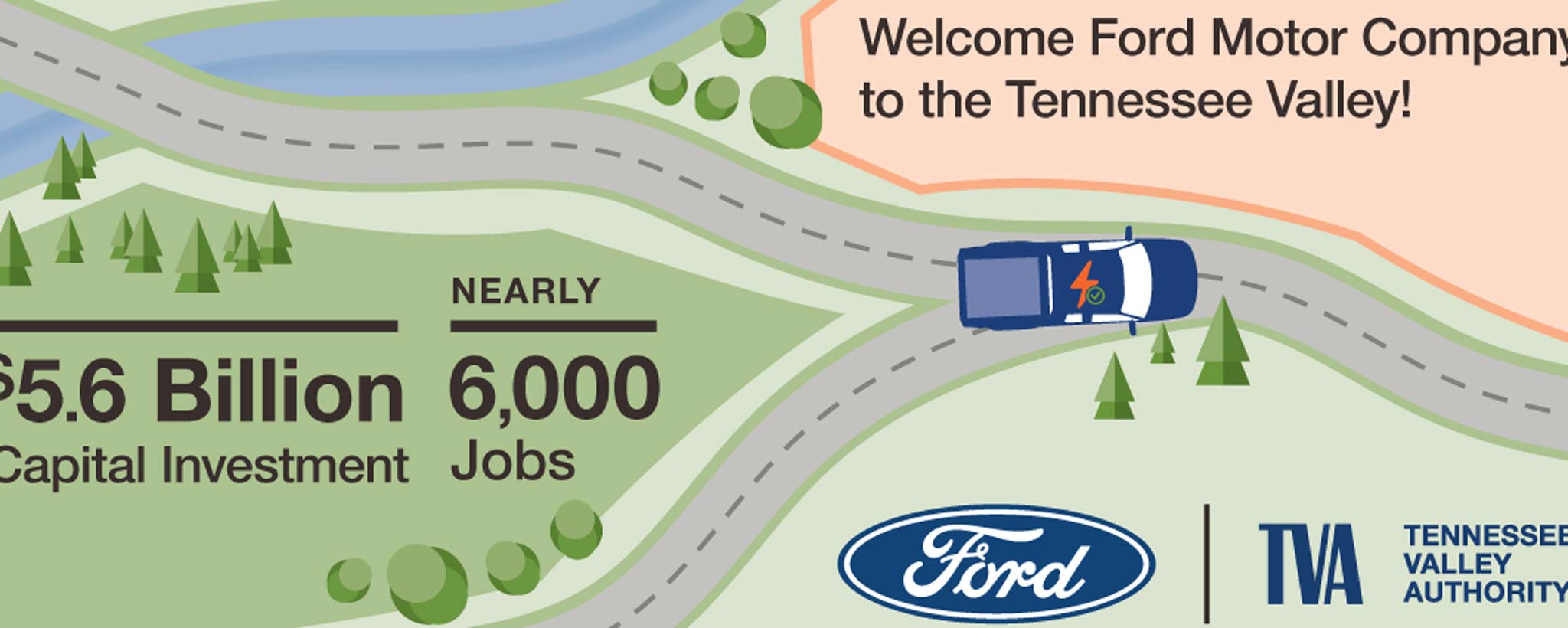 Ford Motor Co. Announces $5.6 Billion Investment at Memphis Regional Megasite
Ford Motor Company has announced it will be locating its electric vehicle and battery manufacturing plant in West Tennessee, specifically at the TVA-certified Memphis Regional Megasite in Haywood County. This is a $5.6 billion investment – the largest in the state's history – and will create nearly 6,000 jobs in the area."Reliable, low-cost, clean energy attracts world-class companies like Ford to the Tennessee Valley," said TVA CEO Jeff Lyash. "Bringing jobs and capital investment to this region is what we do at TVA – it's a fundamental part of our mission. By helping to bring companies like Ford to this region, we are creating the jobs of the future."
Called "Blue Oval City," the complex will be constructed on the nearly 6-square-mile site in Stanton, Tennessee, and build next-generation electric F-Series pickups and advanced batteries.
"This is our moment – our biggest investment ever – to help build a better future for America," said Jim Farley, Ford president and CEO. "We are moving now to deliver breakthrough electric vehicles for the many rather than the few. It's about creating good jobs that support American families, an ultra-efficient, carbon-neutral manufacturing system, and a growing business that delivers value for communities, dealers and shareholders."
TVA partnered with the state of Tennessee, the Tennessee Department of Economic and Community Development and others to ensure the site met Ford's criteria for clean, low-cost, reliable energy, a forward-thinking business environment and access to a quality workforce, among other factors.
TVA is taking a leadership role in EV technology.
We've helped attract more than $8.2 billion to the Tennessee Valley region for EV and battery manufacturing, helping create almost 4,600 EV-related jobs even before today's announcement.
TVA is partnering with the Tennessee Department of Environment and Conservation, local power companies and third parties to begin building a fast-charging network across Tennessee.
TVA has partnered with other utilities to be a founding member of the National Electric Highway Coalition.
So why would a company like Ford Motor Company invest in this area?
"This is another example of how TVA's low-cost energy and high reliability supports quality economic growth," said Mark Yates, Vice President of TVA's West Region. "Economic development is a fundamental part of why we exist."
In the past five years alone, TVA has helped deliver 341,000 jobs and over $45.4 billion in capital investment to the seven-state region.
In the past eight years in Memphis, TVA has partnered to attract or retain more than 41,000 jobs and $5.5 billion in capital investment. Examples include Amazon in the Frayser community – 1,000 new jobs and capital investments totaling more than $200 million, as well as AutoZone's headquarters expansion downtown with 130 new high-paying jobs and capital investments of more than $80 million.
Locally, economic benefits of TVA's partnership with MLGW total more than $70 million per year for Memphis and Shelby County communities. This includes $19 million in payments in lieu of taxes. (TVA annually returns 5% of power sale revenues from the previous year in the form of in lieu of tax payments to states where it sells electricity or owns assets.)
And as part of TVA's offer to Memphis as its power supplier going forward, TVA would commit to investing more than $100 million over 10 years in the economic revitalization of core communities. Developing the port at the former Allen site for future economic development activity is also a top priority that would enhance commerce and provide job opportunities for Memphians.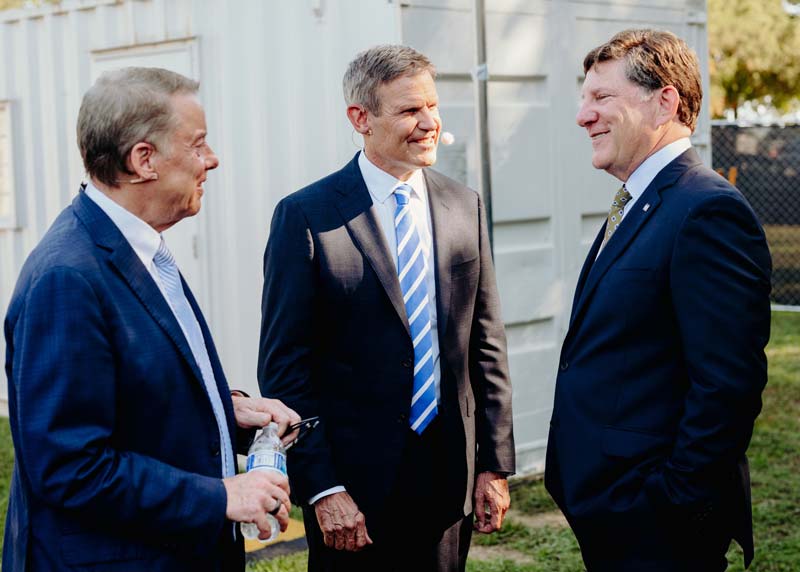 ​ ​
Share this story: