JULY 5, 2019 — A new water management system for coal combustion residuals will reduce the future plant footprint of Gallatin Fossil Plant from 435 acres to three — a key step in transitioning from traditional wet ash handling to a state-of-the-art dry handling and storage landfill.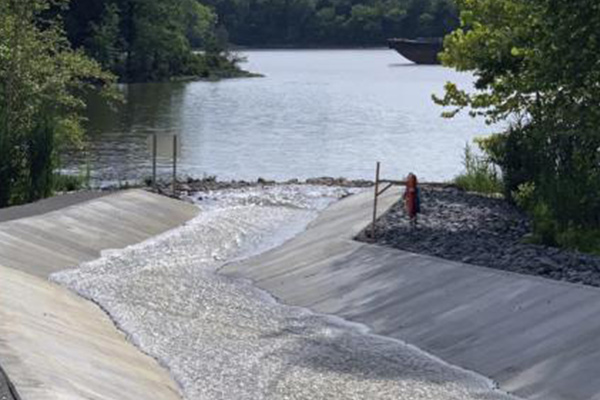 "On June 17, we implemented a new flow management system that will treat plant process water, removing contaminants such as grease, oil and total suspended solids," said Michael Clemmons, the Generation, Construction, Projects & Services manager for the project. "Until now, Gallatin has utilized a 435-acre ash pond complex to slow treat water compared to the less than three acres of new water treatment tanks, which can treat a maximum flow of 43 million gallons a day."
Since 2016, Gallatin has stored dry CCR produced by the Gallatin scrubber in a lined, state-of-the-art 52-acre landfill, but process water and bottom ash was still treated in the ash pond complex. In an effort to move to completely dry storage, the new flow management system will treat the water and temporarily dewater bottom ash (until a permanent dewatering system comes online later this year), replacing the need for an ash pond.
"This flow management system fulfills our commitment at Gallatin to transition from wet to dry CCR handling and storage, which is cleaner, safer and more stable," Clemmons said.
The system complies with the EPA's CCR Rule and positions TVA to fulfill the recent agreement between TVA and the Tennessee Department of Environment and Conservation to close the ash pond complex at Gallatin by removal of legacy CCR.
"I'm proud of our team," said Vice President, Civil Projects, GCP&S, Scott Turnbow. "Meeting our commitment on CCR is one of the many ways we serve the people of the Valley as good stewards of the environment."