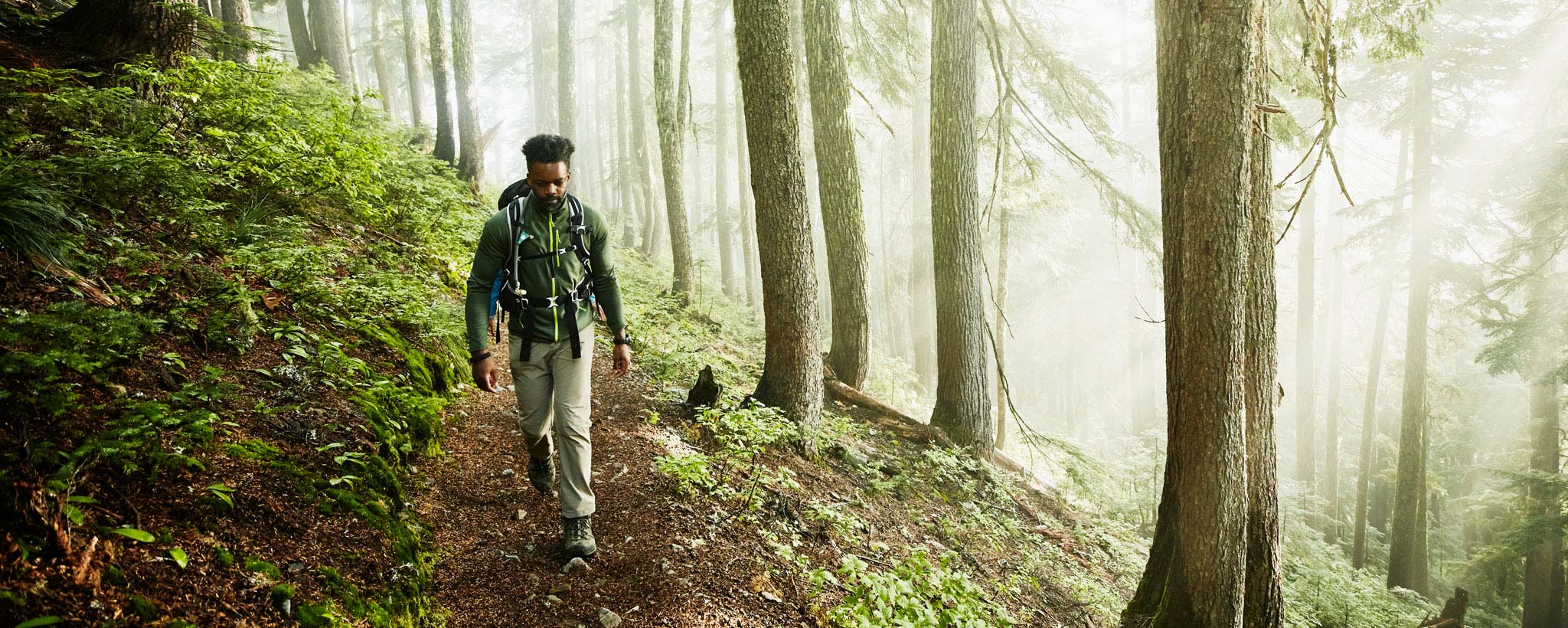 Get Out and About
Just because you're practicing social distancing doesn't mean you have to stay cooped up indoors. Now is the perfect time for a solo trip out into nature.
Humans have always found a certain kind of peace and comfort in being alone with nature. In Japan, there's a word for it: shinrin-yoku, which literally means "forest bathing"— taking in the atmosphere of the forest with all one's senses.
While precautions must be taken to stem the spread of the COVID-19 virus by avoiding crowds and close social contact now, it's a good time for a solo foray into nature. With spring arriving across TVA's 293,000 acres of public land, there are plenty of chances to do that. Here are some ideas.
Hike or Run
With many gyms closing as a precaution, take your run from the treadmill to the trail. There are over 170 miles of trails on TVA land, ranging from gentle and ADA-accessible to long and challenging. Whether you're looking for quiet among the trees or a fitness challenge, find your trail here.
Take out Your Bike
Has your mountain bike been put away all winter? Time to get it ready for some springtime trail riding. Choose your trail and be sure you're prepared before you go. (NOTE: Not all trails are open to biking, so check first.)
Try a Solo Paddle
Piloting a canoe or kayak on still waters can provide a refreshing break from worry. While the water is still too cold for swimming, you can glide along a smooth reservoir or go with the flow on a river or stream. Check out our interactive map to help you find the right spot.
Cast Your Line
TVA's lakes and streams provide some of the best fishing in the eastern United States. You can fly-fish for trout along the Clinch, drop a line for bass on Guntersville Reservoir or try for your favorite fish in dozens of spots in the Tennessee River. We've got a landing page on TVA.com where we've gathered all the info you need for a relaxing day of fishing.
Watch the Birdie
If you're looking for something at a slower pace, this is the time of year to stroll the land with your binoculars and watch for different bird species as they return to their summer homes, nest and sing. Early morning provides the best time to spot a new one for your bird book. There are numerous spots in the Valley known to be great for birdwatching.
Look for Wildflowers
It's also an excellent time to search for new wildflowers popping up everywhere. Splashes of color can be seen along trails and among open grasslands. Before you go, download the iNaturalist app so you can record the species you find.
​ ​
Share this story:
​
Stay Safe out There!
As always, be sure to practice basic safety measures. This time is no different! Before you go on a solo trip:
• Be sure to tell someone exactly where you're going and when you plan to be back.
• Take water with you.
• Wear sunscreen, even if it's a cloudy day.
• Make sure your cellphone is charged.
• Keep an eye on the time. Even though days are growing longer, darkness can sneak up on you if you're not paying attention.
• While you're looking up at the trees and birds, stay aware of what's going on near your feet. Snakes and other wildlife become more active as days grow warmer.