Mission accomplished! With Shelby County, Tenn., in compliance, the entire Tennessee Valley now meets the Environmental Protection Agency's 2008 standard for ozone.
July 22, 2016—It has been a long road, and breathing easy in the Tennessee Valley is better than it's been in many years. After decades of work to reduce ozone emissions there, the Environmental Protection Agency has re-designated Shelby County, Tenn., from ozone non-attainment to ozone attainment. Shelby County is the final county in the Tennessee Valley to achieve this status effective July 25, 2016.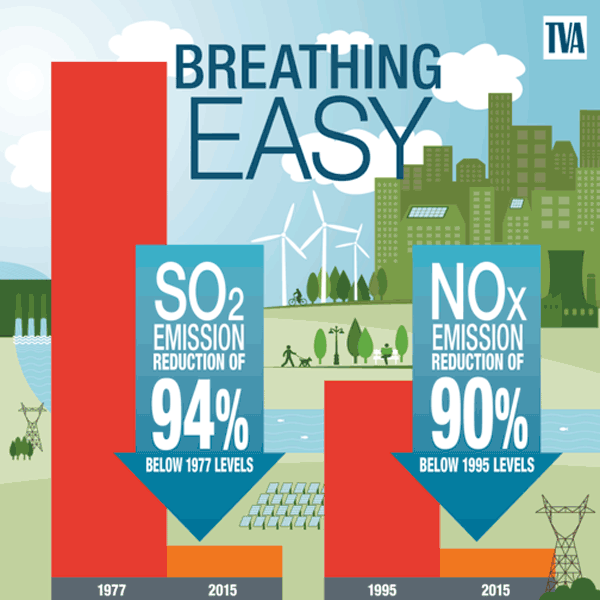 "We can all breathe easier now," says Brenda Brickhouse, TVA's vice president, Environmental and Energy Policy and Chief Sustainability Officer. "All of us should be proud because of the hard work of business and industries, vehicle manufacturers and local and state air regulators across the Valley because the region has never measured air quality this good in all parts of the Valley—urban, rural and mountain communities."
According to the Tennessee Department of Health, asthma hospitalization rates in the state have fallen about 37 percent from 2005 through 2013.
"This is good news for residents of Shelby County and underscores the vast improvements made in air quality and public health over the past 10 years," says Alisa Haushalter, DNP, RN, director of the Shelby County Health Department (SCHD). "Improvements in air quality are important to individuals as well as the community at large. For persons living with asthma or other respiratory conditions, improvements in air quality mean fewer complications triggered by poor air quality. This designation also makes Shelby County more attractive to families, businesses and industries considering relocating to the area."
Making History
Ozone is a lung-scarring compound formed at ground level when emissions of nitrogen oxides and volatile organic compounds react in the presence of sunlight. The primary sources of these emissions are from human activities such as burning fossil fuels (as in cars) and the use of solvents and coatings.
The Memphis/Shelby County area has a long history of ozone non-attainment stretching back 20 years. Air quality has improved over this time but the standards also became more protective, and meeting the new stringency presented a challenge. The EPA initially designated Shelby County as being in non-attainment of the 2008 ozone national ambient air quality standards (NAAQS) in May 2012. Subsequent air quality improvements through the end of 2014 led to the submission to the EPA of the Shelby County Re-designation Request and Maintenance Plan in January 2016. The EPA informed SCHD in April 2016 the plan met all of the requirements of the Clean Air Act to change the legal designation of Shelby County from non-attainment to attainment.
TVA is doing its part to keep ozone levels in compliance. Next year TVA estimates that 56 percent of the power it generates will be emissions-free. TVA will achieve President Obama's target for North America to get 50 percent of its electricity from nonpolluting sources by 2025.
"Environmental sustainability is in TVA's DNA," says Brickhouse. "Our mission is to provide clean, reliable and affordable energy to support economic growth in the Tennessee Valley. We will continue our work with local and state officials to engage in sustainable environmental stewardship and to make life better for the people of the Tennessee Valley."