TVA has embarked on an ambitious conservation voltage regulation (CVR) program. Sound like technical jargon? Maybe. But this acronym's out to save you money on your energy bills.
SEPTEMBER 7, 2017—Voltage. It's not something that consumers consider, but it is key to utilities being able to supply reliable energy. Without good voltage control, utilities could end up delivering voltage that's too high or too low, both of which could cause equipment failure and additional issues over time. Voltage on the high end of industry standard also forces consumers to use more energy than otherwise needed, resulting in higher bills.
Seeing a need for better voltage control in the Tennessee Valley, TVA has embarked on an ambitious voltage optimization pilot, called conservation voltage regulation (CVR), to help local power companies (LPCs) optimize the voltage levels on their distribution systems. Participating LPCs purchased and implemented voltage control equipment to manage voltage in a more efficient range of national standards.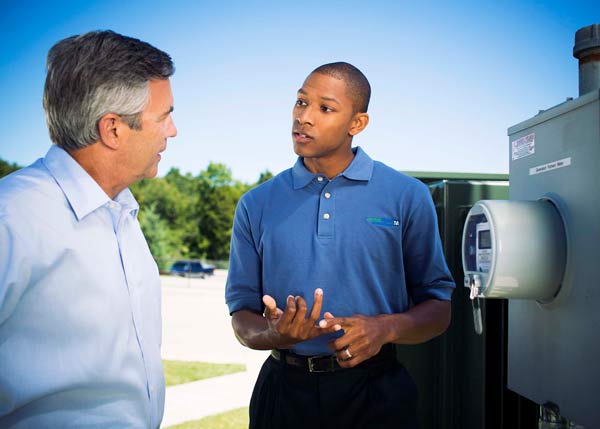 "Most of what we've seen with our pilot program has been our LPCs supplying higher voltage to end use customers to ensure they did not dip too low at the end of the line," said Troy Eichenberger, TVA senior program manager. "With TVA's voltage regulation program, they have installed equipment to better control, monitor and adjust voltage as needed."
According to the project team's research, LPCs are able to conserve voltage without sacrificing power quality by installing the voltage-managing technology at specific areas along the distribution system and using the readings to make adjustments.
Big-Time Savings
In fact, since the system was installed about a year ago by two pilot LPCs—Duck River Electric Membership Cooperative in Middle Tennessee and Scottsboro Electric Power Board in northeast Alabama—approximately 23 gigawatt-hours of energy have been saved. That's enough energy to power more than 1,575 homes in the Tennessee Valley for a year and save homeowners over $2,400,000.
"We see the CVR program as a win-win for TVA and the LPC," said Phillip Chaney, general manager of Scottsboro Electric Power Board. "As an automated utility that was installing AMI metering, the deployment was a natural fit. Scottsboro and the end-use customer benefit from the program through lower energy costs."
Michael Watson, CEO of Duck River EMC, said that setting the end-of-line voltage and letting the bus voltage automatically adjust using CVR results in reduced system losses and demand charges while saving energy.
Data is collected and reported by a system created through a partnership with EnergyRight Solutions® and TVA's Information Technology team. Eichenberger said that being able to provide an easy-to-use and reliable portal simplifies the data analysis and settlement processes.
"As we continue to evaluate opportunities to keep rates low for Valley residents and businesses, voltage optimization might not be the most well-known innovation, but it's definitely moving the needle," said Cindy Herron, vice president of EnergyRight Solutions. "Imagine how much energy we could save and how we could improve power quality if this technology was implemented in more areas."
Indeed, the success of the voltage optimization pilots has spurred additional discussion about how this could be used in other areas. Eichenberger said more data needs to be collected over more time to make sure it's a viable option, but the first results of the pilot are promising.