TVA's Transmission and Power Supply group hosts a summer STEM camp for high school girls—to rave reviews!
June 20, 2018—There may not be cabins, swimsuits or campfires at TVA's Transmission and Power Supply (TPS) STEM Summer Enrichment Program, but the high school girls who attend are raving about it.

"I truly loved this experience," says rising high school freshman Avery Love, who recently attended the two-week camp that focuses on science, technology, engineering and math—or STEM.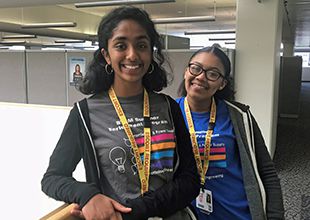 Throughout the enrichment program, the girls—all chosen through teacher recommendations and in-person interviews—were immersed in a wide variety of topics taught by industry professionals, which included transmission planning 101, building snap circuits and resume and interview skills.
Love says it was a valuable opportunity to apply skills she learned in the classroom to the professional work environment, and it is one that will shape her career aspirations. "This program has definitely opened up the engineering side for me," she said. "From a young age I wanted to be a doctor because I want to help people. But then I learned about engineering and how it's another way to help people."
According to a recent story in The Atlantic, fewer female students are pursuing STEM-related careers—only 27 percent of all students taking the AP computer science exam in the U.S. are female and just 18 percent of American computer-science college degrees are earned by women.
TVA TPS civil engineer Brittany Ethridge, who mentors the girls, explains that it's important to get kids excited about STEM at a young age when they are curious and inquisitive. "We especially need to teach young girls about STEM fields because women are vastly underrepresented in the industry," she says. "We need to help break the stereotype and teach girls at a young age that women are just as capable of success in a STEM career as men. I believe the TVA STEM Summer Enrichment Program is helping to do just that. It is showing young girls that there are women in STEM and they're doing some pretty cool things."
By the end of the program, the participants not only had a greater appreciation for the STEM field, but they also had a deeper understanding of TVA's role in the Valley.
"I think TVA's mission statement is my main takeaway—TVA is helping people of the Valley and making their lives better," says high school sophomore Thrisha Mote. "At first we learned about TVA's three Es and I didn't see how that really went along with the mission. But now I understand how much TVA does and how they're making all of these people's lives so much better. Now when I see transmission lines, I know how many people it takes to make that possible and to bring electricity to everyone."