In Mayfield, Kentucky, TVA Customer Relations Manager Brent Powell opens box after box of employee donations sent in response to the recent tornadoes that came through and devastated the area.
"The devastation in this community is unbelievable," said Powell, who lives and works near the Mayfield area. "But the response has been amazing. People from all over the country poured into Western Kentucky to provide supplies, food, toys and volunteer hours. TVA employees stepped up in a big way by purchasing items on the amazon wish list which will continue to support the community through the next few months."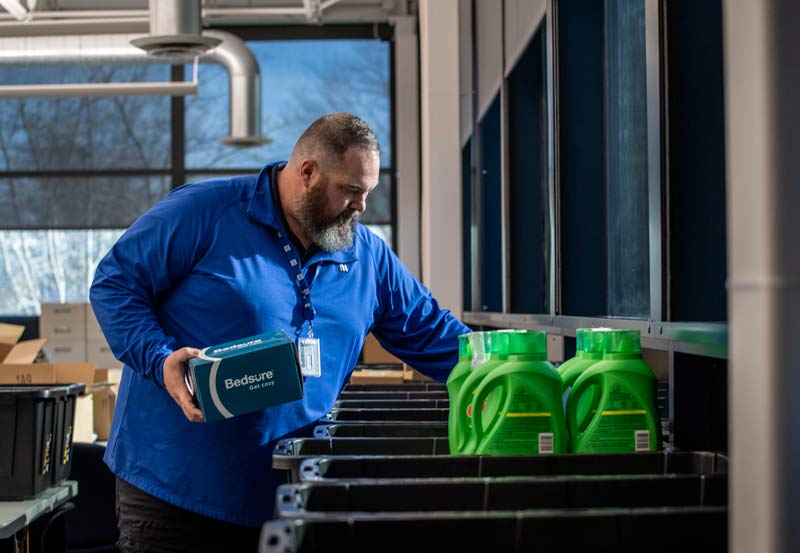 In a matter of days, TVA's Mayfield customer service center became temporary housing for linemen and emergency personnel — walls stacked with donations for the community, such as pallets of water and food, piles of blue tarps and a collection of hammer and nails to protect people's homes — those that still had a home to go back to.
TVA fully restored power to our customers within five days and continues to provide resources and support to the hardest hit areas. The north region customer and community relations staff have been working to identify the needs of families through Emergency Management donation sites and Family Resource & Youth Service centers throughout the region.
"With the regional focus, our team was able to act quickly, not only to repair damaged transmission lines, but also to get boots on the ground connecting with customers, local officials and the community. We were able to get real-time feedback on what was needed where and when, so TVA's resources were put right where they were needed," said Vice President of the North Region, Justin Maierhofer.
"I can't thank my brothers and sisters at TVA enough for their contribution to my community in its time of need," said Powell.
Restoring electricity
The destructive storm in early December 2021 left more than 254,000 valley residents without power. Once it was safe, TVA deployed helicopters and ground crews to assess the damage and begin repairs immediately.
"TVA's system lost 100 power structures, 31 transmission lines, and 21 customer connection points," said Field Operations Vice President Doug Bailey. "TVA crews worked 24/7 completely restoring the power system in about 136 hours—an impressive feat."
Bailey attributes the success to having our own construction workforce. TVA has mutual-assistance agreements with other utilities, such as Duke Energy, Southern Power and Santee Cooper, to provide equipment and resource sharing in response to natural disasters, but with a 270-person fleet of linemen and support personnel, TVA can quickly dispatch crews and have the hit area back online before external support could even be in a position to respond.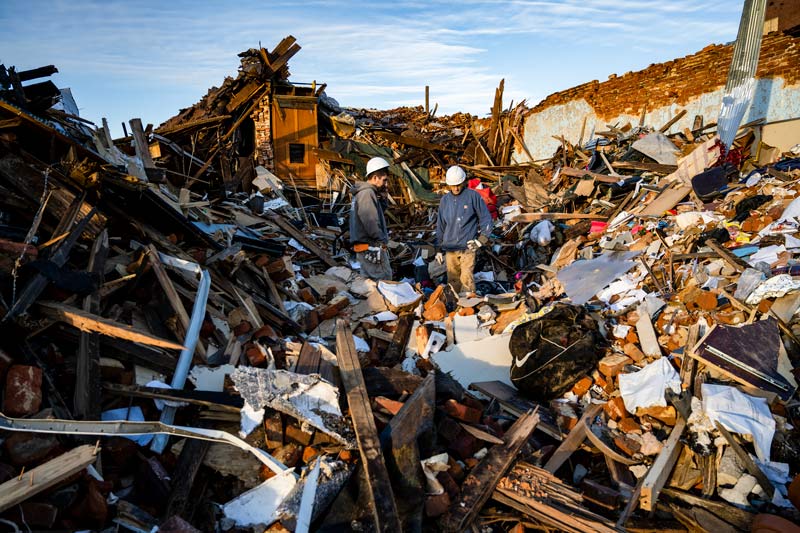 "If we had to call on Southern for help, it could take them days to get here and they don't know the area," Bailey said. "Our folks know our system and know how to get things done because they're working inside it every day. That's why our own construction workforce is our single greatest asset."
In addition to a robust immediate response, TVA has been investing in our grid, such as installing isolation switches, which allowed us to restore power sooner after the storm by routing power through non-damaged lines until repairs could be made.
"Safely getting our customers the power they needed was our number one priority," said Bailey.
Once power was restored to our customers, TVA continued to support local power companies as they worked to reestablish electricity in tornado-ravaged towns.
In Mayfield, the local power company office building was no longer a usable structure so TVA provided trailers to serve as a temporary office. TVA also provided generators and electronics to improve cellular and internet capability as well as shower/bathroom facilities in impacted communities.
Supporting communities
In the aftermath of the storm, Field Tech Scott Stockton delivered food to responders, stopping in corn fields where groups of linemen huddled in the near darkness grateful for the hot meal—fuel to keep them going as they worked 24/7 to restore power to their neighbors.
"It looked like a bomb had gone off," said Stockton. "The lineman and responders are warriors that helped provide warmth and light to all those left in the dark by the storm."
Passing through the most affected areas, Stockton found a bewildered man wandering outside a destroyed pharmacy in the dark with nothing but a plastic bag full of clothes. His home demolished, the man had nowhere to go until Stockton gave him a ride and some food.

"He didn't have anyone, but he had us—he had TVA," said Stockton.

TVA donated an initial $100,000 to relief efforts as well as 7,000 bottles of water, 10,000 surgical masks, 1,000 tarps with hammers and nails, cots and blankets, and personal care items. And that's just the start.
"We're in this for the long haul," said Maierhofer. "We are part of these impacted communities and we are going to be here to support for however long it takes to get our neighbors back on their feet."