TVA's EnergyRight Solutions program is offering incentives for farmers to trade their diesel irrigation systems for electric. One farmer who did saw a 250 percent increase in his crop yield.
FEBRUARY 6, 2018—When Unruh Farms in Macon, Miss., converted their diesel irrigation pumps to electric pumps, big changes started to happen. Their crop yield increased by 250 percent during the 2017 farming season.
This change was supported through TVA's EnergyRight Solutions® (ERS) program, and Unruh Farms was presented with an incentive of nearly $1,300 from the 4-County Electric Power Association for making the conversion from diesel to electric pumps.
"Energy-smart opportunities offered through TVA's ERS for Business and Industry help power companies partner with area businesses to lower their costs and improve efficiencies," says 4-County Chief Executive Officer Joe Cade.
TVA's ERS programs bring key stakeholders together with local power companies like 4-County to look for new ways to transition commercial processes away from fossil fuel to cleaner, lower-cost, reliable electricity. As part of TVA's program, Unruh Farms in was the first company to receive a one-time incentive to help offset the cost of switching from diesel to electric.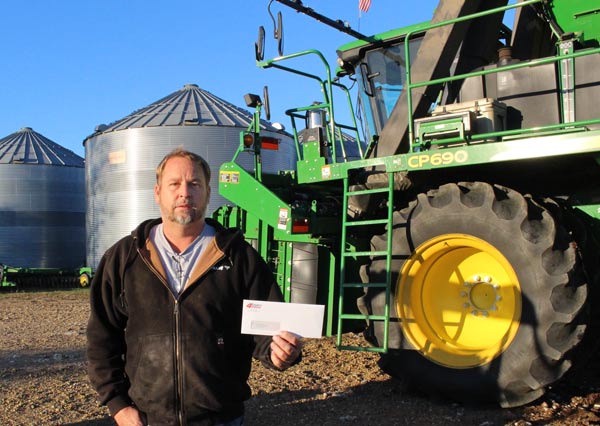 Jason Unruh of Unruh Farms holds his EnergyRight Solutions incentive check.
"Changing to electric irrigation pumps is a smart business decision for my farm and the environment," says Justin Unruh of Unruh Farms, which grows corn and cotton. "Electricity is cleaner and the operating cost is much lower and predictable. Eliminating diesel fuel and maintenance allows me to add money to my bottom line and implement more efficient farming practices to improve yields."
Over the past five years, TVA has invested about $16 billion to modernize its electricity generating fleet to lower costs and reduce carbon emissions. As a result, the Tennessee Valley has some of the lowest energy rates in the country—wholesale power rates are now 2 percent below 2013 levels.
"The true value of public power is in our ability to implement programs that directly benefit the communities we serve," says TVA EnergyRight Solutions® Vice President Cindy Herron. "We're pleased to support 4-County as a trusted energy advisor to help make Valley businesses more competitive."