After a year of work, Wilson Dam is ready for another century of service.
January 6, 2021 — Every day for more than a century, thousands of cars have passed over the historic Wilson Dam bridge. After 102 years of weather, wear and tear, it's no wonder the bridge was finally in need of a facelift.
In January 2019, the roadway was closed for inspection, design, construction and maintenance by TVA's Generation Projects & Fleet Services team. After a full year of repairs, the bridge reopened to traffic on December 17, 2020.
As you might imagine, restoring a 100+ year-old neoclassical-style dam is not an easy feat.
Ben Byard, facilities bridge program manager, said, "All along the way from the start of the engineering study in early 2017, through design, historical and environmental reviews, and finishing implementation at the end of 2020, the whole project team had a great attitude of stewarding this unique historic asset well. This dam and bridge were around long before I was born, and will probably be there when I am gone. I think we designed and constructed a solution that will stand the test of time. "
The scope of the Wilson Dam bridge refurbishment project included:
Replacing the concrete bridge decking to stop water infiltration and reduce deterioration of the dam's arches
Repairing damaged sidewalks for increased pedestrian safety
Repairing water damaged parapet walls
Restoring original upstream recessed parapet lights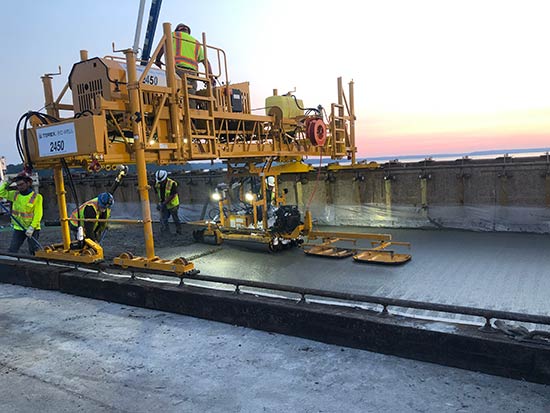 Jon Day, facilities project manager, said, "I am pleased we are able to re-open the road and sidewalk to the public and provide an asset that will serve the people of the valley for years to come here in the Shoals."
Working with History
Jacob Horton, civil construction and field support manager said, "Working for TVA, we get to be a part of some great projects, but rarely do you get the opportunity to work on a historical asset such as Wilson Dam. Partnering with a contractor and local labor, I'm proud we were able to perform this work and return safe access to the public while extending the life of the dam."
Wilson Dam was originally constructed in 1918, one year after the United States entered World War I.
At the time, the nation had a heavy reliance on nitrates, an essential ingredient in the production of explosives. To supply the electricity needed to power two new nitrate plants in Muscle Shoals, Wilson Dam was a much-needed asset.
TVA acquired Wilson Dam in May 1933. The dam and bridge are listed on the National Register of Historic Places and Wilson Dam is listed as a National Historic Landmark.
Bob Deacy, senior vice president of Generation Projects & Fleet Services said, "TVA invested approximately $4 million in this restoration project. I'm proud to note that our team completed the project on schedule and under budget. This pays homage to the team's diligent work over the last year."