Using lightning fast drone technology, the scrubber at Cumberland Fossil Plant was inspected in a matter of hours, not weeks--saving time and money for critical maintenance.
August 17, 2020 -- This spring, a TVA drone operator dropped a basketball-sized drone into the enormous cavern of Cumberland Fossil Plant's Unit 2 scrubber in the first inspection of its kind.
At 60 feet in diameter and more than 100 feet tall, a scrubber is basically an indoor silo that uses a limestone slurry to 'scrub,' or remove, sulfur dioxide from the plant's flue gas exhaust. The drone visually inspected every linear foot within 8-10 hours – lightning fast with max coverage.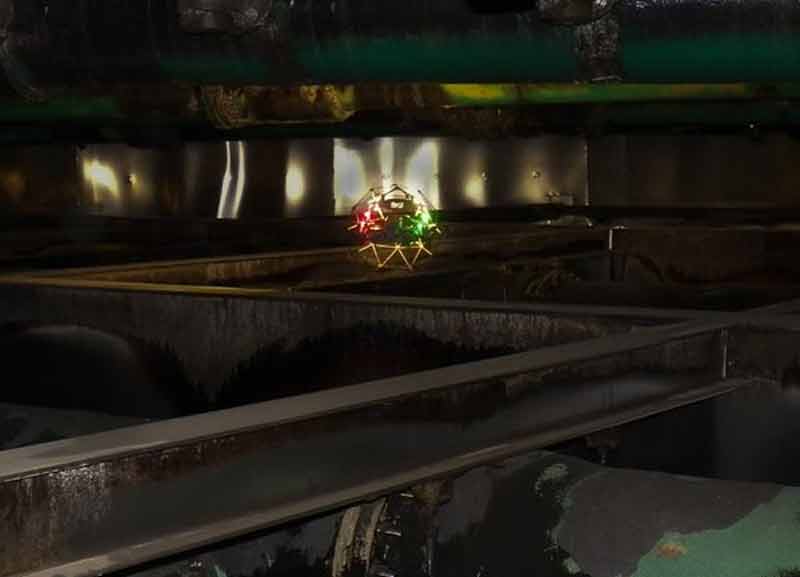 A basketball-sized drone hovering within a scrubber at Cumberland Fossil Plant.
"This is new technology for us," said Troy Slatton, systems engineer, Generation Services. "We needed to check the feasibility of drones assisting with an inspection like this. It's the first time we've used visual drone footage to assess the condition of this equipment."
Typically, the scrubbers are drained and scaffolding is constructed inside so employees can reach the spray headers for their two year inspection. The process would normally take weeks. In the first test flight on Unit 2, the drone identified an issue and the team was able to put a workaround in place and only operate the corresponding pump to the damaged header in an emergency until it can be fixed in the next outage.
"I didn't think a drone could fly in a metal container, let alone a scrubber with a beam every five feet that needed to be ducked under or flown around," said Mitch Latsch, chemical engineer. "But these drones have more capability than you think. It's unbelievable."
After the success of Unit 2, the drone was used in Unit 1 to identify the source of outside wall leakage on the scrubber. Unlike the laborious process of draining and setting up scaffolding, a drone can easily fly from any of the entry points, and in this case, down 100 feet to identify the specific issue.
"There are two main benefits. One, it's very fast and two, it's very inclusive in seeing the entire area-- not just where the issues are suspected," said Latsch.
"We plan to use drones again in the next outage," said Slatton. "This innovative approach to inspections saves money and time, improves the ease of inspection and access to the interior of the scrubber, and reduces potential safety risk by removing hands-on work inside the area."