NOVEMBER 12, 2019 -- Many seniors will receive high-tech produce this Thanksgiving from the Second Harvest Food Bank of East Tennessee. The special delivery is being made possible by a two-year study at the University of Tennessee Institute of Agriculture (UTIA), which is exploring the possibilities of indoor agriculture.
In partnership with the Tennessee Valley Authority, Knoxville Utilities Board and the Electric Power Research Institute (EPRI), UTIA's Dr. Carl Sams is growing leafy greens inside a climate-controlled shipping container. Replacing dirt and sunlight with LED lights, piping and damp felt, the Fresh Electric Farm transfers nutrients to plants through hydroponic technology, regardless of the weather outside.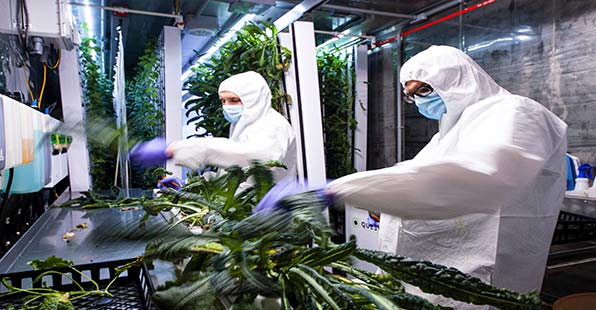 UTK researchers document overall plant growth during a controlled kale harvest inside the Fresh Electric Farm.
All produce harvested during the study is donated to Second Harvest, which helps provide fresh produce to elderly people in need across an 18-county, 8,000-square-mile service region.
The Project
The Fresh Electric Farm looks like a garden inside a space shuttle. Sprouting from plastics trays positioned in what looks like a stainless steel tanning bed, kale seedlings absorb a mixture of blue and red light — specific wavelengths required for natural photosynthesis.
When the seedlings are large enough to transplant, they are "planted" inside a plastic gutter lined with foam and felt. The foam holds the plant in place, while the felt surrounds the plants' roots. Once the gutter is hung vertically beneath a dripping header, the felt works as a lantern wick, slowly absorbing the nutrient-rich solution while gravity pulls the water past the roots of each suspended plant.
Hovering next to hundreds of lights that dangle in neatly strung rows, the kale leaves look as if they are shrouded by illuminated strands of Mardi Gras beads.
"Each plant captures the blue and red light, and then turns that light into carbohydrates that the plant converts to food for use," Sams said. "Our goal is to be able to produce a high-quality, high-yield produce at a cost-effective price."
By adjusting the light, temperature, fertilizer and plant spacing, the team can not only boost edible weight and reduce growth times, but they can effectively control the taste and the nutritional value of each plant.
L-R: Gary Brinkworth, TVA director of Research and Technology Innovation, and Mike Bolin, vice president, Utility Advancement, Knoxville Utilities Board.
The research is not limited to Knoxville. Dr. Sams and his partners are working with teams across the nation as part of the EPRI study and demonstration program. By comparing their respective findings, they will be able to determine how the ambient temperatures of different regions across the nation influence the total energy consumption required to grow produce in a controlled hydroponic atmosphere.
Feeding those at risk of hunger
Hunger is a local problem that Second Harvest is trying to solve. Every month, Second Harvest serves more than 152,000 people in East Tennessee, and the number is growing.
While Second Harvest meets the immediate needs of those in need, they understand the long-term health implications of poverty.
"We'll take packaged sweets and snacks if people donate them, but the Fresh Electric Farm is allowing us to be a more nutritionally responsible provider," said Second Harvest's Greg LaRose, director of Program Development. "When people are living in poverty, they don't have the money to go to the meat and produce sections of the grocery store. They buy what is on the middle aisles, most of that food is loaded with sodium and sugar."
Every week, LaRose and his team take the kale harvested at the Fresh Electric Farm and package it with a variety of fresh fruits and vegetables. Each box of fresh food is distributed to seniors throughout the region who are in need.
Second Harvest's Senior Outreach Program is designed to improve health, and meet the diabetic needs that often affect the elderly.
"Healthy eating can really change things in the long run," LaRose said. "Anything to fend off medication and get our seniors in a healthier place is a good thing."
Creating a sustainable future
The science behind the Fresh Electric Farm is rooted in the drive for decarbonization and sustainable technology that is now being demanded across the globe. As the average head of lettuce travels more than 2,000 miles before it reaches a plate, consumers are becoming more conscious about the environment footprint of traditional agriculture.
Driven by increased demand for fresh, locally grown produce that is ecofriendly, the electric utility industry believes indoor agriculture provides a unique opportunity for job creation and increased local demand. "TVA started in the agricultural business by developing and producing fertilizers to help farmers replenish soils depleted and eroded from decades of cotton and tobacco farming," said TVA Vice President of Innovation and Research Dr. Joe Hoagland. "TVA is helping communities by building on that innovation, in hopes of finding economical solutions for farmers and other job-creators who can use this technology to meet the growing demand for locally-sourced, fresh foods."
The modern technology behind indoor agriculture allows harvests 52 weeks per year, and eliminates the diesel fuel consumption required for traditional agriculture's cultivation, harvest and logistics. "You can literally drop one of these container farms in any parking lot or the back of any restaurant," said EPRI Senior Technical Leader Frank Sharp. "These container farms reduce the length of time that produce has to travel to the plate, which allows consumers to have a fresher product."
"Furthermore, the container farms provide a potential solution for food deserts — areas in U.S. cities and communities that don't have ready access to fresh produce," Sharp said.
Sharp notes EPRI's goal is to educate its collaborators and other stakeholders about the potential benefits of indoor agriculture — sustainability, electrical and water consumption, the job-creation possibilities and the overall reduction in greenhouse gases that indoor agriculture provides.
For more information about indoor agriculture and EPRI's national R&D project, visit indoorag.epri.com.