Jeannette Mills: Moving Forward to a Clean Energy Future
There is no singular way to reduce carbon emissions. At the Tennessee Valley Authority, we are taking an all-of-the above approach. Today, TVA operates one of the nation's most diverse, cleanest energy systems.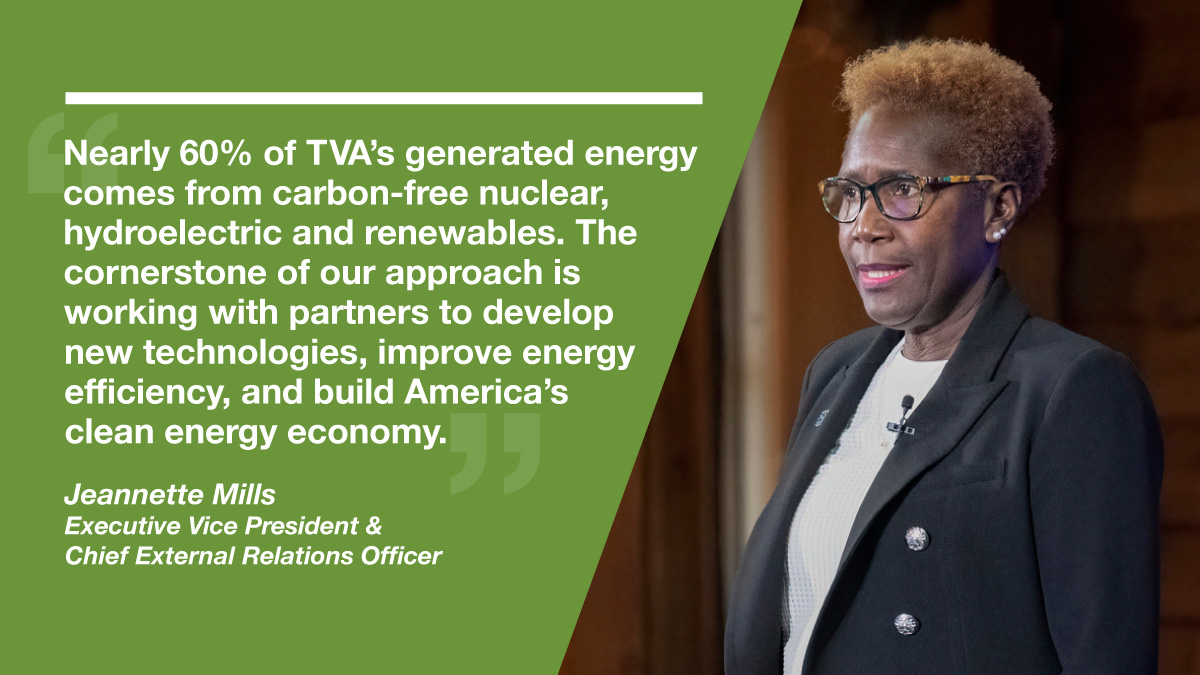 Nearly 60% of TVA's generated energy comes from carbon-free nuclear, hydroelectric and renewables. The cornerstone of our approach is working with partners to develop new technologies, improve energy efficiency, and build America's clean energy economy.
At Clinch River, TVA has the nation's first early site permit for a Small Modular Reactor (SMR) that could be a flexible, reliable, scalable source of clean energy. We are working with partners Ontario Power Generation, Synthos Green Energy, and GE Hitachi to demonstrate that SMRs must be a part of our nation and global long-term carbon-free energy solution.
We also have a strong partner in Tennessee Gov. Bill Lee, who called Clinch River the "future of energy in America." Development and successful deployment of this first-of-a-kind technology needs sponsorship and investment. For the energy security and clean energy benefits of advanced nuclear generation to be realized, federal financing is essential.
By 2035, TVA is targeting the addition of 10,000 MWs of solar, including 5,000 MWs by 2030. TVA is developing the nation's first-of-its-kind pilot program to determine if closed coal ash sites are suitable for utility-scale solar projects. Working with our 153 local power company partners, we've made it easier for them to bring solar online, allowing for up to 2,000 MWs of new solar energy in the region.
Earlier this month, we announced a partnership with TC Energy to study carbon capture and continue to lead the development of innovative technologies like long-duration energy storage and pumped storage.
All told, our current plan takes us to approximately 80% carbon-free energy by 2035.
Working closely with LPC partners, TVA offers energy efficiency programs to reduce energy costs and lower carbon emissions. We have similar programs to improve energy efficiency at schools and small businesses. Over the next five years, TVA will invest $1.5 billion to encourage the adoption of energy efficiency upgrades and demand response.
Alongside our partners, TVA is bringing clean energy manufacturing to the Tennessee Valley region. This includes economic development projects across our seven states that will decarbonize transportation emissions through electric vehicle manufacturing, such as Ford's electric vehicle plant at BlueOval City, SK Batteries, LG Chem, Envision, and Novonix; and electricity such as the First Solar facility in Lawrence County, Alabama.
Energy must be a collaboration where we find practical solutions that move us in the right direction. The challenges are not insurmountable, and together we can move forward to the clean energy system of the future.
Jeannette Mills
TVA Executive Vice President and Chief External Relations Officer
This article is a reprint from the Washington Times.
​ ​
Share this story:
​