Johnson Talks Reliability, Rates with Memphis Business Leaders
More than 100 Memphis business owners, bankers, attorneys and other financial professionals recently gathered for a panel discussion with TVA President and CEO Bill Johnson and Memphis, Light, Gas and Water Division President and CEO J. T. Young. The Economic Club of Memphis extended the invitation to discuss a range of topics from rates to reliability, renewables to the grid access charge, prepayment options and more.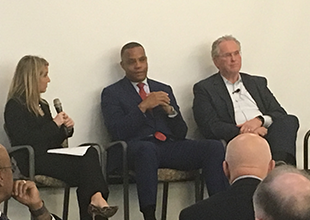 "My job description is to produce electricity at the lowest feasible rate," Johnson began, explaining that Memphis has some of the lowest rates nationwide. "Together [with MLGW], I think we're doing a pretty good job!"
Young agreed, saying that some Memphians may not realize how their rates compare to those in other areas of the country. "Sometimes, when people are from the area and have never lived elsewhere, they don't realize how low rates in Memphis are and, for several years, rates have been relatively flat for customers. It's a great value."
Memphis Business Journal Publisher and Market President Joanna Crangle served as moderator for the event and posed a series of questions. When asked about the grid access charge, Johnson explained the process of rate-making, renewable energy like solar and the volatility of bills due to weather changes. "We avoid subsidizing costs," he said. "Everyone pays their own way."
Bellefonte Nuclear Plant and Nuclear Development's recent offer to cut energy costs for MLGW were hot topics of discussion. Young commented, "Price is important, but price is not supreme. My first priority for customers is reliability. We are not desperate, so we are not going to be rash in our decision making. Our position is enviable among power companies because of the level of service [we receive] with no rolling blackouts."
"Memphis has 100 percent reliability," Johnson added, outlining the risks of "putting all your eggs in one basket." He discussed the potential risks for reliability issues and market exposure behind the Bellefonte deal.
Protecting Memphis aquifers, economic development and TVA's contributions to the area through payments in lieu of taxes rounded out the day's discussion.
"This was very good and very informative," several audience members commented at the conclusion.
​ ​
Share this story:
​