NOVEMBER 13, 2020 — It's no exaggeration to say Tim Ezzell, assistant research professor for the University of Tennessee's Institute for a Secure and Sustainable Environment, is in love with his car. Of the shock-green Chevrolet Bolt electric vehicle (EV), he says "It's awesome—it's the best car we've ever owned!"
On a recent late-autumn trip along Tennessee's gorgeous Foothills Parkway with wife Pat, he'd pull over into scenic overlooks. While Pat was taking pictures of the leaves, he was taking pictures of the car. "It's just beautiful and so much fun to drive—it's very quick and handles well," he raves. "I love that it's clean for the environment, clean for my garage, clean for my hands. And I get an email from the car every month letting me know the emissions I've kept out of the atmosphere.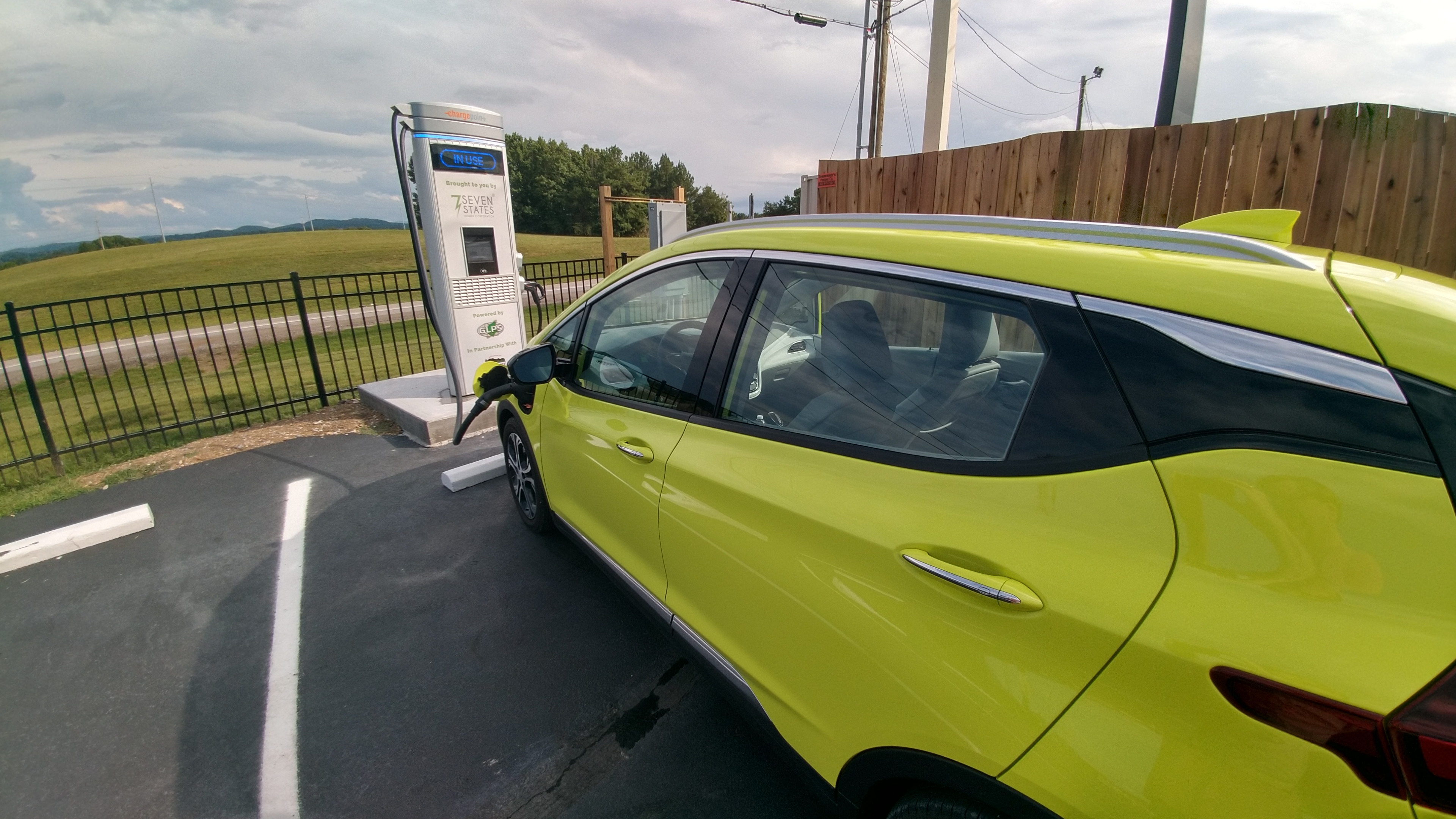 Tim Ezzell's Chevrolet Bolt gets a charge.

Now TVA is moving in a new direction that may allow many more customers to have this kind of positive experience, according to Doug Perry, senior vice president of Commercial Energy Solutions for TVA.
"EVs are finally here, and TVA is laying a good foundation to make them easy to use by encouraging the installation of fast chargers," he says. "We're not pushing EVs, but doing what we can to open the door so more people can confidently choose them."
Barriers to Adoption
"There are about 13,000 electric cars in the Tennessee Valley today, and that number has been growing quickly in the last year or so," says Drew Frye, program manager for TVA's Electric Vehicles EVolution initiative.
"With more electric SUVs coming online and even more pickup trucks, the choices available to drivers are coming right along," Frye says. "But we've identified four big market barriers slowing down adoption."
These are 1.) A lack of supportive policies at the state, local and utility levels; 2.) The need for charging infrastructure; 3.) Availability of electric vehicles; and 4.) Consumer awareness in general — getting more folks familiar with the technology and the experience.
"TVA is looking at what we should do to minimize or remove each of these barriers," Frye continues. "We'll start by establishing policies that look at the EV rate as a unique and separate class; and creating a new, economic, stable rate for those building charging stations — something we can do quickly in our role as regulator."
This will, for the first time, will allow TVA's 153 local power companies to easily provide fast charging and the possibility of private companies to resell power at the fast chargers they own and operate. Simply put, this move opens the door to the development of more rapid charging stations across the TVA's service area. So-called "range anxiety" prevents many consumers from even considering EVs today, so a more robust network is key to providing assurance to consumers that they will have access to fast charging when and where they need it while on the road.
Mission Forward
Supporting the development of EVs fits right in with TVA's mission of service to the people who live and work in its seven-state service region. "A lot of times we like to talk about how, at TVA's inception, we electrified farms around the Valley. Here we are nearly a century later making preparations to electrify transportation," says Travis Reid, a program manager in Commercial Energy Solutions.
"The EV initiative really aligns with our unique emphasis on energy, environmental stewardship and economic development," he says.
Electric vehicles are already playing a large role here. The Valley is home to three major automakers turning out electric cars in Tennessee: the Nissan Leaf and, soon the Aryia, a crossover SUV, in Smyrna; the Volkswagen ID-4, a crossover SUV, in Chattanooga; and the new Cadillac Lyriq, yet another crossover SUV, as part of GM's recent $2 billion expansion in Spring Hill.
As these EV manufacturers prosper, so will the people who work in and around these plants, or supply parts for them.
As for getting EV information to consumers, TVA is doing much to provide that, too. It recently launched new tools and resources at TVA.com/EV, where you can check out available models, compare cost of ownership with other non-EV models (including your own), find chargers, and learn about resources and events.
"The truth is you can take care of 80 percent or more of your own charging needs at home while you sleep, and that's convenient for me," says Ezzell. "And I like that the energy I use is local — that it's from TVA and my local power company."
In the end, Ezzell hopes more people will simply get behind the steering wheel of an EV and try one out. "Once you drive one and see the difference, you'll never go back."