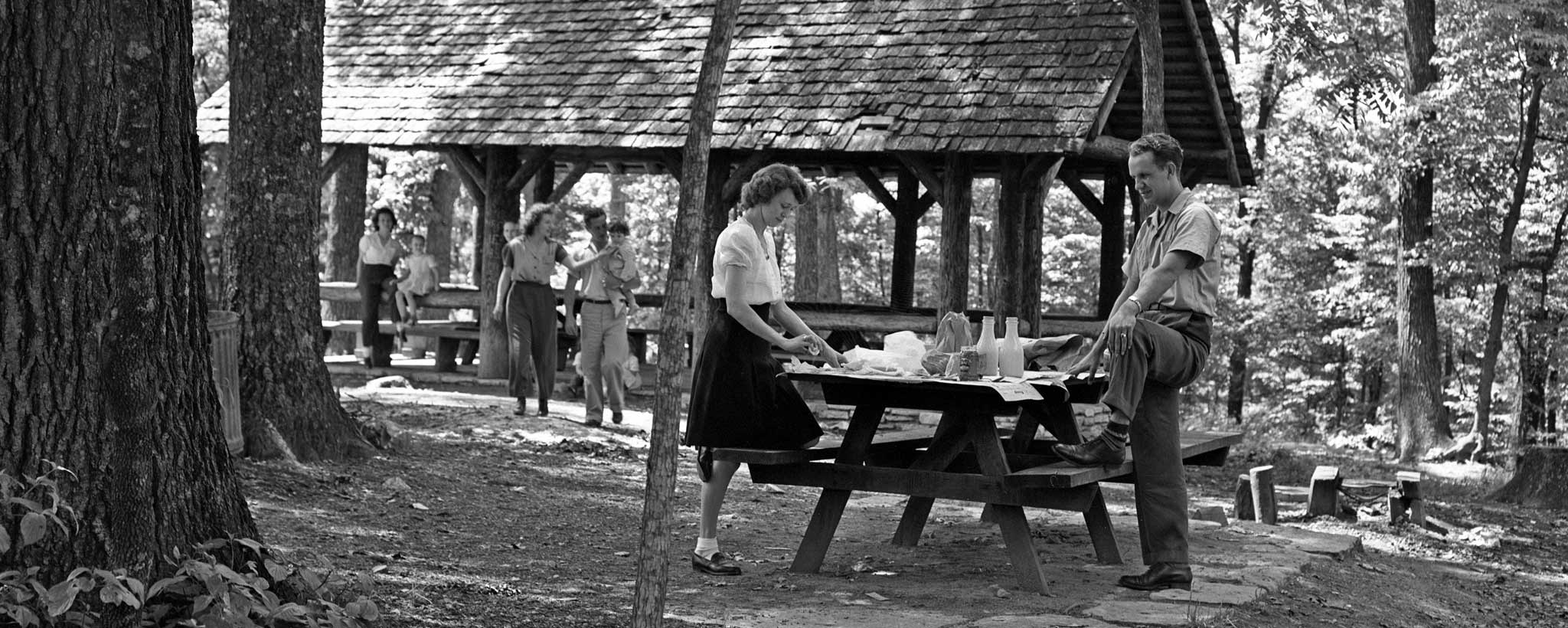 July is National Picnic Month – Let's Go!
July is National Picnic Month, and TVA has set the stage with everything you need for a fun day in nature.
Long before Yogi Bear and Boo Boo swiped their first picnic basket, people were gathering together and enjoying potluck-style meals in the great outdoors. As far back as the Middle Ages, hunters had feasts in the woods. But it was the French in the 17th Century who coined the term, "picque-nique." Sound familiar?
Fast forward to 2022 and picnicking is alive and well. Although coolers, grills, charcoal and tables have made picnicking easier, the concept is the same as it was 600 years ago - good friends and family, mouthwatering food and a scenic, relaxing locale. In fact, picnicking is so popular, it even has its own month for recognition: July. And TVA is ready to host you.

"As part of our mission to serve the people of the Tennessee Valley, TVA operates about 80 recreation areas for the public," says Rebecca Hayden, director of TVA's Natural Resources group. "Many of these are at our dams, and include additional features, such as swimming, hiking, mountain biking, boating and more."
But it wasn't always this way. Let's rewind to the 1930's.
Norris Dam, about 20 miles from Knoxville, was the first dam built by TVA, and while it was constructed as part of TVA's mission to bring electricity to the Valley, the amenities that were created proved that TVA was serious about economic development for this distressed area.
Recreation and tourism were always part of the plan. Soon, cabins, campsites, hiking trails, boat launches, overlooks at stunning vistas, and yes, up-to-date picnic facilities were built. The conveniences at these facilities were a far cry from the old "spread a quilt on the ground" picnic routine. There was even a pavilion built for large groups.
An article dated May 24, 1936, in the Knoxville Journal highlights picnicking as part of the upcoming opening day of the park at Norris Dam:
"… opportunities will be available for boating, hiking and picnicking. A picnic area with outdoor ovens, tables, a water supply, sanitary facilities and adequate parking space is on the hill."
As TVA continued building dams along the Tennessee River and throughout the Valley, recreational facilities followed in places as far-flung as Kentucky Dam in southwestern Kentucky, Wilson Dam in northern Alabama, South Holston Dam in northeastern Tennessee and a host of others. Some of the parks once operated by TVA have become state parks or National Forest Service Recreation Areas, adding more opportunities for picnicking enthusiasts across the TVA watershed, which covers parts of seven states.
Today, most residents of the Valley are an easy drive from one of TVA's 80 public recreation areas. Our interactive Recreational Map makes it easy to locate TVA recreation facilities. There also is handy information about TVA Day Use Areas, as well as our Picnic Paradise Guide that features availability of ADA accessible picnic tables and pavilions.
​ ​
Share this story:
​