Keeping Memphis Glowing and Growing
TVA's commitment to low-cost, reliable and clean energy keeps the lights on Beale Street ablaze while economic development attracts jobs and capital investment to the region.
Memphis. So much to do—the music, the sports, the arts, the barbecue, the festivals. There is always something happening, and much of it is simply electrifying.
TVA supports that Memphis experience.
It takes a lot of energy to maintain Memphis as a destination city and great place to work and live. And TVA— in partnership with MLGW—works to support households and industries in the region with electricity that is among the lowest cost in the nation and that comes through with 99.999% reliability.
What's more, the energy TVA provides is getting progressively cleaner. We are 64% carbon-free today; we'll be 70% carbon-free in 2030 and 80% carbon-free by 2035. And we'll keep working beyond that to create a net-zero carbon future, testing emerging technologies that will help us get there.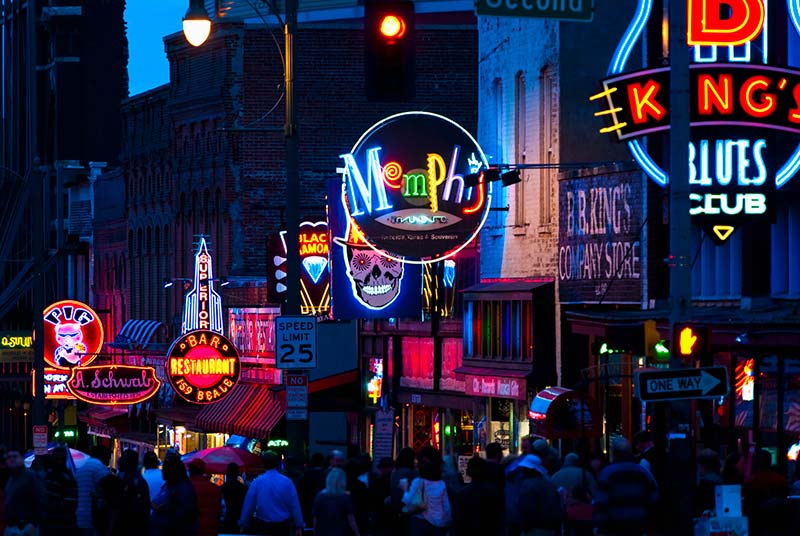 The Other "Es"
But there's more to our story than just electricity.
TVA works to keep Memphis' air and water clean, mitigating any environmental issues associated with our Allen fossil site, and fights to keep the Memphis aquifer clean. That's all part of our environmental stewardship mission.
But read the TVA Act of 1933 and you'll see we were primarily founded to help spread prosperity throughout the Tennessee Valley. In fact, many have pointed out TVA is, at its core, an economic development company.
We work with MLGW and with local and state agencies to bring jobs and capital investment to the West Tennessee—and keep them here—at no added cost to the consumer.
Over the past eight years, TVA has worked with its partners to create 350,000 new jobs and raise $45.9 in capital investment in the West Region. TVA has played a role in locating or expanding investment in West Tennessee include organizations such as Sinova Global, St. Jude Children's Research Hospital, Cognate Bioservices, FedEx, Hyosung Heavy Industries, Walgreens and many others.
And that's not to mention an announcement that Ford Motor Company will build an electric vehicle and battery manufacturing plant in West Tennessee, bringing 6,000 jobs and $5.4 billion in capital investment. Blue Oval City will be the largest Economic Development project in the state's history.
"Reliable, low-cost, clean energy attracts world-class companies like Ford to the Tennessee Valley," TVA President and CEO Jeff Lyash said. "Bringing jobs and capital investment to this region is what we do at TVA—it's a fundamental part of our mission. And by helping to attract companies like Ford to the Valley, we are creating the jobs of the future."
​ ​
Share this story:
​
Supplier Diversity
At TVA, we believe our supplier diversity program helps us develop greater flexibility and strength. We welcome businesses of all types—small, minority-owned, woman-owned, veteran-owned, service-disabled veteran-owned, and those located in historically underutilized business (HUB) zones. We recently hosted a Supplier Diversity Summit in Memphis with the goal of meeting potential new suppliers. It dovetails nicely with our economic development goals—it's one more way we can reach out to our communities to help them thrive. Read more about TVA's supplier diversity program.