Know Your Boundaries
There are all sorts of ways of marking special places in our world. Look down and you might see this one while enjoying TVA's public lands.
Seen one of these on a hike?
It's a survey bench marker. Buried several feet in the ground, it looks similar to a boundary marker. Many of these historic monuments date back to the 1930s and are still in use throughout the Valley.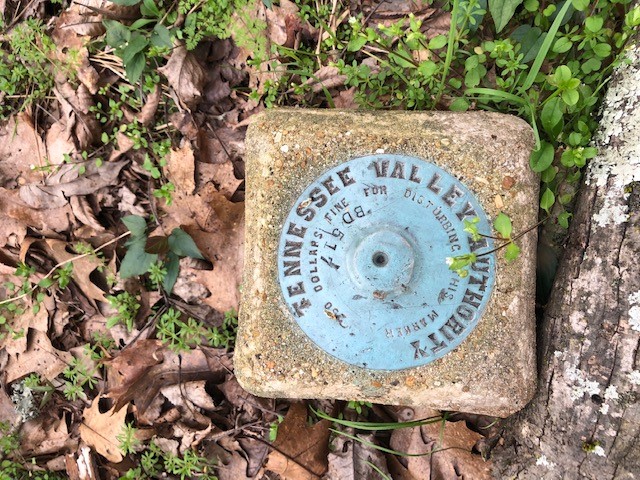 TVA boundary markings are significant for a number of reasons. For hikers, birdwatchers, hunters and others who enjoy getting off the beaten path, it's important to know where TVA property begins and ends. It's also helpful for landowners adjacent to TVA property to have visible boundaries when they add fencing or new structures on their land.
Finally, it provides valuable information to staff working specific parcels of property. In short, boundary markers provide clarity and take out the guesswork for users.
From Scope...
TVA manages 293,000 acres of public land, so it's important that its 6,200 miles of boundaries be easily identified. Due to existing easements and other agreements, such as those with state wildlife agencies, wildlife refuges or state parks, the agency is responsible for marking and managing about two-thirds of those boundaries, approximately 4,250 miles, according to David Brewster, manager of TVA Natural Resources Management, West Operations.
The majority of this effort takes place during cooler months, when leaves have fallen and it's easier to see through the woods.
"Plus, snakes are less active in cooler weather," notes Damien Simbeck, senior program manager for Natural Resources Management, West Operations, who has marked his share of boundaries as well. Other challenges include old fencing and vines that have become woven into the ground cover. The work can be slow, with teams covering about two miles a day.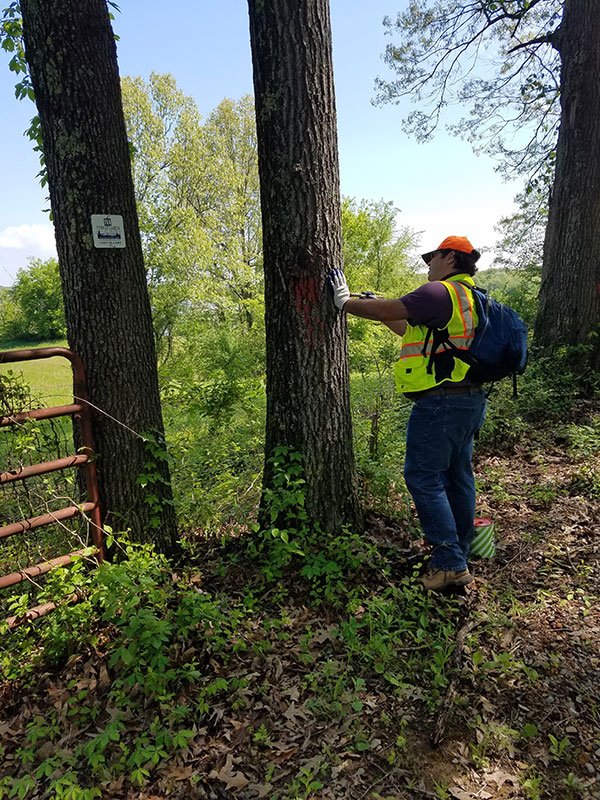 The normal routine is for two people to head into the woods early in the morning with everything they'll need for the day. They carry food, water, cell phones, a machete, a bucket of orange paint, a paintbrush, a hammer, orange flagging, a tablet and a stack of metal signs a little larger than your hand. Since COVID-19 restrictions were put in place, the teams practice social distancing at all times.
"Signs are typically placed every 100 feet along the property boundary. They're important because they display the TVA logo and our phone number, plus they show that you are entering or are on TVA property," explains Brewster.
To Painting...
Painting is considered an art form, but boundary painting has more to do with location than artistic flair. Boundary painters look for trees with faint, orange paint, indicating the TVA property line. Most of these boundaries are only marked every 8-10 years, so they can be elusive. Once located, the marks are repainted. Simbeck emphasizes that crews remark the boundaries, but do not establish the boundaries. Only a certified surveyor can do that.
Corners of boundaries are identified with concrete monuments or iron rods at the base of metal posts. All are repainted bright orange. In addition, orange flagging is hung from the nearest branch, and three "witness trees"—trees surrounding, or bearing witness to the corner boundary marker—are highlighted with three vertical blazes to ensure the marker is more noticeable.
To Technology
While boundaries are still physically marked with a brush and a bucket of orange paint, technology has transformed the methods of boundary data management.
"We now have a GIS database with a color-coded map that displays our entire boundary and the condition of its lines. That's what we use to develop remarking schedules," says Mark Morrissey, senior specialist for Natural Resources.
So the next time you're enjoying time on dam reservations, small wild area, reservoir lands or TVA's other public areas, keep an eye out for orange-emblazoned trees, monuments and other markers. These are historic reminders that after eight decades, TVA continues to preserve and protect the region's natural resources for future generations.
​ ​
Share this story:
​