The ongoing construction project at Boone Dam is nearing a major milestone—the partial rise of reservoir levels back to normal pool. Hundreds of volunteers supported the annual cleanup day to get the reservoir ready for more water.
SEPTEMBER 18, 2020 -- More than 200 volunteers and work crews from the Boone Dam project gathered at the lake on Sept. 12 for the annual Boone Lake Association Cleanup Day.
Some crews hauled large trees and used heavy equipment to stack the logs at Pickens Bridge boat ramp. Others picked up trash along the shoreline. Along with manpower, TVA supplied barges, heavy equipment, trash bags and gloves.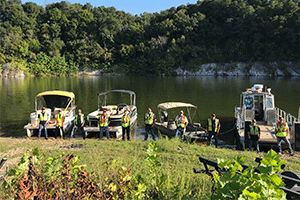 At the end of the day, the volunteer crews had collected more than 300 discarded tires, 366 bags of trash, 56 Styrofoam blocks, 3 propane tanks and 25 sheets of roofing shingles. More than 5 tons of trash filled the dumpsters.
"It's a beautiful day and a great way to socially distance while doing something positive for others all around the lake," said Senior Construction Manager Kevin Holbrook. "We have sent volunteers to the Boone Lake cleanup for years but this year is definitely our biggest effort yet. We really appreciate our ongoing partnership with the Boone Lake Association."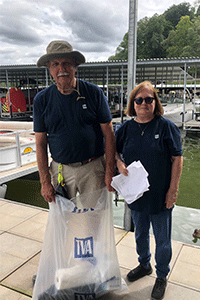 "We are particularly glad to do this just before the lake starts to rise this fall," said TVA's Principal Project Manager Sam Vinson. "It was especially great to see the effort neighbors all around the lake were putting into cleaning up their own properties. We saw people with chain saws, people hauling brush and volunteers really getting ready for the lake to rise."
Vinson said the lake will rise approximately seven feet starting in mid-October and then hold until mid-March. TVA will host a Tech Town Hall Oct. 15 to provide more details and an opportunity for the public to ask questions about the ongoing Boone Dam Project. Click here for more information on the Boone Dam Project.