JULY 18, 2019 — Electricians, pipefitters, boilermakers — almost every trade has an apprenticeship program at TVA. But when we had trouble finding machinists, TVA partnered with Northwest-Shoals Community College and Johnson Contractors to start a new training program.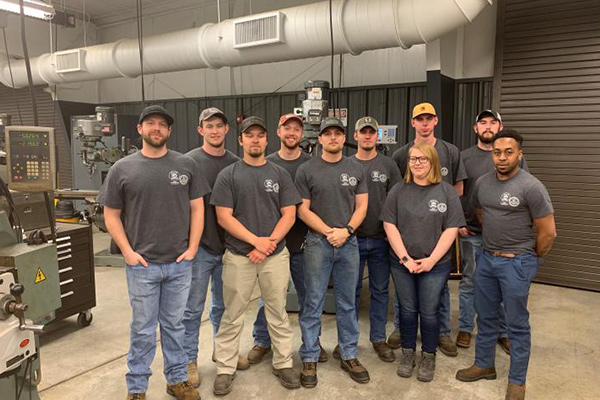 Wendell Dean, TVA machinist and director of the apprenticeship program, coordinates between TVA and Northwest-Shoals CC to train 10 apprentices who work for TVA's Power Service Shop during the day and take night classes at the college twice a week. The apprentices are in the first year of a four-year program.
"Machinists are the only skilled craft that didn't have an apprenticeship program within TVA," Dean said. "It's about time we have one because you can't find machinists anymore."
Apprentice Caleb Richardson was encouraged to apply for the program when he saw an advertisement in his local newspaper. "I enjoy making things and fixing stuff. I particularly enjoy the work we do on the hydro side. I'm proud to be part of the first group to go through this program."
"My grandad was a machinist and my dad is a machinist, so it's in the family," Apprentice Colby Morrow said. "Coming out of high school, no one pushed trades, just four-year degrees, and now trades are dying out. I've had no trouble getting a job out of school, while some of my friends have four-year degrees and no job."
With the future of TVA's workforce in mind, the Machinist Apprenticeship Program is an important step in the right direction. Although it will take about three to five years to complete, the program will provide a much-needed talent pipeline for filling positions lost to attrition.
"This apprenticeship program allows talent to be developed and increases a skillset for the next generation so it's readily available when needed," said Power Service Shop Senior Manager Corey Saint.
Power Service Shop General Manager Doug Keeling agrees. "I'm pleased with the collaboration of all parties involved to ensure that we have legacy of a skilled workforce supporting TVA's mission of service."