NOVEMBER 19, 2019 — Before the TVA Board meeting, the Greater Memphis Chamber Chairman's Circle hosted TVA CEO Jeff Lyash for breakfast. He shared TVA's priorities for Memphis, emphasizing the ongoing commitment to making life better through affordable rates, electric power reliability, assistance in economic development, environmental stewardship, community engagement and risk management.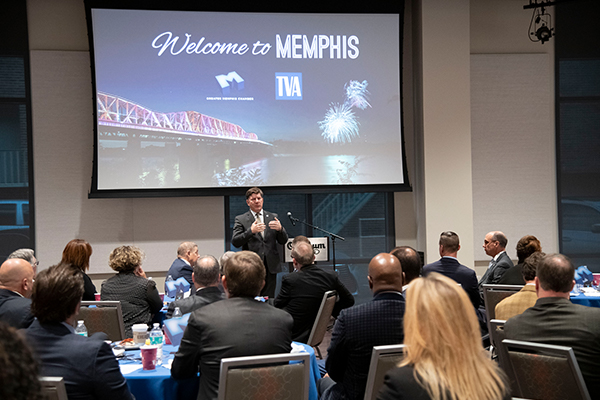 What Is the Public Power Model?
The public power model allows TVA to reinvest revenues from the sale of electricity directly back into the communities they serve by bringing businesses to the region, creating jobs, and taking care of the environment. Public power also means decisions about how TVA operates are made by people who live, work and serve in the community. Unlike publicly-held utility companies, as part of the Public Power Model, TVA is not accountable to shareholders.
TVA's average energy-only prices are lower than its national competitors. In the past five years, TVA's energy delivery to MLGW has been 100% reliable. Currently, TVA maintains multiple access points allowing for consistent power access and rate stability. TVA continues to invest in improving the reliability and efficiency of its energy generation & transmission systems, investing over $15 billion in improvements including providing more than 50 percent of the area's power from carbon-free sources including hydropower.
Investments in Memphis
Since 2012, TVA has helped to create 28,000 jobs and $3.6 billion dollars in business investment in Memphis and is the only public power utility that carries a congressional mandate to advance economic development. TVA made a $1B investment for the Allen Combined Cycle natural gas plant, which uses MLGW water and gas valued at $200M in revenue over the life of the plant. Allen is one of the most efficient natural gas plants in the world and it is also home to the largest TVA-owned solar facility.
TVA's long-term financial focus has yielded a decade of flat, stable rates for Memphis and the rest of the TVA region.
Currently, TVA provides Memphians resources and energy advice that ease the community's energy burden through TVA's Energy Right Programs. TVA has invested more than $10 million dollars in the Home Uplift program in the last two years, of which $3 million dollars were invested in Memphis. TVA's community engagement extends across Memphis with partnerships in STEM programming, enhancements to programming for libraries and parks, and support of the Mid-South Food Bank.