Memphis Gives TVA Big "Thank You" at Allen Plant Dedication
Powering half a million homes at affordable rates with fewer emissions was only a part of the reason Memphis thanked TVA at the Allen Combined Cycle Plant Dedication Ceremony on Thursday, Nov. 8, 2018. Local elected officials and Memphis Light, Gas and Water Division (MLGW) president and CEO attended the event and spoke about TVA's ongoing commitment to the city.
"TVA has put their money where their mouth is," said Memphis Mayor Jim Strickland, "and their quality, reliable, low-cost energy helps us to recruit and retain businesses."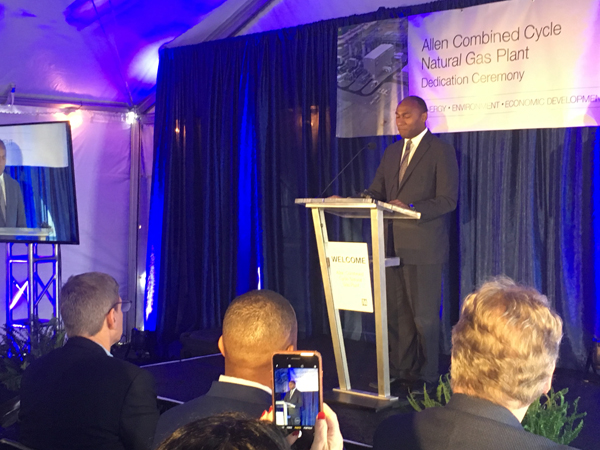 An audience of engineers, city leaders, media outlets and other stakeholders gathered in the event space on the plant's lawn for the big day — a few years in the making. Construction on the plant began in 2015 and was recently completed in April 2018. Today, the state-of-the-art facility represents a $1 billion investment in the Greater Memphis / West Tennessee area.
"I realize how technologically advanced this plant is, and [MLGW] customers in this region will benefit from this investment and from the technology that is here," observed MLGW President and CEO J.T. Young. "[Allen Combined Cycle] is a great facility, environmentally-friendly, and it offers a great value to the community and especially our customers. To our partners at TVA, thank you for the relationship that we have."
Shelby County Mayor Lee Harris echoed similar sentiments. "TVA is a good partner and neighbor in Shelby County," he said. "They have cut emissions, shrank their carbon footprint and produced power for thousands of homes. Looking back at Allen Fossil Plant, this plant is a testament of how far humanity has come."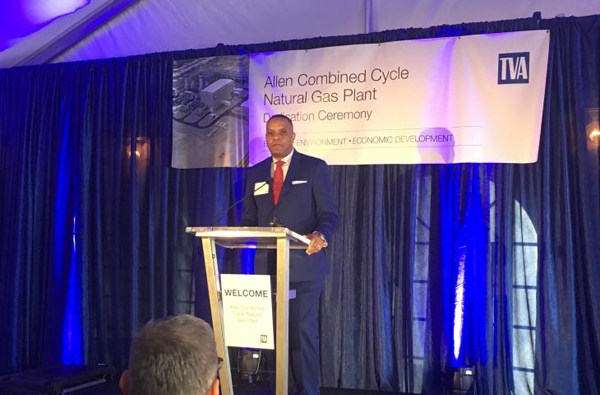 Numerous TVA officials attended the event including Senior Vice President of Communications and Marketing Janet Brewer, Senior Vice President of Resources and River Management Jacinda Woodward, Vice President of Major Projects Tim Hope, Vice President of Hydro and Gas Operations Allen Clare, TVA Board Member Ron Walter, former Board Member Lynn Evans, Memphis Executive Director Mark Creech and West Tennessee Customer Service Manager Brian Smith among others.
"This plant is a demonstration of TVA's commitment to Memphis," said TVA President and CEO Bill Johnson. "Today, we're paying back a favor that Memphis paid to us 60 years ago, (when they joined TVA). We want to be the best partner you can have."
"Thank you, TVA, for your investment [in Memphis] and partnership. I look forward to working with you in the future," Mayor Strickland concluded.
​ ​
Share this story:
​