Memphis Matters to TVA, Lyash Tells PSAT
Memphis matters to TVA now and in the future, TVA's Jeff Lyash told Memphis leaders on Thursday in a meeting with the Power Supply Advisory Team for Memphis Light, Gas and Water.
Public power supplied by TVA is the best deal for Memphis because of TVA's low costs and added benefits, TVA President and CEO Jeff Lyash told PSAT, the group evaluating power supply options for MLGW.
"We haven't done a good enough job in making sure you know the reasons to stick with us," Lyash said, citing TVA's low, stable power costs; high reliability; and investments of more than $70 million a year in Memphis, primarily for economic development.
"We are working to improve our customer relationship with Memphis and show how TVA is the best value," he said.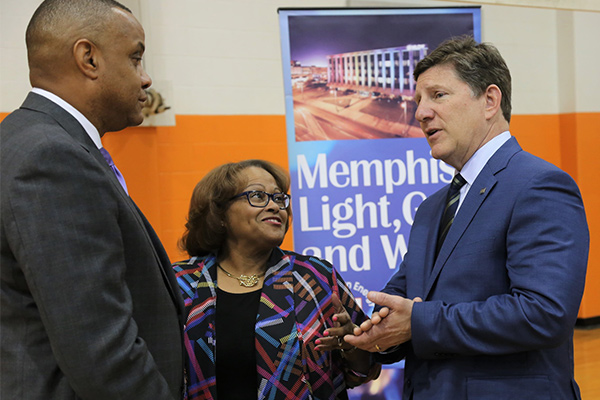 Jeff Lyash speaks with MLGW President and CEO J.T. Young and Memphis City Councilwoman Patrice Robinson.
"The partnership between MLGW and TVA gives Memphis robust, reliable, and low-cost power, with local control right here in Memphis. That's the beauty of public power, and we want to continue to work with MLGW to supply public power to the people of Memphis."
A key concern for the advisory team is the cost of energy, and the team is comparing other potential suppliers to TVA.
One supplier that could be an option is a regional transmission provider, MISO; and Lyash commented on how MISO's cost compares with TVA's.
TVA monitors energy costs around the clock and buys energy from other suppliers when that cost is less than the cost of TVA's own generation. Last year, as TVA supplied energy for 10 million people across seven states, TVA bought just 0.04 percent of its energy from MISO.
"What that means," Lyash said, "is that MISO's price was lower than TVA's price just 0.04 percent of the time, a fraction of 1 percent."
For the People, Not for Profit
As a public power supplier, TVA sells energy to MLGW and other utilities at the lowest feasible rate, not at a profit to earn money for shareholders.
"One of the ways we improve the standard of living for the people of Memphis is by having electric rates that are as low as feasible, and we've kept those rates stable for the past decade," Lyash said. In addition, TVA has one of the most reliable transmissions systems in the nation, with no interruption in TVA's delivering electricity to MLGW in 22 years.
TVA also invests more than $70 million a year in additional benefits to Memphis, including $50 million in economic development incentives to attract new business and to help existing businesses grow.
The economic development partnership between TVA, MLGW and others has helped recruit 24 new businesses to Memphis and supported 63 expansions by existing businesses since 2012. That's a total of 28,000 jobs in the Memphis area, with capital investments of $3.6 billion.
TVA Chief Financial Officer John Thomas also spoke to the panel about how TVA is continuing to reduce its operating costs and making sure its energy stays reliable, low-cost and clean.
Lyash said he and others are talking with the people of Memphis because that's how TVA should be doing business. "Our goal is to improve relationships in Memphis and demonstrate TVA's value as the right energy partner to the community and MLGW."
​ ​
Share this story:
​